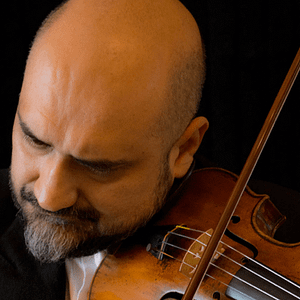 Vicente Huerta Associate Professor, Violin
He began his studies at the Unión Musical de Llíria at the age of five, then he studied at the conservatories of Valencia and Barcelona with and finished his studies in the Royal Conservatory of Music of Brussels with professors T. Adamopoulos and Agustín León Ara, obtaining the highest awards and the Virtuosity Award "Avec la plus grand distinction." He won First prize in the Martínez Baguena, Ciudad de Soria and Gyenes violin competitions.
He has collaborated with world-famous artists such as Yehudi Menuhin, Jorge Bolet, Gerard Causé, Marçal Cervera, Yvry Gitlys, and Nobuko Imai. As a soloist he has performed with an extensive repertoire in most European countries under the baton of conductors like; Gianandrea Noseda, Meir Minsky, Michael Thomas, Robert Jansens, L Dewez, E García Asensio, Max Bragado, Henri Adams, Odón Alonso, Boguslaw Madey, Álvaro Albiach, and many others.
Vicente Huerta has been a violin teacher at the Reina Sofía School of Music in Madrid, as well as at the Universitat de Valencia, his students receiving the most important awards in the main international competitions (Sibelius, Tchaikovsky, Tibor Varga, Wienawsky, Queen Elisabeth...), as well as prominent positions in many European orchestras.
He recorded the violin part of the original soundtrack composed by Alberto Iglesias for the film "La Piel que Habito" by Pedro Almodóvar, being awarded the "Goya" prize for the best Soundtrack in 2012.
He has been developing an intense pedagogical activity, with many students getting positions in orchestras in Spain and Europe, and he is regularly invited as a teacher in the principal Spanish youth orchestras; JONDE (National Spanish Youth Orchestra), OJA (Andalusia), EGO (Basque Country), JORVAL (Valencian region), OJRM (Murcia), and others.