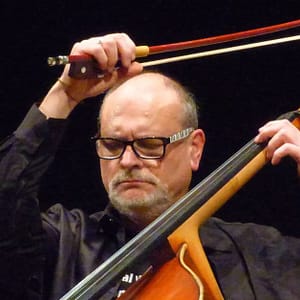 Thierry Barbé Professor, Double Bass
Thierry Barbé is principal bass in the Paris National Opera Orchestra and double bass professor at the Conservatoire Superieur de Musique de Paris. Born in Metz, Eastern France, Barbé studied piano and double bass while simultaneously pursuing a degree in science, before devoting himself exclusively to music at the CNSMDP, where he earned degrees in Harmony, counterpoint, First Prize in music analysis, music history, and First prize in double bass with JM Rollez.
Barbé likes to perform recitals with piano, and he plays all types of expressive music, with the "French touch" sound and sense of phrasing. He has performed and has been featured in master classes in about 24 countries. He has taught double bass since 1982, notably at the Saint Maur conservatoire, near Paris, where he keeps advanced students from all over the world.
He frequently performs his own compositions (his first CD, "Nomade", was released in 1998, DVD "French Impressions," in 2016). Barbé has experimented with numerous technical approaches to the double bass (all techniques, left-hand positions, and all kinds of bows, regulations…). He likes to reconcile all of them. Since 2001, Barbé is the French Bass Society president  (ABCDF). He was a member of the I.S.B. board and organized, with Riccardo Del Fra, a successful International Bass Convention in Paris in 2008. He was a board member of Bass Europe Society in 2017. He is the artistic director of the summer camp "Biarritz International Bass Academy."