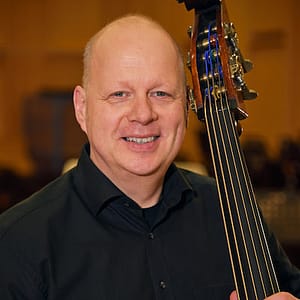 Stefan Schäfer Professor, Double Bass
Stefan Schäfer is principal bass at Philharmonisches Staatsorchester Hamburg. He is professor for double bass at Hamburger Konservatorium and Hochschule für Musik und Theater Hamburg.
He studied at Hochschule für Musik und Theater Hamburg and graduated with a diploma and soloist exam with distinction.
Schäfer has recorded several CDs as a soloist as well as a chamber musician.
He founded the Aktionstag Kontrabass in Hamburg and HanseBass, a national forum for double bass teachers of northern Germany.
Schäfer is often invited to international masterclasses for double bass and chamber music, e.g. Bass Europe Academy.
In addition, he has been appointed as member or chairman of the jury of international double bass competitions like International Sperger Competition/Germany or International Janáček Competition/Czech Republic.
Schäfer's numerous compositions for double bass are wide-ranging in genre and instrumentation. They are performed all over the world, e.g. in famous concert halls such as Carnegie Hall in New York, Konzerthaus Wien, or Philharmonie Berlin.
His works are also played in several competitions, e.g. he composed the compulsory piece for the III. International Sperger-Competition. In Great Britain and the USA, his works were awarded with composition prizes (British and International Bass Forum, International Society of Bassists).
Schäfer's oeuvre also includes orchestral works, songs and chamber music. In commission of the Philharmonisches Staatsorchester Hamburg, he composed several works for orchestra. His compositions are edited at his own publishing company bassist-composer publications and Hofmeister Musikverlag.
Stefan Schäfer plays a double bass by John Frederic Lott.
www.bassist-composer.de
www.bassist-composer-publications.de