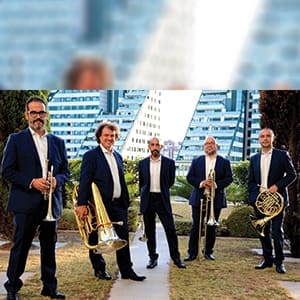 Spanish Brass Visiting Ensemble, Composition
In 1989 five Spanish musicians created an eclectic and innovative project that they have been developing over the years in different fields: music performance, education, and creation. Today they tour all over the world, with courses intended for chamber music and recordings.
In 1996 they won the First Prize in the "Ville de Narbonne" (France) 6th International Competition for Brass Quintets, considered to be the event of greatest prestige for this ensemble. In 2017 the group received the I Bankia Music Talent Award in Spain, for the most influential musical artists, and in 2019 they received the Espai Ter de Musica Award. The group has 3 Carles Santos Music Awards.
In 2020, Spanish Brass was honored by receiving the National Music Prize from Spain's Ministry of Culture, the country's highest musical honor. We should also mention their participation in the prizegiving Gala of the Príncipe de Asturias awards in 1995, at the Gran Teatro Campoamor in Oviedo (Spain), broadcast on television to over 700 million watchers. They recorded the music for the play "La Fundación" by Buero Vallejo for the National Drama Centre and the soundtrack of the film "Descongélate", by Félix Sabroso, for El Deseo Producers.
Their repertoire is one of the most painstakingly thought-out aspects of their performances, along with the staging. Some of their shows that are worthy of mention are: Spanish Brass (a) LIVE, XXX and viBRASSions (brass quintet), Metàl·lics, Brass Brass Brass and Un po' di Fellini (educational concerts); Brassiana (with jazz trio), Make a Brazz noise here (Tribute to F. Zappa, with drums and guitar) or The Adventures of Monsieur Jules (with pianist Albert Guinovart); Mira si hem corregut terres... (with Carles Dénia), Puro de Oliva (with flamenco-jazz pianist Chano Domínguez) or Paths of Spain (with flamenco dancers, guitar and percussions). They regularly cooperate with artists of such international renown as Christian Lindberg, Ole E. Antonsen, Michel Becquet or Kenny Wheeler and other groups as Amores Grup de Percussió or the Orfeó Valencià Navarro Reverter.
Spanish Brass is also committed to the development and creation of new forms of music, working with both famous composers and with young people of great influence. They have premiered around 100 pieces, most of them dedicated to the quintet, by composers like José Luís Turina, Jesús Villa-Rojo, Maurice Jarre, Vladimir Cosma, Fernando Palacios, Antón García Abril, Juanjo Colomer and Vicente Roncero, among others.
Spanish Brass performs concertante works with orchestra, a major one of these being the first performance in Europe of Karel Husa's Concert for Brass Quintet and Strings. They gave also the first ever performance of Couleurs du Temps of renowned composer Maurice Jarre; the premiere of La Devota Lasciva, composed by Juanjo Colomer; Concert for brass quintet and orchestra composed by Lluís Vidal with the Orquesta Nacional de Espa.a, conducted by Josep Pons; Guadalaviar, by Ant.n Garc.a Abril, with the Orquesta Filarm.nica de M.laga, conducted by Edmon Colomer, and Brass Quintet Concerto, by Salvador Brotons, with Orquesta Filarm.nica de Gran Canaria conducted by Josep Vicent.
They have performed these pieces with the Orquesta de Córdoba (Spain), Orquesta de Radio Televisión Española (Spain), Orquesta Ciudad de Granada (Spain), Orquesta de Valencia (Spain), Orchestre de la Picardie (France), KBS Symphony Orchestra (Korea), Jove Orquestra de la Generalitat Valenciana (Spain), Joven Orquesta Nacional de España; and worked with conductors like Edmon Colomer, Josep Pons, Manuel Galduf, Salvador Brotons, Enrique G. Asensio, Shinik Hahm, etc.
They have released twenty-seven recordings, including two DVD-CD and a double CD, showing their many facets: Luur-Metalls Spanish Brass Quintet, No Comment, La Escalera de Jacob, Spanish Brass Luur Metalls & Friends, Delicatessen, Caminos de España, Absolute with Christian Lindberg and Ole E. Antonsen, Gaudí'um, Metàl.lics, Retaule de Nadal with the Orfe. Valenci. Navarro Reverter, SBALZ Brass Ensemble, Brass and Wines with Steven Mead, Brassiana with Llu.s Vidal Trio, The Best of Spanish Brass, SBLM, Tell me a Brass Story with Banda Municipal de M.sica de Bilbao, viBRASSions, Metalls d'Estil with singer Pep Botifarra, 25, SuBLiMe Christmas, Brass Brass Brass, de Vents i Terra with Banda Municipal de Barcelona, Puro de Oliva with Chano Domínguez and Bandolero, XXX, Mira si hem corregut terres... with Carles D.nia, Les Aventures de Monsieur Jules with Albert Guinovart and Spanish Brass (a) LIVE.
Spanish Brass has participated in such important events as the Festival de Musique de Radio-France, Granada International Festival of Music and Dance (Spain), Bonner Herbst (Germany), Muzyka w Starym Krakowie Festival (Poland), New York Brass Conference (USA), Santander International Music Festival (Spain), Lucerne Festival (Switzerland), Great American Brass Band Festival (USA), Alicante International Contemporary Music Festival (Spain), Cheju Summer Festival (Korea), Schleswig-Holstein Musik Festival (Germany), National Auditorium (Madrid, Spain), Palau de la Música (Barcelona, Spain), San Sebastian Music Fortnight (Spain), Wartburg Festival in Eisenach (Germany), Kalavrita Festival (Greece), Merano Brass Festival and Trento Philharmonic (Italy), Barcelona Auditorium (Spain), Festival de Inverno de Brasilia (Brasil), Puerto Rico International Festival, International Trumpet Guild Conference (USA), International Trombone Association Festival (USA), Basilica Festival (Belgium), Lieksa Brass Week (Finland), among others.
Spanish Brass also organizes two international brass festivals: Spanish Brass Alzira Festival (www.sbalz.com) and Brassurround Festival (www.brassurround.com) where each year some of the most renowned international brass soloists, groups and musicians get together.
Spanish Brass members play a Paxman French horn, a Courtois trombone, and a Melton tuba. They use the BlackBinder application and Bags instrument cases. The group is sponsored by the Institut Valencià de Cultura and by the Ministerio de Cultura-INAEM.
MEMBERS:
Carlos Benetó Grau - Trumpet
Juanjo Serna Salvador - Trumpet
Manuel Pérez Ortega - Horn
Indalecio Bonet Manrique - Trombone
Sergio Finca Quirós - Tuba
www.spanishbrass.com