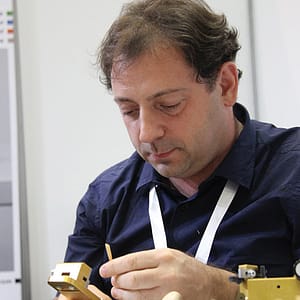 Lorenzo Masala Guest Professor, Reeds Making Specialist
Lorenzo Masala was born 1972 in Genoa, Italy. At the age of 10 he started playing the oboe with Giampiero de Santi, Solo-Oboist at the Genoa Opera.
After the Orchestra Diplom at Conservatory Nicolo' Paganini in Genoa at age of 19, he followed his studying at the Musik-Akademie Basel, in the Konzertklasse of Omar Zobo-li, starting the baroque oboe with Michel Piguet, and later at the Musikhochschule Luzern in the Solistenklasse of Kurt Meier. He attended Oboe master classes with Ingo Goritzi, Hans Elhorst, Robin Canter, Alex Klein, Albrecht Mayer, Jean Louis Capezzali and Emmanuel Abbühl.
He played as a soloist with «Collegium Musicum Schloss Pommersfelden», Bamberg, with the Akademisches Orchester Danzig, with Luzerner Kammerorchester and with the En-semble La Partita, Zürich. Recordings for Swiss Radio DRS, for Bavarian Radio, for Radio France, RAI-Italian Radio and for Polish Radio.
Lorenzo has played and plays regularly with orchestras and ensembles: Basel Opera, Basel Sinfonietta, Collegium Musicum Basel Camerata Schweiz, Aargauer Sinfonieorchester, Sinfonieorchester Liechtenstein, Kammerorchestre Wallis, Sinfonieorchestre Mulhouse-Strassbourg, Orchestra del Teatro La Fenice di Venezia, Orchestra Regionale Toscana, Orchestra del Teatro Carlo Felice di Genova.
He has been specializing as reed maker since 1998, and started collaborating with Reeds 'n Stuff, consulting and developing the oboe and bassoon tip profiler. He regularly gives reed making in many institutions around the world: Musik-Akademie Basel, Universität Wien, Mozarteum Universität Salzburg Musikhochschule HdK and Hans Eisler Berlin, Musikhochschule Leipzig, Musikhochschule Dresden, Musikhochschule Lübeck, Musikhochschule Frankfurt, Conservatoire Superieur de Paris, Royal Conservatory Brussel, Royal Konservatorium in Amsterdam, Konservatorium Den Haag, Music Conservatory Tschaikowski Moskau, Music Conservatory San Petersburg, Liszt Akademie Budapest, Music Conservatory in Milano, in Lucca, Academia Metropolitana Lisboa, Conservatorio Real de Madrid, Royal Academy of Music, Royal College of Music, Guildhall School of Music, in London University of Auckland, New Zealand, Music University in Sao Paulo, Brazil, Santiago del Chile, Lima and Bogota,