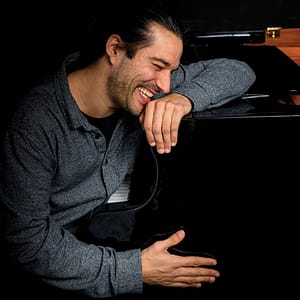 José-Ramón Martín-Díaz Associate Vocal Coach
José Ramón Martín Díaz initiated his piano and violin studies at the age of 8 in the Escolanía of Valencia, and later studied piano with Ricardo Roca and Mario Monreal. He assisted to masterclasses with Guillermo González, Rita Wagner, Wolfram Rieger and Miguel Zanetti, and has won the "Maestro Serrano" competition 5 times, 1st place in the "Ciudad de la Línea" National Contest and 1st prize "Concurso Internacional José Roca." In 2007, José Ramón was selected by the "Centre de Perfeccionamiento Plácido Domingo" where he specialiced as repertorists working with A. Zedda, A. Zabala, K. Sallman, R. Vignoles o G. Fabbrini, among others; and trained as musical director with J.M. Pérez Sierra. Since then, he has been working as pianist repertorist and director assistant at the "Palau de les Arts Reina Sofía" where he has been working with masters like Maazel, Mehta, Domingo, Chailly, Prêtre, Abbado, Biondi, Luisotti, Wellber, Dantone, among others. He collaborates with Orquesta de la Comunitat Valenciana addressing the symphonic repertoire with the piano and, occasionally, as harpsichord or fortepiano player; he debuted as musical director in 2016 with the Mozzart "Idomeneo" at the Palau de les Arts, receiving excellent reviews, and in 2017 directed Le Carnival des Animaux at the Martín y Soler venue.
José participates in important opera festivals like the Rossini Opera Festival of Pesaro, Alejandro Granda in Lima (Peru) and with the Grighallen of Bergen (Norway). He has performed recitals with Gregory Kunde, Marianne Cornetti, Ana María Sanchez, Manuel Cid, Carmen Romeu, Robert Expert, Juan Pechuán, Vasko Vassilev, Claude Delangle combining classical music with incursions to other music like jazz, blues, reggae or tango. Since 2017 he retired working as a collaborative pianist in the grand theatres to be the artistic director of the Matisse Club, with the purpose of encouraging live music and undertake a new path as interpreter towards improvisation and its infite possibilities.