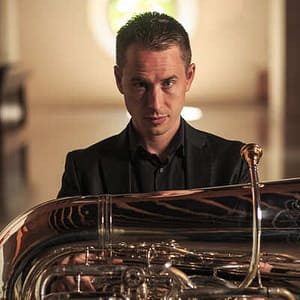 José Martínez Associate Professor, Tuba
Principal Tuba, Spanish National Symphony Orchestra.
A native of Chelva (Spain), Jose Martinez is the principal tuba of the National Orchestra of Spain since 2017.
An enthusiastic orchestral player, Martinez was a member of the Civic Orchestra of Chicago and performed as a guest with the Boston Symphony and Boston Pops, Chicago Symphony, Gothenburg Symphony, Jalisco Philharmonic, Mahler Chamber Orchestra, Malaysian Philharmonic, Minnesota Orchestra, Naples Philharmonic, New York Philharmonic, New World Symphony, Porto Symphony, Saint Louis Symphony and the Seattle Symphony.
A strong proponent of training orchestras, he was invited to play at the Spoleto Festival USA, Music Academy of the West Festival, Castleton Festival, Tanglewood Music Center, and with the Swedish National Orchestra Academy, Baltic Sea Youth Philharmonic, European Union Youth Orchestra or the National Youth Orchestra of Spain.
Fascinated by chamber music, Jose is a member of brassONEquintet and cofounder of Duo2Artst!, a music, dance and theater project, alongside the ballerina Sherezade Soriano. He performed with artists from the New York Philharmonic and the American Brass Quintet as a Zarin Mehta Fellow or the Chicago Symphony Orchestra in the MusicNOW contemporary music series.
He will forever be indebted to Mike Roylance, Gene Pokorny, Morten Agerup and Sergio Finca, his greatest influences. Having studied in Spain, Sweden and the USA, doctor Martinez is flattered to join Mediterranean Music College.