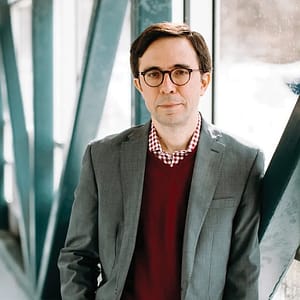 Jorge Grossmann Professor, Composition
Jorge Villavicencio Grossmann (b. 1973) is a composer whose music reveals an innately lyrical vein within a texturally and formally complex modernist framework. His musical interests are multifaceted, and his pieces often reflect his passion for revisiting classical models. From hockets, troped passacaglias and variation forms to works for electronics or Peruvian indigenous instruments, his oeuvre is as diverse as his cultural background. The son of a Peruvian scientist and a Brazilian teacher and visual artist of Austrian extraction, he was born in Lima, Peru. When the terrorist organization, the Shining Path, became stronger causing massive unrest in Peru, his family emigrated to Brazil in 1989. Initially intending a career as a violinist, he stopped playing due to the effects of focal dystonia. After moving to the United States in 1998, he completed his graduate degrees studying composition with Orlando García, Fredrick Kaufman, John Harbison and, with whom would become his greatest influence, the American composer Lukas Foss.
His music has been performed by the Norwegian Radio Orchestra, São Paulo Symphony, National Symphony Orchestra of Ukraine, National Symphony Orchestra of Argentina, Orquesta Filarmónica de Bogotá, Peruvian National Symphony, New England Philharmonic, Kiev Camerata, Klangforum Wien, Boston Musica Viva, Nouvel Ensemble Moderne, Da Capo Chamber Players, Pierrot Lunaire Ensemble Wien®, Seattle Chamber Players, Talea Ensemble, ALEA III and the Amernet, Borromeo, Mivos and JACK quartets. He has lived in Spain as a Fulbright Scholar and his awards include a John Simon Guggenheim Memorial Foundation fellowship, Fromm Music Foundation Commission, the Aaron Copland Award, Bogliasco Foundation Fellowship, Charles Ives Scholarship from the American Academy of Arts and Letters and a fellowship from Vitae – Associação de Apoio à Cultura. He has been in residence at the Copland House, MacDowell Colony and Atlantic Center for the Arts. He teaches music composition at Ithaca College and is the director of the Ithaca College Contemporary Ensemble. In addition, he is Head of Composition at VIPA, Valencia International Performance Academy.