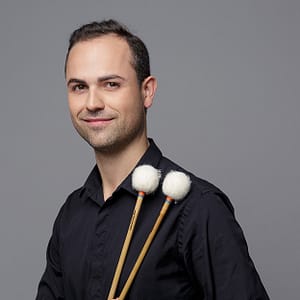 Javier Azanza Guest Professor, Timpani
Antonio Javier Azanza Ribes was born in Valencia in 1988. He began his musical education in Valencia where he finished his Studies with Josep Vicent and Mike Schaperklaus. In this time he developed his musical skills in many ways: contemporary music, orchestral percussion, chamber music and modern music (pop, rock, jazz). After that, he began his Master studies in Timpany and Orchestral Percussion in the "Hochschule für Musik und Theater München" with Prof. Raymond Curfs, Dr. Prof. Peter Sadlo and Franz Bach. From September 2012 he joined Berliner Philharmoniker Academy being taught by Prof. Franz Schindlbeck and Prof. Rainer Seegers in addition to playing concerts and making tours with Berlin Philarmonic Orchestra.
His professional life as Solo Timpanist started in August 2015 when he got a Timpani Solo position in Euskadi Orchestra. He played with many young orchestras like Valencia Youth Orchestra, Spanish National Youth Orchestra, Gustav Mahler Jugend Orchester and also with professional orchestras like, Concertgebouw Orchestra, Munich Philharmoniker, Ndr ElbPhilharmonie Ochester, Staatsoper Munich, Dresdner Philarmoniker and Valencia Symphonic Orchestra.
Javier Azanza is now Timpanist at the Orchestre de Paris.