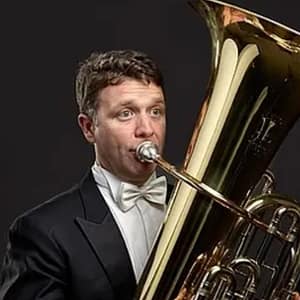 David Cribb Professor, Tuba
Principal Tuba, Leipzig Gewandhaus Orchestra.
David Cribb was born in Murgon, Queensland.  His first musical experiences were in the church choir and singing with his family at various functions in the area.  After receiving piano lessons David started learning the Euphonium at the age of ten as part of the Queensland Department of Education instrumental music programme.  At thirteen he changed to the tuba and after completing high school, was accepted into the Queensland Conservatorium of Music where he studied with Craig Cunningham and Adrew Jarvis.  In 1995 David transferred to the Sydney Conservatorium to study with Steve Rosse and while completing his diploma of music worked extensively in Sydney and Melbourne as a freelance musician.  David was a member of the Australian Youth Orchestra and took part in their 1996 Europe/North America tour.
In 1998 David moved to Frankfurt/Main to continue his studies with David Glidden (Solo-Tuba Frankfurt Radio Symphony Orchestra / Bayreuth Festival Orchestra).  In his two years in Frankfurt, he worked with the Frankfurt Radio Orchestra, Theater Karlsruhe, Theater Wiesbaden, Darmstadt Theater, HR Brass, "bach, blech and blues" and many other ensembles.
In 2000 David was awarded the position of Solo-Tuba with the orchestra of the Komische Oper Berlin where he remained for five years, in this time he played with all of the Berlin orchestras including the Berlin Philharmonic under Sir Simon Rattle and the Staatsoper unter den Linden under Daniel Barenboim and Pierre Boulez.
2005 saw David move to the renowned Leipzig Gewandhaus Orchestra where he is involved in regular international touring and recording.  He has performed the Vaughan-Williams tuba concerto with the Gewandhaus Orchestra, is a founding member of the Gewandhaus Brass Quintet and teaches at the University of the Arts (UdK) Berlin and the Hochschule for Music and Theater in Leipzig.