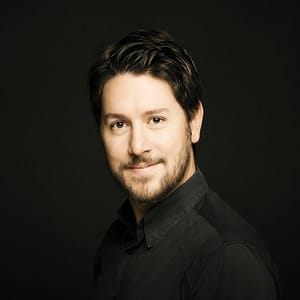 Darío Mariño Associate Professor, Clarinet
Darío Mariño Varela studied at the Conservatorio Superior de Música in A Coruña with José María Belló and Carlos Casadó and at the Hochschule für Musik 'Hanns Eisler' in Berlin with Karl-Heinz Steffens and Wenzel Fuchs. He completed his training at the Escuela de Altos Estudios Musicales de Galicia with Manuel Juan, at the Orquesta Escuela de la Sinfónica de Galicia with Vicent Alberola, at the Gustav Mahler Akademie in Bolzano, Italy with Gerhald Pachinger, at the Santander International Music Festival with Karl-Heinz Steffens, at the Zermatt Festival, Switzerland with the Scharoun Ensemble of the Berliner Philharmoniker and at the Pacific Music Festival (PMF), Japan with Peter Schmidl, Manfred Preis and Ricardo Morales. During these years, he had his first contact with the orchestra world, collaborating with the Galician Symphony Orchestra and being a member of the JONDE (Spanish National Youth Orchestra). He also served as principal clarinet with the Gustav Mahler Jugendorchester, where he worked intensively with Claudio Abbado.
Between 2010 and 2012 he was a member of the Karajan Akademie at the Berlin Philharmonic, and since then he has collaborated as principal clarinet with orchestras such as the Berlin Philharmonic, Mahler Chamber Orchestra, Deutsche Kammerphilharmonie Bremen, various German Radio orchestras such as the DSO and RSB Berlin. SWR Stuttgart, NDR Elbphilharmonie Hamburg, WDR Köln and HR Frankfurt. In the field of opera, he has collaborated with the Deutsche Oper Berlin, Nationaltheater Mannheim, Komische Oper Berlin and Gran Teatro del Liceo in Barcelona.
He has worked with conductors like Simon Rattle, Valery Gergiev, Christian Thielemann, Daniel Barenboim, Daniel Harding, Andris Nelsons, Herbert Blomsted, Paavo Järvi, Iván Fischer and Christoph Eschenbach, among others. As a chamber musician, he founded the Natalia Ensemble, the Hanns Eisler Trio, and the Berliner Nonett and has collaborated with musicians such as Leif Olev Andsnes, Amihai Grosz, Guy Braunstein, John Corigliano, Anne LeBozec, Cuarteto Quiroga, Alain Meunier, Paul Rivinius, Scharoun Ensemble, Maurice Bourgue, Radovan Vlatkovic and Klaus Thunemann.
Darío won the First Prize and Gold Medal in the Soloists' competition of the Primer Palau in Barcelona, ​​which resulted in performing and recording the clarinet concertos by Mozart, Weber, Shaw, and Copland.
Passionate about pedagogy, he teaches in Masterclasses both clarinet and chamber music and orchestra in various formats, such as seminars with the Natalia Ensemble - reduction of large orchestra scores for small ensembles without a conductor -, and in orchestras such as the Theater Jugendorchester Kassel, the Andalusian Youth Orchestra (OJA) or the JONDE Darío Mariño was a clarinet soloist with the Konzerthausorchester Berlin, the Staatstheater Kassel and currently the Symphony Orchestra of the Gran Teatro del Liceo de Barcelona.