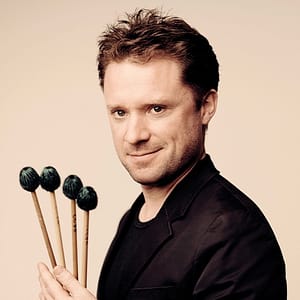 Colin Currie Professor, Percussion
Artist in Association, Southbank Centre, London Artistic Director, Colin Currie Group Artistic Curator, Grafenegg Academy.
Colin Currie is as solo and chamber artist at the peak of his powers. Championing new music at the highest level, he is hailed as being "at the summit of percussion performance today" (Gramophone). Currie is the soloist of choice for many of today's foremost composers and conductors and he performs with the world's leading orchestras, including the New York Philharmonic, Royal Concertgebouw, Royal Stockholm Philharmonic, London Philharmonic and Minnesota Orchestras.
A dynamic and adventurous soloist, Currie's commitment to commissioning and creating new music was recognised in 2015 by the Royal Philharmonic Society who awarded him the Instrumentalist Award. From his earliest years Currie forged a pioneering path in creating new music for percussion, winning the Royal Philharmonic Society Young Artist Award in 2000 and receiving a Borletti-Buitoni Trust Award in 2005. Currie has premiered works by composers such as Steve Reich, Elliott Carter, Louis Andriessen, HK Gruber, Mark-Anthony Turnage, Sir James MacMillan, Brett Dean, Sir Harrison Birtwistle, Einojuhani Rautavaara, Helen Grime, Jennifer Higdon, Kalevi Aho, Andy Akiho, Rolf Wallin, Kurt Schwertsik, Andrew Norman, Julia Wolfe and Nico Muhly. Looking ahead, in the coming seasons Currie will premiere new works by Bruno Mantovani, Danny Elfman, and Steve Reich.
In October 2017 Currie launched Colin Currie Records, in conjunction with LSO Live, as a platform for recording his diverse projects, celebrating the extraordinary developments for percussion music in recent times. The label's first release was the Colin Currie Group's debut recording, Steve Reich's Drumming, which was hailed as "thunderously exciting" (The Times). In October 2018 Currie released the second disc in this catalogue, The Scene of The Crime, with Håkan Hardenberger, the third release following in April 2019, Colin Currie & Steve Reich Live at Fondation Louis Vuitton, once again featuring the Colin Currie Group.
A major highlight of Currie's 2020/21 season is the world premiere of Bruno Mantovani's Percussion Concerto, Allegro Barbaro, with the Tonkünstler Orchestra in June 2021, following the postponement of the Orchestre Philharmonique de Radio France's premiere last season.
Currie also returns to the São Paulo Symphony Orchestra, Scottish Chamber Orchestra, Helsinki Philharmonic Orchestra, Rochester Philharmonic Orchestra, performs with the Warsaw Philharmonic, National Orchestra of Belgium and Polish National Radio Symphony Orchestra Katowice and the Colin Currie Quartet make their Lithuanian and Hong Kong debuts.
Currie's dynamic ensemble the Colin Currie Group was formed in 2006 to celebrate the music of Steve Reich and made its five-star debut at the BBC Proms. Since then, with Reich's personal endorsement Currie and his ensemble have taken on the role of ambassadors of Drumming, which they have performed at many venues and festivals internationally. The Colin Currie Group return to the Royal Festival Hall in April 2021 for an all-Reich programme including Music for 18 Musicians.
Currie is Artist in Association at London's Southbank Centre, where he was the focus of a major percussion festival Metal Wood Skin in 2014 and continues to perform there every season.
Colin Currie plays Zildjian cymbals and is a Marimba One Artist.