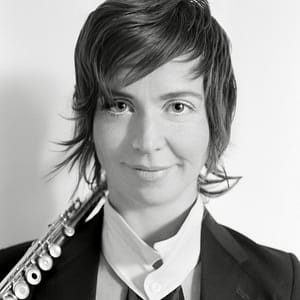 Claire Chase Guest Artist, Contemporary Flute
Flute, International Contemporary Ensemble; Professor of the Practice, Harvard University.
Claire Chase is a soloist, collaborative artist, educator, curator and advocate for new and experimental music. She has given the world premieres of hundreds of new works by a new generation of composers, and she has championed new music internationally by forming organizations, cultivating intersectional alliances, founding commissioning initiatives and supporting community and education programs that reach new audiences. She was the first flutist to be awarded a MacArthur Fellowship in 2012, and in 2017 was the first flutist to be awarded the Avery Fisher Prize from Lincoln Center for the Performing Arts. Chase has been awarded Honorary Doctorates from The Curtis Institute of Music and The Cleveland Institute of Music.
In 2013 Chase launched Density 2036, a 24-year commissioning project to create an entirely new body of repertory for flute between 2013 and 2036, the centenary of Edgard Varèse's groundbreaking 1936 flute solo, Density 21.5. Each season as part of the project, Chase premieres a new program of commissioned music, with seven hours of new repertory created to date. In 2036, she will play a 24-hour marathon of all of the repertory created in the project. Chase released the world premiere recordings the first five years of the Density cycle in collaboration with the producer Matias Tarnopolsky at Meyer Sound Laboratories in Berkeley, CA in December 2020.
A deeply committed educator, Chase is Professor of the Practice in the Department of Music at Harvard University. From 2016-2019, she served as co-artistic director, with her longtime collaborator Steven Schick, of Ensemble Evolution, a three-week intensive workshop for emerging musicians at Banff Centre for Arts & Creativity in Canada. From 2014-2018, Chase was a Fellow at Project&, a Chicago-based social justice organization founded by Jane M. Saks. Chase collaborated with Project&, the composer Marcos Balter and the director Douglas Fitch on the creation of "Pan," an opera for solo flute and an all-ages ensemble of community members, which Alex Ross of The New Yorker called "art as grassroots action."
Chase co-founded the International Contemporary Ensemble in 2001, described as the United States' "foremost new-music ensemble" (The New Yorker), and served as its artistic director until 2017 and as an ensemble member on performance and education projects on five continents. The Ensemble has premiered more than 800 works since its inception and has spearheaded an artist-driven organizational model that earned the ensemble the Trailblazer Award from the American Music Center in 2010 and the Ensemble of the Year Award in 2014 from Musical America Worldwide. The ensemble can be heard in dozens of recordings on the Tzadik, Mode, Naxos, Bridge, New Amsterdam, New Focus, Samadhi Sound and Nonesuch labels, as well as on its own online, streaming video library of live performances, DigitiCE.
Chase grew up in Leucadia, CA with the childhood dream of becoming a professional baseball player before she discovered the flute. She received her B.M. from the Oberlin College Conservatory of Music in the studio of Michel Debost. She lives in Brooklyn.