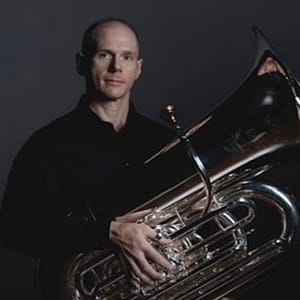 Chris Olka Professor, Tuba
Principal Tuba, Cincinnati Symphony Orchestra.
Principal Tuba of the Cincinnati Symphony since 2016 and former Principal Tuba of the Seattle Symphony and Opera from 1999-2016, Christopher Olka has had a wide and varied career in music. His orchestral experience includes Principal Tuba of Gerard Schwarz's All-Star Orchestra, Seiji Ozawa's Saito Kinen Festival Orchestra, Guest Principal Tuba with the Boston Symphony, Chicago Symphony, and New York Philharmonic.
Before becoming a full-time orchestral musician in 1999, Chris was an active freelance musician in New York where he performed in brass quintets, Dixieland bands, and most of the major orchestras in the area while completing his Master's degree at The Juilliard School.
From 1989 to 1996 he was a staff musician for the Walt Disney World Company in Orlando, Florida, where he was a member of many of the bands there including the TUBAFOURS tuba quartet, the world's first full-time professional tuba quartet.
An active soloist and advocate of solo tuba literature, Chris has performed around the world in recitals and masterclass in addition to numerous orchestra, brass band, and wind ensemble solo appearances.
In 2006 Chris premiered and recorded the Samuel Jones Concerto for Tuba and Orchestra with the Seattle Symphony for the NAXOS record label. The concerto, which was written and commissioned for him, received critical acclaim internationally for the premiere and subsequent recording.
Chris started a YouTube channel in 2011 dedicated to education, product reviews, and all things tuba-related. His channel has thousands of subscribers and hundreds of thousands of views from around the globe. His website, www.chrisolka.com also hosts these videos along with a growing catalog of transcriptions of music arranged for solo tuba.
His education includes a B.M. from the University of Central Florida and a M.M. from the Juilliard School. Chris's teachers include Warren Deck (New York Phil. Retired), Joe Alessi (New York Phil.), and Abe Torchinsky (Philadelphia Orch. Retired).
Chris is proud to be an Eastman Winds Performing Artist.