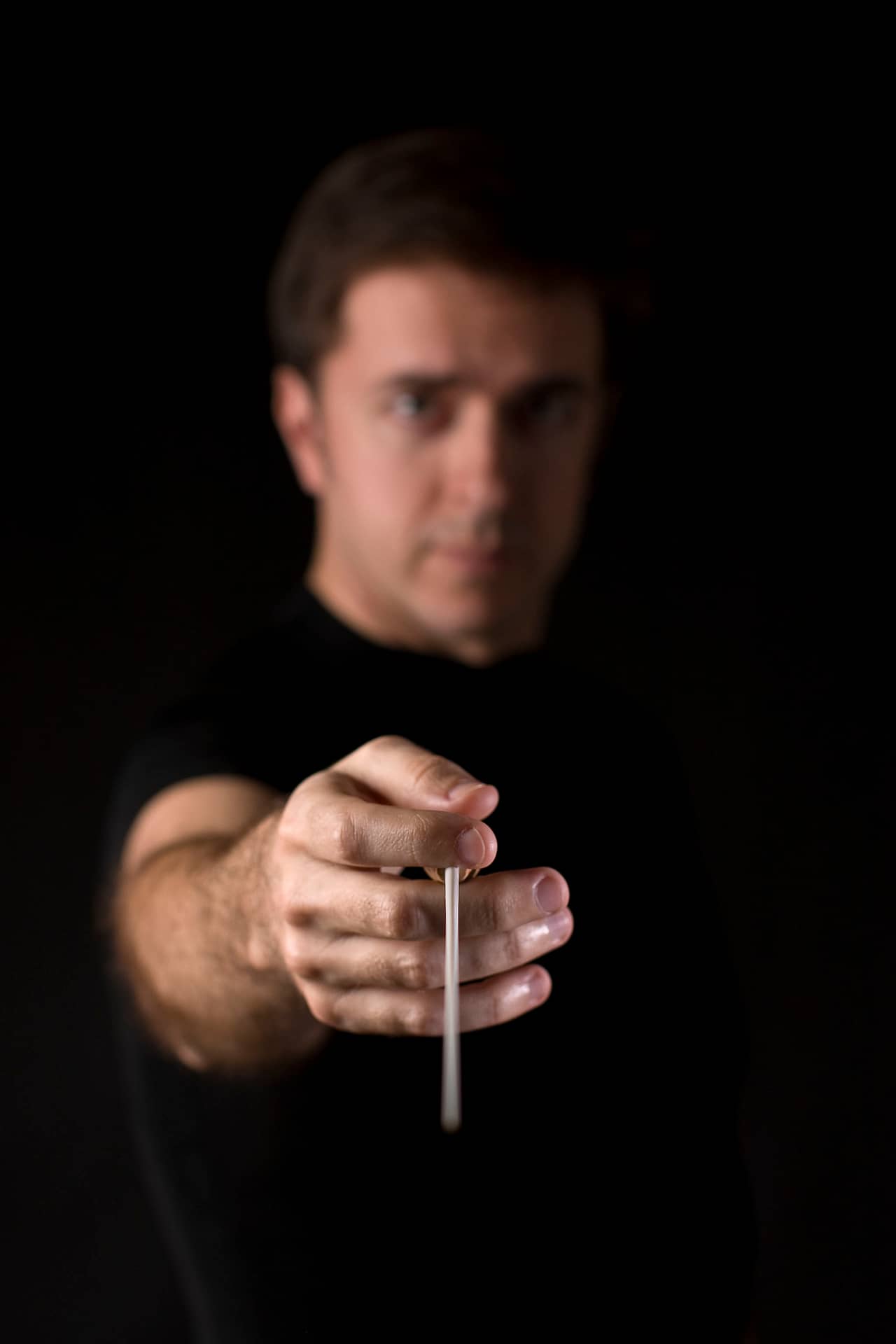 Carlos Amat Assistant Professor, Conducting
Born in Alzira (Valencia), conductor, pianist, producer and composer Carlos Amat has given concerts in Spain, the United States, Russia, Cuba, Honduras, Peru, Mexico, Guatemala, the Dominican Republic and France, and has premiered several of his works in Spain, Germany, Greece and the United States.
He holds a Master's degree from the Peabody Institute of the Johns Hopkins University, and worked as a pianist at the Palau de les Arts "Reina Sofía" in Valencia, where he was also an assistant to conductors Zubin Mehta and Lorin Maazel, among others, having the chance to work with some of the best singers, such as Plácido Domingo, Matti Salminen, Erwin Schrott, Jorge de León, Ramón Vargas, Maria Guleghina or Waltraud Meier.
He has conducted the Academic Orchestra of St. Petersburg, National Symphony Orchestra of Cuba, Orchestra of Valencia, Orquesta de Cámara de Minería (Mexico City), National Symphony Orchestra of Peru, Philharmonic Orchestra of Honduras, National Symphony Orchestra of Guatemala, Chamber Orchestra "Joaquín Rodrigo," New Music Ensemble of Miami and Castellón Symphony Orchestra. He has directed soloists such as violinist Vicente Huerta, cellist Adrian Van Dongen, pianists Leonel Morales, Brenno Ambrossini, Soyeon Lee, Jenny Lin and Ran Dank, the trumpeters Otto Sauter and Vicente Campos and the oboist Vicente Llimerá, as well as dozens of singers such as Mayte Alberola, Silvia Vázquez, Ilona Mataradze, Mª José Martos, Beatriz Lanza, Manuel de Diego or Javier Franco, among many others.
He has conducted lyrical titles like Pagliacci, La Traviata, L'Elisir d'Amore, Rigoletto, Don Giovanni, La Rondine, Doña Francisquita, El Barberillo de Lavapiés, Don Pasquale and Lucia di Lammermoor, as well as the children's opera La Ópera de los Tres Cerditos, adaptation with music by Mozart of which he is also co-author and producer.
He has recently carried out the adaptation and premiere of the first-ever flamenco opera, "Bailando con Carmen", an adaptation of Bizet's opera in which classical and flamenco merge as never before, premiered in the Roman Theater of Sagunto.
Carlos Amat is a champion of contemporary music, having been frequently invited by groups such as the Ensemble d'Arts, Espai Sonor, VICE (Valencia International Contemporary Ensemble), or the Distractfold Ensemble (Manchester), conducting dozens of world premieres of music by authors from various nationalities. 
He is also the artistic director of the Valencia International Performance Academy & Festival (VIPA), a prestigious high-performance summer academy that will celebrate its 10th edition in 2022.
Between 2012 and 2016, he was Musical Director of the Associació d'Amics de l'Òpera de Castelló (AOC) and professor at the Conservatorio Superior "Salvador Seguí" in the same city. He is currently Professor of Chamber Music at the "Joaquín Rodrigo" Superior Conservatory of Valencia. He holds a Doctorate degree in Music from the Universidad Politécnica de Valencia.