Housing in Valencia
General Information
General Information About Housing
Unlike in countries like the US, first and second year bachelor students are not required to live in student dorms, as in Spain they are considered adults once they are 18 years old. Besides, Valencia is one of the cities with the lowest crime rate in the world, making it a very safe place to walk around. Please click here for safety statistics about Valencia.*
For the time being, MMC does not directly offer housing services, and students must research, choose, and arrange their own housing. It is very important that you understand MMC will not be providing nor will be involved with any service related to housing, renting, or student residences, so it cannot be liable for any issues arising from dealings between the student and any external agencies or private owners. Mediterranean Music College is providing below some recommendations and a listing on a merely informative basis, in order to help students arrange their accommodation in Valencia.
* This source is a database of user-contributed data about cities and countries worldwide. Although the tool has been a source for many reputable news sources, we encourage you to look for information about safety on your own as well. You can easily compare Valencia to your own city and see the results.
Long-Term Housing in the City
Valencia is the third most populated capital in Spain, and it is very well connected through an efficient and reliable public bus system (with one-hour unlimited commute rides priced as low as 0.85€!). The city also offers a well-established bike rental service with a convenient bike track network named Valenbisi, and seven subway lines that can take you to a number of locations around the city in just minutes. The city is located on an extensive plain, which makes it very convenient for bike, scooter or even walking/running journeys. That said, anywhere in Valencia is potentially a good location to find housing; the main options to be considered are finding a private apartment (for a single student), renting an apartment to share with other students, or living in a student residency.
MMC's campus is located in one of the trendiest districts of the city, once a fishermen's town and now instituted as a quarter named El Cabañal. Rows of modernist houses dating from the end of 19th century and the beginning of the 20th century give the neighborhood an original, eclectic appearance that salutes both the sunrise and sunset, and the quarter is one of the few heritage protected areas in the city.
On top of this, the school facilities are located at less than half a mile from the beach of Malvarrosa, and a five-minute walk from the Port of Valencia, one of the most beloved areas for the inhabitants of this wonderful city.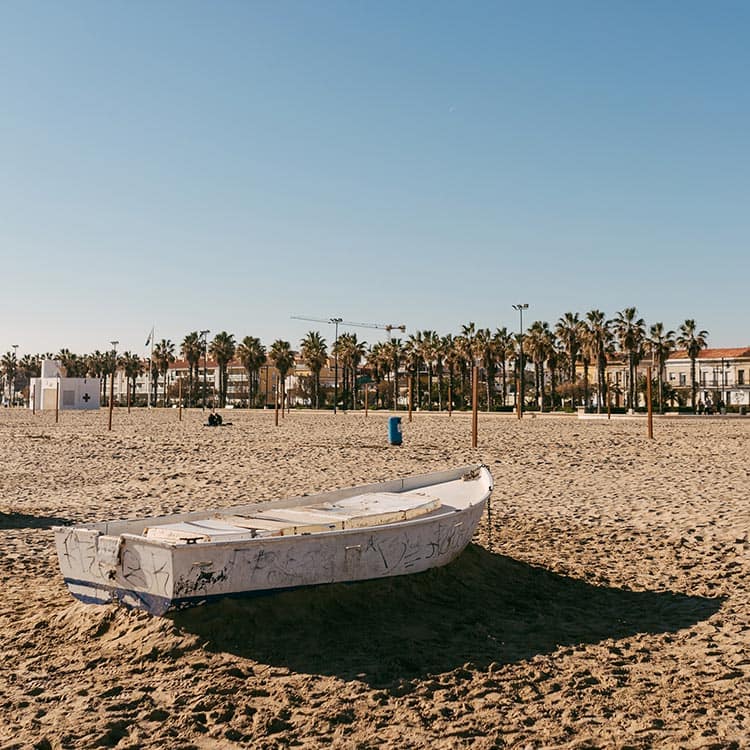 El Cabañal, pictured above.
Even though we do not provide housing through the College, we do understand that some parents would feel much better if a student dorm were to be available; some students, even graduate ones, just prefer this housing option. Below you will find more information about the housing options you might consider as a student coming to Mediterranean Music College.
Tip: You may use the menu to the left to navigate this page.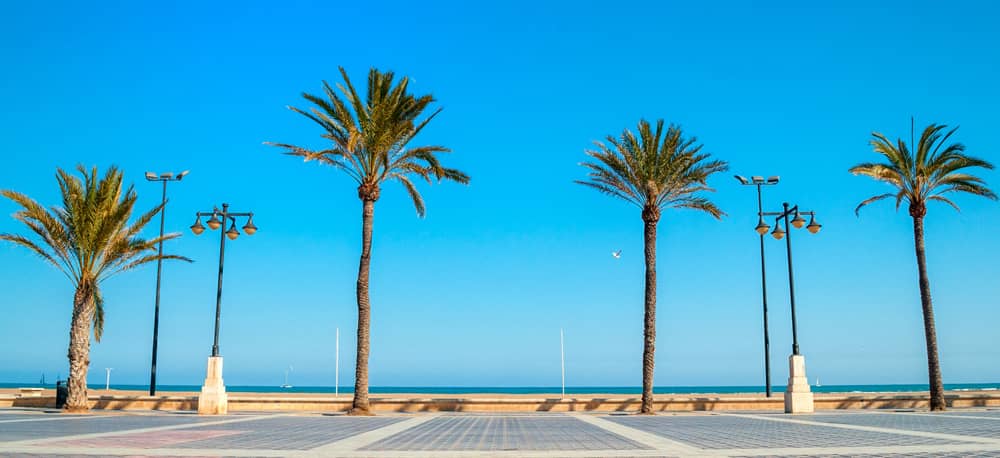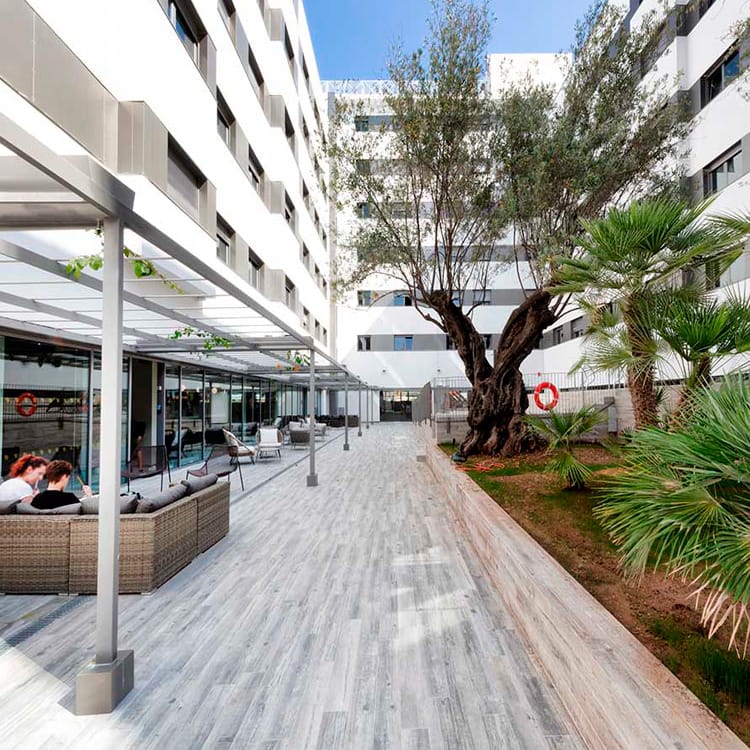 Just around the corner from the school building you can find the newest student residency in Valencia, called Collegiate Marina Real, where you can rent a private or shared room with a fully-functioning kitchen. This residence offers a range of amenities, although be advised that they don't offer meal plans. We believe this to be an advantage, as you can eat in dozens of restaurants and bars around the residence, with incredibly affordable prices, and it would be a shame to be tied down to eating only a cantina menu every day, missing out on the opportunity to experience the richness of Mediterranean cuisine.
Due to the closeness of this residency to the school building, we are currently arranging a special set of incentives for MMC students at Collegiate Marina Real. To enjoy this offer, you must enter a code that will offered shortly in this page when applying to the residence. Please be aware that there is limited availability, so we recommend you reserve housing as soon as you make your decision to study at MMC.
There are, though, other privately-run student residencies in Valencia that do offer meal plans, usually near university campuses. Here's a list of some of them:
Galileo Galilei
RESA Damià Bonet
RESA La Concepción
Reuniver Valencia
Residencia Universitaria Mediterráneo
Compared to other major cities in Europe, Valencia is not an expensive place to live. Renting an individual room can be as low as 250€/month, and it's not too hard to find a furnished apartment that you can share with other two students for as low as 750€ monthly.
It is very important to ask for a rental contract you can review before making any payments, especially if you are finding housing from your home country. Also, bear in mind most real estate agencies and/or owners speak Spanish, with very basic English knowledge. Some key things to know before signing:
What is the deposit fee (normally one or two months rent).
Monthly rent; when is the rent due.
Costs included and average monthly expenses. Normally you'll have to pay electricity, gas and water yourself, but not building maintenance, as a hint.
Transportation options around the place.
Distance between the location and the school.
There are plenty of rental agencies working in the area, but the majority of properties around town are also included in these famous listings:
Fotocasa — Real estate portal specialized in flats for sale and rent. It's one of the most popular in the country but, unfortunately, it's only in Spanish.
Idealista — This is one of the most frequently used real estate portals in Spain. It is available in several languages, including English.
Yaencontre — Only in Spanish.
Your Next Home Away from Home Awaits
Valencia is a city full of colorful traditions and a major center for breathtaking arts and music in the
eastern shores of Spain. Mediterranean Music College provides the opportunity not only to expand your musical career to new horizons, but also to be in the center of this vibrant region. To learn more about Admissions at Mediterranean Music College, click below.