About MMC's Oboe Program
More Information
MedMusic's stellar Oboe Studio features the principal players from two of the most prominent orchestras in the world: recently appointed French oboist Philippe Tondre, at The Philadelphia Orchestra and Russian oboist Ivan Podyomov, from the Royal Concertgebouw Orchestra. In addition, the studio will be completed by Dutch oboist Christopher Bouwman, principal  oboe player of the Orquestra de la Comunitat Valenciana, resident at the stunning Palau de les Arts "Reina Sofía." The three of them will work closely as a team to ensure their students get the best of each, multiplying the learning effects in a truly expansive way.
In addition, MMC Oboe Studio is conceived as a unique situation where the almost independent American and European worlds establish a bridge that unifies them, with the common objective of superb music making, while, at the same time, opening the doors of the two worlds to their students, who will benefit from job opportunities at both sides of the Atlantic, and, by extension, at orchestras all around the globe.
The Oboe Studio at MMC is designed to provide students with all tools necessary to cover every single aspect of the profession, with a special focus on the career as an orchestral musician. For most musicians, the most probable performance environment they'll face will be playing with other people, from small or medium-size groups, to full-sized orchestras. For this reason, it is crucial to be efficient playing the oboe, but also being able to play the english horn, and developing the ability to make great reeds will affect hugely on the sound quality. Besides, being exposed to contemporary extended techniques will complement an integral education on oboe performance that will prepare our students for success once they graduate.
Oboe Studio Quick Facts
Each student will get:
12 private lessons

with Philippe Tondre (Principal, The Philadelphia Orchestra)*

16 private lessons

with Ivan Podiomov (Principal, Royal Concertgebouw Orchestra)*

16 private lessons

with Christopher Bouwman (Principal, Orquestra de la Comunitat Valenciana)*

4 private lessons

with Dominik Wollenweber (Soloist, Berlin Philharmonic Orchestra)*

Visiting specialists

on Reeds Making, and Contemporary Oboe Performance

Masterclasses

with top-class oboists coming from all over the world

Lessons with

piano

and

harpsichord

accompaniment
*Private lessons will last 55′, in order to provide time for change from one student to the next one
**Pianists or harpsichordists will be available a minimum of 2 hours each month per student. Time can be used for individual rehearsals or for lessons, following faculty indications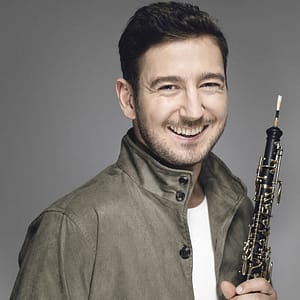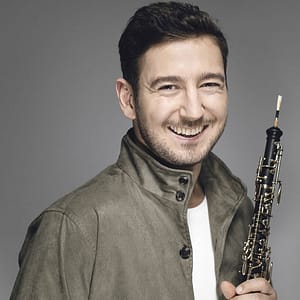 Philippe Tondre
Professor, Oboe
Principal Oboe, Philadelphia Orchestra.
Born in Mulhouse, France, in 1989, he started studying the oboe at the age of six in Yves Cautrès's class at the Mulhouse National School of Music before joining the Conservatoire National Supérieur de Musique de Paris, where he studied with David Walter and Jacques Tys. Mr. Tondre also took lessons by teachers such as Maurice Bourgue, Heinz Holliger, Jean-Louis Capezzali, Dominik Wollenweber, and Ingo Goritzki.
Mr. Tondre has performed as a soloist with various orchestras including the Bavarian Symphony Orchestra, the Orchestre de la Suisse Romande, the Orchestre du Capitole de Toulouse, the Geneva Chamber Orchestra, the Kammerakademie Potsdam, the Munich Chamber Orchestra, and the Osaka Philharmonic Orchestra. He made his debut in the Berlin Philharmonie in June 2013, playing Martinů's Oboe Concerto, accompanied by the Deutsches Symphonie-Orchester Berlin. He is currently principal oboe of the Chamber Orchestra of Europe (since March 2019), the SWR Symphonieorchester (since January 2009), the Budapest Festival Orchestra (since September 2014), the Mito Chamber Orchestra (since January 2012), and the Saito Kinen Orchestra (since January 2012). During the 2016–17 season, he held the solo oboe chair at the Leipzig Gewandhaus and as a guest principal oboe he has regularly performed with the Royal Concertgebouw Orchestra in Amsterdam. Since 2015 he is also a professor at the Musikhochschule Saarbrücken.
Mr. Tondre has competed in numerous international competitions and has been awarded First Prize at the International Double Reed Society's Fernand Gillet-Hugo Fox Competition (2009); Second Prize at the Tokyo International Competition (2009); Third Prize at the Geneva International Competition (2010), and Third Prize and the Gustav Mahler Prize at the Prague Spring International Competition (2008). In 2012 he received the Beethoven Ring, a musical honor given by the city of Bonn at the Beethoven Festival, thus joining the prestigious list of previous recipients including Julia Fischer, Lisa Batiashvili, and Gustavo Dudamel. Mr. Tondre also appeared in the ARTE television program Stars of Tomorrow, hosted by Rolando Villazón. He won the ARD International Music Competition as well as the Audience Prize and the prize for the best interpretation of Liza Lim's commissioned composition in Munich (2011).
Mr. Tondre has collaborated with such artists as Jean-Yves Thibaudet, Lars Vogt, Pierre-Laurent Aimard, Yuri Bashmet, and Nathalie Stutzmann. He has attended the Tokyo Spring Festival, Mozart Fest Würzburg, the Sochi Winter International Arts Festival, the Besançon International Music Festival, and the Molyvos International Music Festival. He has recorded for BR Klassik and is currently working with pianist Danae Doerken on a "Trilogy" Recording Project for Klarthe France and SWR Classic Labels.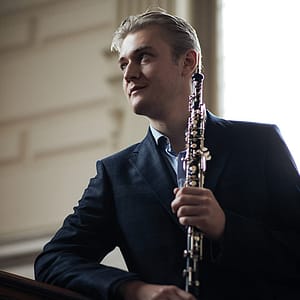 Ivan Podyomov
Professor, Oboe
Principal Oboist, Royal Concertgebouw Orchestra.
Guest Principal Oboist, Lucerne Festival Orchestra, the Orchestra Mozart Bologna, the Mahler Chamber Orchestra.
Born in Arkhangelsk, Russia, he commenced his musical education at the Gnessin School of Music in Moscow with Ivan Pushetchnikov. Since 2006 until 2011 Ivan has been studying with Maurice Bourgue at the Geneva Conservatory. During his studies in Geneva, Ivan Podyomov has won a number of important oboe competitions: ARD International Competition in Munich in 2011, Geneva Competition and Markneukirchen Competition in 2010, the "Sony" Oboe Competition in Karuizawa Japan in 2009, the Prague Spring International Competition in 2008.
These successes resulted numerous concerts at major venues around the world. In 2009 Ivan gave his solo debut with the Deutsches Symphonie-Orchester Berlin at the Berlin Philharmonic Hall. He has made solo appearances with the Royal Concertgebouw Orchestra, Bavarian Radio Symphony Orchestra, Bamberg Symphony Orchestra, Tokyo Philharmonic Orchestra, Stavanger Symphony Orchestra, Academic Symphony Orchestra of Saint-Petersburg Philharmonic, Munich Chamber Orchestra, Stuttgart Chamber Orchestra, Kammerakademie Potsdam, Chamber Orchestra of Geneva, Czech Chamber Philharmonic, conducted by Semyon Bychkov, Manfred Honeck, Michael Sanderling, David Afkham, Trevor Pinnock, Leonardo García Alarcón and others.
Ivan has performed at the Lucerne Festival, Salzburg Festival, Prague Spring Festival, Festival of Radio France in Montpellier, Festival Mäcklenburg-Vorpommern. Among his chamber music partners were the Hagen Quartet, Trevor Pinnock, Lars Vogt, Yulianna Avdeeva, Sabine Meyer, Maurice Bourgue, Jacques Zoon, Leonardo García Alarcón, Dmitry Sinkovsky, Olga Paschenko and others.
Ivan Podyomov is a principal oboist of the Royal Concertgebouw Orchestra, Amsterdam since 2016. He held the same positions earlier at the Bamberg Symphony Orchestra and the MusicAeterna. Ivan has been frequently playing as the guest principal Oboist with the Lucerne Festival Orchestra, the Orchestra Mozart Bologna, the Mahler Chamber Orchestra under the baton of Bernard Haitink, Richardo Chailly and Claudio Abbado.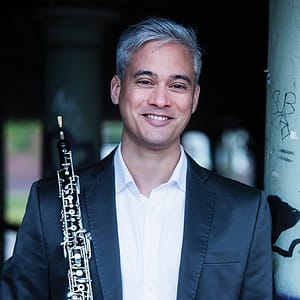 Christopher Bouwman
Associate Professor, Oboe
Principal Oboist, Orquesta de la Comunitat Valenciana.
Christopher Bouwman is principal oboe of the Orquesta de la Comunidad Valenciana, titular orchestra of the Valencian opera house "Palau de les Arts, a position he has held since 2006 after auditioning for music director Lorin Maazel.
Christopher has also worked as principal oboe of both the Orchestre de la Suisse Romande and the Israel Philharmonic orchestra and has made frequent guest appearances with the Budapest Festival Orchestra and the Bayerische Staatsorchester.
As a solo performer, Christopher has performed with orchestras such as the Swedish Radio Orchestra and Bruckner Orchester Linz. He has made multiple appearances during international tours as a soloist with the Israel Philharmonic Orchestra under the baton of Zubin Mehta.
Christopher is a prize-winner of multiple international music competitions, such as the Fernand-Gillet Oboe competition, Barbirolli Oboe competition, and the European Music Prize for Youth, at which in 2003 he was given the title of Young Musician of the year.
Born in The Hague - The Netherlands and growing up in a family of musicians, Christopher started playing the oboe at a young age and was soon accepted at the Royal Conservatory in The Hague, where he would study with Ali Groen, Frank Minderaa, Han de Vries, and Pauline Oostenrijk. There he received both a Bachelor's and Master's degree, after which he completed his studies at the Conservatoire de Musique de Genève in the class of Maurice Bourgue.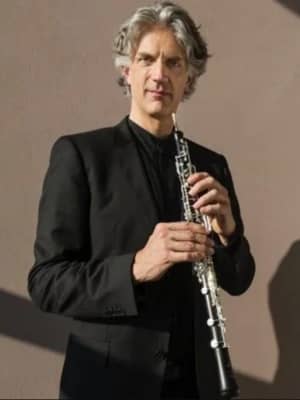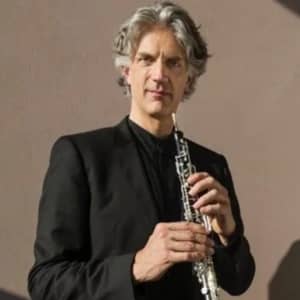 Dominik Wollenweber
Guest Professor, English Horn
The sound of the cor anglais (English horn) has been familiar to him since his earliest childhood: his father was the cor anglais player in the Bavarian State Orchestra. But Dominik Wollenweber took the long way round to this instrument. He first played the flute and, aged 14, took up the oboe, which he studied in Munich with Hagen Wangenheim at the Musikhochschule and with Simon Dent at the Richard Strauss Conservatory.
He made his first contact with the Berliner Philharmoniker as a scholar of the Orchestra Academy, in which he studied from 1991-93 with Hansjörg Schellenberger. During this time, Wollenweber was principal oboist of the European Union Youth Orchestra under Claudio Abbado. After applying for various oboe positions, he approached the Berliner Philharmoniker to audition for the vacant cor anglais post and was engaged.
Dominik has taught since 2000 as a visiting professor for oboe at the Hanns Eisler Musikhochschule. Many of his students have obtained positions in the most important orchestras in Europe.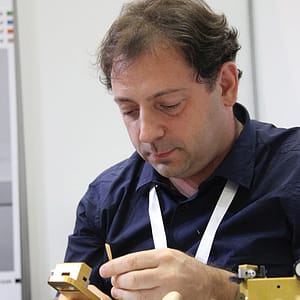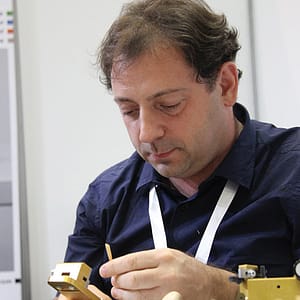 Lorenzo Masala
Guest Professor, Reeds Making Specialist
Lorenzo Masala was born 1972 in Genoa, Italy. At the age of 10 he started playing the oboe with Giampiero de Santi, Solo-Oboist at the Genoa Opera.
After the Orchestra Diplom at Conservatory Nicolo' Paganini in Genoa at age of 19, he followed his studying at the Musik-Akademie Basel, in the Konzertklasse of Omar Zobo-li, starting the baroque oboe with Michel Piguet, and later at the Musikhochschule Luzern in the Solistenklasse of Kurt Meier. He attended Oboe master classes with Ingo Goritzi, Hans Elhorst, Robin Canter, Alex Klein, Albrecht Mayer, Jean Louis Capezzali and Emmanuel Abbühl.
He played as a soloist with «Collegium Musicum Schloss Pommersfelden», Bamberg, with the Akademisches Orchester Danzig, with Luzerner Kammerorchester and with the En-semble La Partita, Zürich. Recordings for Swiss Radio DRS, for Bavarian Radio, for Radio France, RAI-Italian Radio and for Polish Radio.
Lorenzo has played and plays regularly with orchestras and ensembles: Basel Opera, Basel Sinfonietta, Collegium Musicum Basel Camerata Schweiz, Aargauer Sinfonieorchester, Sinfonieorchester Liechtenstein, Kammerorchestre Wallis, Sinfonieorchestre Mulhouse-Strassbourg, Orchestra del Teatro La Fenice di Venezia, Orchestra Regionale Toscana, Orchestra del Teatro Carlo Felice di Genova.
He has been specializing as reed maker since 1998, and started collaborating with Reeds 'n Stuff, consulting and developing the oboe and bassoon tip profiler. He regularly gives reed making in many institutions around the world: Musik-Akademie Basel, Universität Wien, Mozarteum Universität Salzburg Musikhochschule HdK and Hans Eisler Berlin, Musikhochschule Leipzig, Musikhochschule Dresden, Musikhochschule Lübeck, Musikhochschule Frankfurt, Conservatoire Superieur de Paris, Royal Conservatory Brussel, Royal Konservatorium in Amsterdam, Konservatorium Den Haag, Music Conservatory Tschaikowski Moskau, Music Conservatory San Petersburg, Liszt Akademie Budapest, Music Conservatory in Milano, in Lucca, Academia Metropolitana Lisboa, Conservatorio Real de Madrid, Royal Academy of Music, Royal College of Music, Guildhall School of Music, in London University of Auckland, New Zealand, Music University in Sao Paulo, Brazil, Santiago del Chile, Lima and Bogota,
OBOE
Applicants should send a video recording (it can be sent in separate video clips) of the following repertoire. Piano accompaniment is mandatory where applicable.
Bachelor of Music
Candidates must prepare a 20 minutes program including 3 pieces/movements of 3 different styles/periods (one of either baroque or classical style and one piece written after 1900). In addition, a compulsory piece will be sent to every candidate 3 weeks prior the audition date.
Master of Music
Candidates must prepare a 35 minutes program including 3 pieces/movements of 3 different styles/periods (one of either baroque or classical style and one piece written after 1945) as well as 2 orchestra excerpts issued from the followings lists below. In addition, a compulsory piece will be sent to every candidate 3 weeks prior the audition.
Candidates must choose one excerpt per list:
List 1 :
-  L. v. Beethoven : 3. Symphony, 2. Movement, Marcia Funebre, measures 8 to 101

-  L. v. Beethoven : Fidelio, 2. Act, Florestan Aria, measures 81 to 131

-  F. Schubert : 9. Symphony, 2. Movement, Andante, measures 8 to 30
List 2 :
-  J. Brahms : 1. Symphony, 2. Movement, Andante, measures 17 to 23 and 38 to 43

-  J. Brahms : Violin Concerto, 2. Movement, Adagio, measures 3 to 32

-  R. Schumann : 2. Symphony, 2. Movement, Adagio, measures 8 to 19
Performance Opportunities