About MMC's Flute Studio
More Information
MedMusic's dazzling Flute Studio features the principal players from some of the most prominent orchestras in the world: Karl-Heinz Schutz, principal flute of the Vienna Philharmonic, and Álvaro Octavio, soloist at the ONE (Spanish National Orchestra). In addition, the studio will be completed by flutist Paco Varoch, associate flute player of the Mahler Chamber Orchestra, and our stellar Guest Professor Denis Bouriakov, principal at the Los Ángeles Philharmonic. We will also enjoy flutist Claire Chase visiting us for lectures on contemporary flute techniques, and a very special collaboration by flamenco flutist Óscar de Manuel, who will give a yearly elective course on flamenco performance!
These outstanding artists will work closely as a team to ensure their students get the most complete, varied training on flute performance, multiplying the learning effects in a truly expansive way.
In addition, MMC Flute Studio is conceived as a unique environment where the American and European orchestra worlds establish a unifying bridge, with the common objective of superb music making, expanding the students' job opportunities to both sides of the Atlantic, and, by extension, to orchestras all around the globe.
The Flute Studio at MMC is designed to provide students with all tools necessary to cover every single aspect of the profession, with a special focus on the career as an orchestral musician. For most musicians, the most probable performance environment they'll face will be playing with other people, from small or medium-size groups, to full-sized orchestras. For this reason, it is crucial to be efficient playing the flute, but also being able to play the piccolo or the alto flute. Besides, being exposed to contemporary extended techniques, as well as a touch of flamenco style, will complement an integral education on flute performance that will prepare our students for success once they graduate.
Flute Studio Quick Facts
Each student will get:
10 private lessons

with Karl-Heinz schütz (Principal, Vienna Philharmonic Orchestra)*

12 private lessons

with Álvaro Octavio (Principal, Orquesta Nacional de España)*

14 private lessons

with Paco Varoch (Mahler Chamber Orchestra & Piccolo specialist)*

4 private lessons

with Denis Bouriakov (Principal, Los Angeles Philharmonic)*

Visiting specialists

on Flamenco and Contemporary Flute

Masterclasses

with top-class FLUTISTS coming from all over the world

Lessons with

piano

accompaniment**
*Private lessons will last 55′, in order to provide time for change from one student to the next one
**Pianist will be available a minimum of 2 hours each month per student. Time can be used for individual rehearsals or for lessons, following faculty indications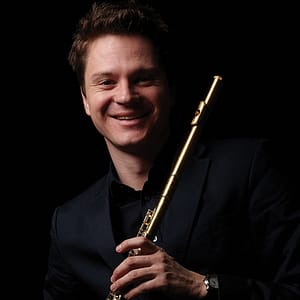 Karl-Heinz Schütz
Professor, Flute
Principal Flute, Wiener Philharmoniker; Wiener Staatsoper.
Karl-Heinz Schütz is Solo Flute of Wiener Philharmoniker and therefore in the same position at the Wiener Staatsoper, having held the same position with the Stuttgarter Philharmoniker for four years, and with the Wiener Symphoniker from 2005 to 2011. Born in Innsbruck and raised in Landeck, Tyrol, he received his musical education at the Landeskonservatorium in Vorarlberg with Eva Amsler, Conservatoire national supérieur de musique in Lyon with Philippe Bernold, and with Aurèle Nicolet in Switzerland.
He won first prizes at the Carl Nielsen International Music Competition in 1998 und the International Flute Competition Kraków in 1999. He has performed as soloist across Europe and Japan, with performances of the importantflute concertos with Wiener Philharmonikerand Symphoniker as well as NHK Tokyo and Sapporo symphony orchestra, a.o. Conductors such as Daniel Barenboim, Fabio Luisi, Yakov Kreizberg, Dmitrij Kitajenko and Bertrand de Billy invited him to be the soloist in their concerts.
Karl-Heinz Schütz is a passionate chamber musician and a member of various ensembles from baroque to contemporary. In 2013 he succeeded Wolfgang Schulz in the Ensemble Wien-Berlin and in the WIENER RING ENSEMBLE. He has appeared at international festivals in Salzburg, Bregenz, Graz, Montpellier, Rheingau, Sapporoand Prague, among others.
Karl-Heinz Schütz is Professor of Flute at the Musik und Kunst Privatuniversität Wien and has held several guest professorships. He gives master-classes throughout Europe and is also an active recording artist, especially for CAMERATA TOKYO, where his Mozart, Prokoffiev and Brahms Cds were released. With the Academy of St. Martin in the fields under Sir Neville Marriner an album was published at CHANDOS, with the title: 20th centuries concerto grosso. He is artistic director at HORIZONTE Landeck.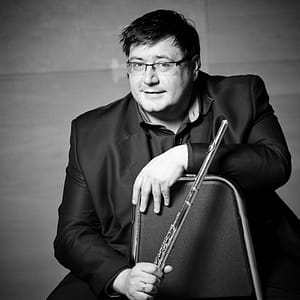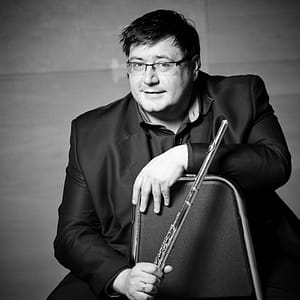 Álvaro Octavio Díaz
Professor, Flute
Principal Flutist, National Orchestra and Choir of Spain.
Álvaro Octavio Díaz was born in Alcázar de San Juan, in the autonomous community of Castille, and started his flute studies at age 6 with professors Joaquín Mira, and Ana Alcaraz. Díaz attained the Extraordinary End-of-Career Award at Conservatorio Superior de Madrid, where he studied under Manuel Guerrero. He also did continued studies with Miguel Ángel Angulo in Madrid, and at the Royal Academy of Arts in London, where he studied with Jaime Martín and Katie Hill.
Díaz has performed as soloist with the Toscanini Philharmonic Orchestra, and has performed with Berlin Philharmonic, Mahler Chamber Orchestra, Leipzig's Gewandhaus Orchestra, Israel Philharmonic Orchestra, the Zurich Opera House orchestra, Orchestre de Chambre de Lausanne, Galicia Philharmonic Orchestra, Tenerife Symphony Orchestra, Rotterdam Symphony Orchestra, and Munich Chamber Orchestra. He has worked under the baton of Claudio Abbado, Simon Rattle, Bernard Haitink, Zubin Mehta, Lorin Maazel, Mariss Jansons, Daniel Baremboim, Rocardo Chailly, amongst others.
Currently, he is the principal flutist of the National Orchestra and Choir of Spain, and previously he served as principal flutist of the Valencian Community Symphony Orchestra (Orquesta de la Comunitat Valenciana), and the Cadaqués Orchestra in Catalonia.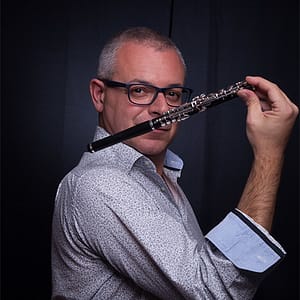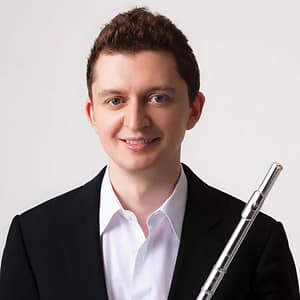 Denis Bouriakov
Honorary Guest Professor, Flute
Principal Flute, Los Angeles Philharmonic Orchestra
Established as one of the world's leading flute soloists, Denis Bouriakov was the winner of the 2009 Prague Spring competition, and prize winner at most major international flute competitions, including the Nielsen, Munich ARD, Kobe, Rampal, Nicolet, Larrieu, and others. He is currently the Principal Flutist of the Los Angeles Philharmonic, appointed by Gustavo Dudamel in 2015, and has previously served as the Principal Flute of the Metropolitan Opera in New York under James Levine. Denis has been combining orchestral and solo careers, regularly performing concertos and recitals worldwide. He has collaborated as a soloist with many prominent conductors, including Valery Gergiev, Daniel Harding, and Gustavo Dudamel.
With his phenomenal virtuoso technique and musicianship, Denis looks outside the standard flute repertoire for works that would allow the flute to shine, continually transcribing and performing violin concertos and sonatas, and expanding the limits of flute technique and artistry. A number of his arrangements have been published by Theodore Presser, with a few in the works. Additionally, some of them are available as free downloads on his website. His first solo CD, featuring the Bach Chaconne, Sibelius Violin Concerto, and other daring original arrangements, was released in 2009 and followed by a number of other solo albums over the years. His upcoming CD release, in collaboration with the Lithuanian Chamber Orchestra, features Romantic-era violin and flute concertos such as the Mendelssohn Violin Concerto. In addition to his commercially released solo albums, Denis has published hundreds of videos of live performances from recitals and concertos on his YouTube and IGTV channels.
Denis has held a full-time teaching position at the University of California, Los Angeles since 2017, alongside his fellow-flutist wife, Erin, who shares his enjoyment of collaborative teaching and duo performing. In 2018 he was appointed Visiting Professor of Flute to his alma mater, the Royal Academy of Music in London. The Academy previously awarded Denis the prestigious titles of Associate and Fellow of the Royal Academy of Music in 2006 and 2014, respectively. Denis leads many masterclasses for conservatories and universities worldwide and teaches many courses in Germany and Japan. He has been on the faculty of the Verbier Festival in Switzerland and the Pacific Music Festival in Japan, both of which he had participated in as a student. Additionally, Denis has been invited to adjudicate many international competitions. In 2019 he was appointed chairman of the woodwind jury by Valery Gergiev for the prestigious XVI Tchaikovsky International Competition.
Denis was born in Simferopol, Crimea, and was a prodigy flutist from a young age. At the age of 10, he was admitted to the Moscow Central Special School, where he studied with the famous Professor Y.N. Dolzhikov, the only French-trained professor in USSR. With the support of the "New Names" International Charity Foundation and the Vladimir Spivakov Foundation, Denis toured as a young soloist in over 20 countries in Europe, Asia, South America, and the USA, performing for Pope John Paul the Second, Prince Michael of Kent, and the presidents of Russia, Romania, and Indonesia. When he turned 18, Denis went on to attend the Royal Academy of Music in London, studying with Professor William Bennett, OBE.
While studying in London, he competed internationally and freelanced as a Principal Flute with the Philharmonia of London, the London Philharmonic Orchestra, Leeds Opera North, and the Frankfurt Radio Symphony Orchestra. He won his first full-time orchestral position in 2005 as Principal Flute with the Tampere Philharmonic Orchestra in Finland, where he also taught at the Tampere Conservatory of Music. In 2008 Denis moved to Spain to become the Principal Flute with the Barcelona Symphony Orchestra under Eiji Oue. Later that year, Denis won the position as Principal Flute of the Metropolitan Opera in New York and has resided in the United States since 2009.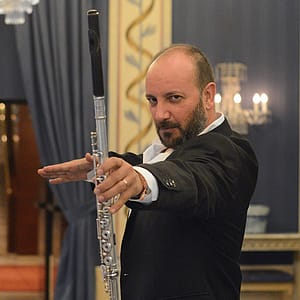 Oscar de Manuel
Guest Professor, Flamenco Flute
2012. Best Show show of the year in the North of France with "Lágrimas de Sal" Symphonic Flamenco. Composer Oscar de Manuel. ST.VAAST Bethune Cathedral, France.
2012. Filón de Oro Award for the best Flamenco instrumental at the International Festival Cante de las Minas.
2012. Fundación SGAE Award (International Edit ion). "Flamenco Studies for melodic instruments", Junta de Andalucía, Berklee Valencia.
2015. Appointed Illustrian Hospital of Quito (Ecuador) for his pedagogical work in Conservatories and Universities.
2016. Castillo de Alaquas Arts Award, for its educational and artistic work and international recognition.
ARTISTIC CAREER:
2014 / 2020. Director and coordinator of the international Flamenco Seminars at the Festival Internacional del Cante de las Minas.
2015/2018. Flamenco Flute of the Tour " Las Minas Puerto Flamenco ".
Performing in 24 Spanish cities and International in Nueva Delhi, Mumbai, Mexico, Chile, Bolivia, Johannesburg, Tokio, Ecuador, Chicago, Toronto, Mel bourne, Sydney and Teatro Real de Madrid.
2016. Director and Founder of the First Flamenco Flute orchestra "La OFF Valencia" Fand "Linares"
2018. World premiere of "REQUIEM PARA UNA VIDA VIVIDA" Symphonic-choral work F performed by the Ecuadorian Symphony Orchestra directed by Dante Anzol ini.
2019. World premiere of the first flamenco opera "Bailando con Carmen" (Sagunt a Escena), choreographed by Jesús Carmona, Crit ical Eye Award 2019).
2021. First Symphonic Flamenco Album "Con Cierto Duende" Label Strommar.
2021. Winner Silver Medal of Global Music Awards "Tanguillos en el Alba" the first prices for Symphonic Flamenco (EEUU). New Album "Con Cierto Duende"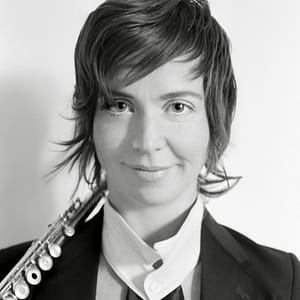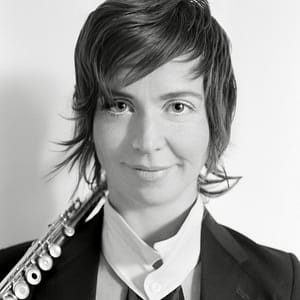 Claire Chase
Guest Artist, Contemporary Flute
Flute, International Contemporary Ensemble; Professor of the Practice, Harvard University.
Claire Chase is a soloist, collaborative artist, educator, curator and advocate for new and experimental music. She has given the world premieres of hundreds of new works by a new generation of composers, and she has championed new music internationally by forming organizations, cultivating intersectional alliances, founding commissioning initiatives and supporting community and education programs that reach new audiences. She was the first flutist to be awarded a MacArthur Fellowship in 2012, and in 2017 was the first flutist to be awarded the Avery Fisher Prize from Lincoln Center for the Performing Arts. Chase has been awarded Honorary Doctorates from The Curtis Institute of Music and The Cleveland Institute of Music.
In 2013 Chase launched Density 2036, a 24-year commissioning project to create an entirely new body of repertory for flute between 2013 and 2036, the centenary of Edgard Varèse's groundbreaking 1936 flute solo, Density 21.5. Each season as part of the project, Chase premieres a new program of commissioned music, with seven hours of new repertory created to date. In 2036, she will play a 24-hour marathon of all of the repertory created in the project. Chase released the world premiere recordings the first five years of the Density cycle in collaboration with the producer Matias Tarnopolsky at Meyer Sound Laboratories in Berkeley, CA in December 2020.
A deeply committed educator, Chase is Professor of the Practice in the Department of Music at Harvard University. From 2016-2019, she served as co-artistic director, with her longtime collaborator Steven Schick, of Ensemble Evolution, a three-week intensive workshop for emerging musicians at Banff Centre for Arts & Creativity in Canada. From 2014-2018, Chase was a Fellow at Project&, a Chicago-based social justice organization founded by Jane M. Saks. Chase collaborated with Project&, the composer Marcos Balter and the director Douglas Fitch on the creation of "Pan," an opera for solo flute and an all-ages ensemble of community members, which Alex Ross of The New Yorker called "art as grassroots action."
Chase co-founded the International Contemporary Ensemble in 2001, described as the United States' "foremost new-music ensemble" (The New Yorker), and served as its artistic director until 2017 and as an ensemble member on performance and education projects on five continents. The Ensemble has premiered more than 800 works since its inception and has spearheaded an artist-driven organizational model that earned the ensemble the Trailblazer Award from the American Music Center in 2010 and the Ensemble of the Year Award in 2014 from Musical America Worldwide. The ensemble can be heard in dozens of recordings on the Tzadik, Mode, Naxos, Bridge, New Amsterdam, New Focus, Samadhi Sound and Nonesuch labels, as well as on its own online, streaming video library of live performances, DigitiCE.
Chase grew up in Leucadia, CA with the childhood dream of becoming a professional baseball player before she discovered the flute. She received her B.M. from the Oberlin College Conservatory of Music in the studio of Michel Debost. She lives in Brooklyn.
Flute
Applicants should send a video recording (it can be sent in separate video clips) of the following repertoire. Piano accompaniment is mandatory where applicable.
Bachelor of Music
-Any one of the J.S. Bach sonatas or First movement from one of the two Mozart concertos
-One French piece (H. Dutilleux: Sonatine, P. Sancan: Sonatine, G. Hue: Fantasie, G. Faure: Fantasie, P. Gaubert: Fantasie, or another piece of equivalent difficulty from the standard French repertoire)
-The following orchestral excerpts
1. Beethoven: Leonore solo
2. J.S. Bach: "Aus Liebe" aria from "Matthew Passion"
Master of Music
-First movement of one of the two Mozart concertos
-One French piece (H. Dutilleux: Sonatine, P. Sancan: Sonatine, G. Hue: Fantasie, Jolivet: Chant de Linos, G. Faure: Fantasie, P. Gaubert: Fantasie, or another piece of equivalent difficulty from the standard French repertoire)
-First movement from a concerto of choice: J. Ibert, C. Nielsen, C. Reinecke, or another concerto of equivalent difficulty
-The following excerpts:
Beethoven: Leonore solo

Ravel: Daphnis et Chloe flute solo

J.S. Bach: "Aus Liebe" aria from "Matthew Passion"
Performance Opportunities