About MMC's Clarinet Program
More Information
About MMC's Clarinet Faculty
MedMusic's fantastic Clarinet Studio is built based on two legendary pillars of clarinet performance at both sides of the Atlantic: Ricardo Morales, hailed Puertorrican virtuoso who serves as principal at The Philadelphia Orchestra, and François Benda, acclaimed Professor at UDK Berlin, and teacher of many European orchestra performers and soloists. These two artists will be joined by our special Guest Professor, Wenzel Fuchs, long-time principal at the Berliner Philharmoniker, who has been getting along with cameras for decades in so many referential video recordings with his orchestra. We'll be having Spanish clarinetists Darío Mariño, former student of Mr. Fuchs and now principal at Barcelona's Liceu Orchestra, and Ausiás Garrigós, bass clarinet specialist at the Royal Liverpool Philharmonic Orchestra,  and member of the Riot Ensemble, joining the team to make one of the most powerful clarinet studios around the world.
Clarinet Studio Quick Facts
Each student will get:
12 private lessons

with Ricardo Morales (Principal, The Philadelphia Orchestra)*

6 private lessons

with François Benda (Professor, UDK Berlin, Hochschule für Musik, Basel)*

8 private lessons

with Wenzel Fuchs (Principal, Berlin Philharmonic Orchestra)*

10 private lessons

with Darío Mariño (Principal, Orquestra del Gran Teatre del Liceu, Barcelona)*

8 Private Leesons

with Ausias Garrigós (Royal Liverpool Phil.) on Bass Clarinet and Contemporary Performance

Masterclasses

with top-class clarinet Players from all over the world

Lessons with

piano

 accompaniment
*Private lessons will last 55′, in order to provide time for change from one student to the next one
**Pianists will be available a minimum of 2 hours each month per student. Time can be used for individual rehearsals or for lessons, following faculty indications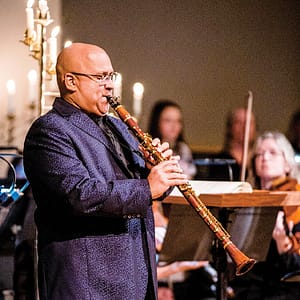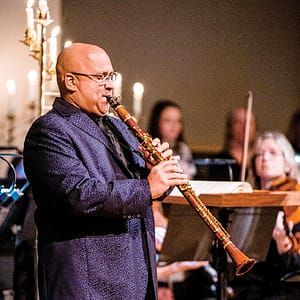 Ricardo Morales
Professor, Clarinet
Principal Clarinet, Philadelphia Orchestra, Saito Kinen Orchestra, Mito Chamber Orchestra.
Ricardo Morales is one of the most sought after clarinetists of today. He joined The Philadelphia Orchestra as principal clarinet in 2003. Prior to this he was principal clarinet of the Metropolitan Opera Orchestra, a position he assumed at the age of 21. His virtuosity and artistry as a soloist, chamber, and orchestral musician has been hailed and recognized in concert halls around the world. He has been asked to perform as principal clarinet with the New York Philharmonic, the Chicago Symphony, and at the invitation of Sir Simon Rattle, performed as guest principal clarinet with the Berlin Philharmonic. He also performs as principal clarinet with the Saito Kinen Festival Orchestra and the Mito Chamber Orchestra, at the invitation of Maestro Seiji Ozawa.
A native of San Juan, Puerto Rico, Mr. Morales began his studies at the Escuela Libre de Musica along with his five siblings, who are all distinguished musicians. He continued his studies at the Cincinnati Conservatory of Music and Indiana University, where he received his Artist Diploma.
Mr. Morales has been a featured soloist with many orchestras, including the Metropolitan Opera Orchestra, the Chicago Symphony, the Cincinnati Symphony, the Indianapolis Symphony, the Seoul Philharmonic, and the Flemish Radio Symphony. During his tenure with the Metropolitan Opera Orchestra, he soloed in Carnegie Hall and on two European tours. He made his solo debut with The Philadelphia Orchestra in 2004 and has since performed as soloist on numerous occasions. Ricardo performed the world premiere of the Clarinet Concerto by Jonathan Leshnoff, commissioned for him by the Philadelphia Orchestra.
An active chamber musician, Mr. Morales has performed in the MET Chamber Ensemble series at Carnegie Hall's Weill Recital Hall, at the Santa Fe Chamber Music Festival, the Philadelphia Chamber Music Society, the Seattle Chamber Music Summer Festival, and the Saratoga Chamber Music Festival, on NBC's The Today Show, and with the Chamber Music Society of Lincoln Center. He has performed with many distinguished ensembles, such as the Juilliard Quartet, the Pacifica Quartet, the Miró Quartet, the Leipzig Quartet, and the Kalichstein-Laredo-Robinson Trio. He has also collaborated with Christoph Eschenbach, André Watts, Emanuel Ax, Jean-Yves Thibaudet, James Ehnes, Gil Shaham, and Kathleen Battle. Mr. Morales is highly sought after for his recitals and master classes, which have taken him throughout North America, Europe and Asia. In addition, he currently serves on the faculty of Temple University.
Mr. Morales's performances have been met with critical acclaim. The Philadelphia Inquirer hailed his appointment to The Philadelphia Orchestra, stating that "… in fact, may represent the most salutary personnel event of the orchestra's last decade." He was praised by the New York Times as having " … fleet technique, utterly natural musical grace, and the lyricism and breath control of a fine opera singer." Mr. Morales was also singled out in the New York Times review of the Metropolitan Opera's production of Berlioz's Les Troyens, describing his playing as "exquisite" and declaring that he "deserved a place onstage during curtain calls."
Mr. Morales's debut solo recording, French Portraits, is available on the Boston Records label. His recent recordings include performances with the Kalichstein-Laredo-Robinson Trio, with the Pacifica Quartet, which was nominated for a Latin Grammy Award, as well as the Mozart Concerto with the Mito Chamber Orchestra for DECCA. Ricardo is a sought after consultant and designer of musical instruments and accessories, and enjoys a musical partnership with F. Arthur Uebel, a world renowned manufacturer of artist level clarinets.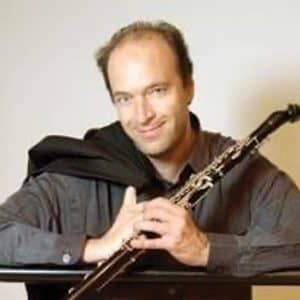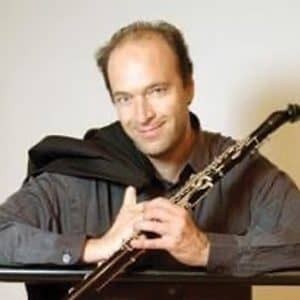 François Benda
Professor, Clarinet
Born in Brazil, François Benda comes from a long line of professional musicians. He completed his studies in Graz and Geneva (clarinet, composition, conducting) and gave his solo debut in 1988 at Zurich's Tonhalle and at the Victoria Hall in Geneva. The Neue Zürcher Zeitung (NZZ) published the following review: "His playing moved with authority between just barely perceptible pianissimi and dramatic, nearly ecstatic crescendi and was brilliant at every moment."
In 1991 François Benda was awarded the Premio internationale per le Arti dello Spettaccolo in Rome.
Today François Benda performs at all the important music venues (Berlin's Philharmonie, the Musikverein in Vienna, Concertgebouw Amsterdam, Wigmore Hall London, the Tonhalle in Zurich) and appears as clarinet soloist with many leading orchestras (Bavarian Radio Symphony Orchestra, Cologne's WDR Sinfonieorchester, Sinfonieorchester Basel, and the Vienna Chamber Philharmonic).
François Benda is a highly sought-after performing artist both as a soloist and chamber music partner and regularly appears as a guest artist at music festivals such as the Berliner Festwochen, Styriarte, Musicades Lyon, and the Pentecost Concerts in Ittingen, Switzerland. He performs in chamber concert recitals with Heinz Holliger, Paul Badura- Skoda, Bruno Giuranna, Isabelle Faust, Josef Silverstein, and Bruno Canino.
His comprehensive discography (for Labels like ECM, Fono, Pantheon, EPU, Hänssler, and Genuin) includes the complete work for clarinet by Johannes Brahms and works for Clarinet and Orchestra by Nielsen, Debussy, Busoni, and Rossini. François Benda's intensive study of recent instrument-making developments led to the founding of the Clarinartis company in collaboration with instrument makers René Hagmann and Jochen Seggelke. Clarinartis develops clarinet parts such as barrel joints and bells in order to optimize tonal production and intonation.
François Benda is able to move easily between classical concert repertory and contemporary music both as a clarinetist (important composers, including Georg F. Haas, Wolfgang von Schweinitz, and Bernhard Lang, have dedicated works to him for which he has given the premiere performances) as well as with an increasing number of appearances as conductor. In addition to his solo career, François Benda is also professor at the Universität der Künste in Berlin and teaches at the Hochschule für Musik in Basel.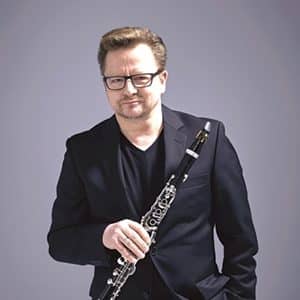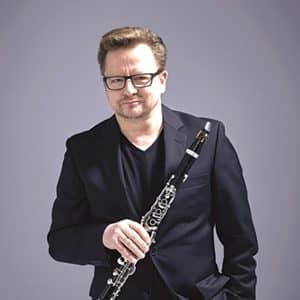 Wenzel Fuchs
Professor, Clarinet
Wenzel Fuchs was born in Innsbruck, Austria, where he began his study of the clarinet with Professor Walter Kafer at the local conservatory. He continued his studies with Professor Peter Schmidl at Vienna University of Music and the Performing Arts, taking his degree with high honours. He also won awards from the Austrian Ministry of Science and Art and the Jugend Musiziert competitions.
During his studies he deputized regularly in all Viennese orchestras, including the Vienna State Opera and the Vienna Philharmonic. At the age of 19 he became the solo clarinetist in the orchestra of the Vienna Volksoper, followed five years later by a similar appointment in the Vienna RSO. Since 1993 he has been the solo clarinetist of the Berlin Philharmonic; he also teaches at the orchestra's Karajan Academy.
He has held a professorship at the Hanns Eisler University of Music (2008-2013) and has been a visiting professor at Geidai University in Tokyo.
In 2015 he became a professor at the Mozarteum University in Salzburg. Besides his many masterclasses in Japan, Europe and the United States, he appears throughout the world as a soloist with such orchestras as the Tokyo Philharmonic, the China National SO, the Korean SO, the Berlin Symphony and the Berlin Philharmonic.
His chamber music partners include Yefim Bronfman, Emmanuel Pahud, Andras Schiff, Albrecht Mayer, Mitsuko Utchida and David Geringas.
He is a member of the Berlin Philharmonic Wind Soloists, the Berlin Philharmonic Wind Ensemble, the Berlin Philharmonic Octet and the Kammerorchester Wien-Berlin.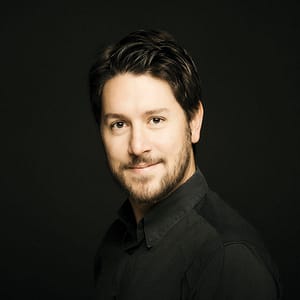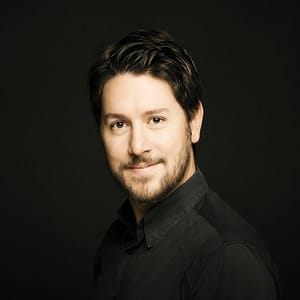 Darío Mariño
Associate Professor, Clarinet
Darío Mariño Varela studied at the Conservatorio Superior de Música in A Coruña with José María Belló and Carlos Casadó and at the Hochschule für Musik 'Hanns Eisler' in Berlin with Karl-Heinz Steffens and Wenzel Fuchs. He completed his training at the Escuela de Altos Estudios Musicales de Galicia with Manuel Juan, at the Orquesta Escuela de la Sinfónica de Galicia with Vicent Alberola, at the Gustav Mahler Akademie in Bolzano, Italy with Gerhald Pachinger, at the Santander International Music Festival with Karl-Heinz Steffens, at the Zermatt Festival, Switzerland with the Scharoun Ensemble of the Berliner Philharmoniker and at the Pacific Music Festival (PMF), Japan with Peter Schmidl, Manfred Preis and Ricardo Morales. During these years, he had his first contact with the orchestra world, collaborating with the Galician Symphony Orchestra and being a member of the JONDE (Spanish National Youth Orchestra). He also served as principal clarinet with the Gustav Mahler Jugendorchester, where he worked intensively with Claudio Abbado.
Between 2010 and 2012 he was a member of the Karajan Akademie at the Berlin Philharmonic, and since then he has collaborated as principal clarinet with orchestras such as the Berlin Philharmonic, Mahler Chamber Orchestra, Deutsche Kammerphilharmonie Bremen, various German Radio orchestras such as the DSO and RSB Berlin. SWR Stuttgart, NDR Elbphilharmonie Hamburg, WDR Köln and HR Frankfurt. In the field of opera, he has collaborated with the Deutsche Oper Berlin, Nationaltheater Mannheim, Komische Oper Berlin and Gran Teatro del Liceo in Barcelona.
He has worked with conductors like Simon Rattle, Valery Gergiev, Christian Thielemann, Daniel Barenboim, Daniel Harding, Andris Nelsons, Herbert Blomsted, Paavo Järvi, Iván Fischer and Christoph Eschenbach, among others. As a chamber musician, he founded the Natalia Ensemble, the Hanns Eisler Trio, and the Berliner Nonett and has collaborated with musicians such as Leif Olev Andsnes, Amihai Grosz, Guy Braunstein, John Corigliano, Anne LeBozec, Cuarteto Quiroga, Alain Meunier, Paul Rivinius, Scharoun Ensemble, Maurice Bourgue, Radovan Vlatkovic and Klaus Thunemann.
Darío won the First Prize and Gold Medal in the Soloists' competition of the Primer Palau in Barcelona, ​​which resulted in performing and recording the clarinet concertos by Mozart, Weber, Shaw, and Copland.
Passionate about pedagogy, he teaches in Masterclasses both clarinet and chamber music and orchestra in various formats, such as seminars with the Natalia Ensemble - reduction of large orchestra scores for small ensembles without a conductor -, and in orchestras such as the Theater Jugendorchester Kassel, the Andalusian Youth Orchestra (OJA) or the JONDE Darío Mariño was a clarinet soloist with the Konzerthausorchester Berlin, the Staatstheater Kassel and currently the Symphony Orchestra of the Gran Teatro del Liceo de Barcelona.
Ausiàs Garrigós Morant
Associate Professor, Bass Clarinet; Contemporary Clarinet
Bass Clarinet, Royal Liverpool Philharmonic Orchestra.
Ausiàs Garrigós Morant is the bass clarinetist in the Royal Liverpool Philharmonic Orchestra, and he also performs regularly with orchestras such as the BBC Symphony Orchestra, London Symphony Orchestra, Bournemouth Symphony Orchestra, Royal Philharmonic Orchestra and English National Opera. Ausias is a founding member of The Riot Ensemble, contemporary music group based in London with whom he has premiered and recorded new music playing in numerous festivals across Europe.
Born in Potries (València, Spain), Ausias studied at Conservatory of Castellón (Spain) before attending the Guildhall School in London. He has studied with Juan Esteban Romero, Andrew Webster, Julian Farrell, James Burke and Andrew Marriner, and bass clarinet with Javier Ros, Laurent Ben Slimane and Lorenzo Iosco
CLARINET
Applicants should send a video recording (it can be sent in separate video clips) of the following repertoire. Piano accompaniment is mandatory where applicable.
Bachelor of Music
-Two movements of a sonata, concerto, or other solo work
-Two contrasting études
-Two orchestral excerpts
Master of Music
-Two contrasting études
-A five-minute selection from a contemporary work for unaccompanied clarinet
-Two contrasting movements from two contrasting pieces
-Four orchestral excerpts
Performance Opportunities