About MMC's Bassoon Studio
MedMusic's stunning Bassoon Studio combines the long, successful experience of the principal bassoonist of The Philadelphia Orchestra Daniel Matsukawa who, from his position as professor at the Curtis Institute, has mentored dozens of now professional oboists including Chicago, MET, St. Louis, or Rochester principals, with the incredible talent and young energy of one of the best bassoonists in Europe, Rie Koyama, principal at Bamberg Symphony, with the additional collaboration of Jesús Villa, from Bayerisches Rundfunks Orchestra.
This special faculty team will be offering true mentorship to all students, ensuring them an environment that will break the traditional boundaries between continents. At MMC, bassoonists will concentrate on excellent music making, blending together the very best of European and American bassoon schools, turning this school in a superb platform for job opportunities at any orchestra in the world.
The Bassoon Studio at MMC is designed to provide students with all tools necessary to cover every single aspect of the profession, with a special focus on the career as an orchestral musician. For most musicians, the most probable performance environment they'll face will be playing with other people, from small or medium-size groups, to full-sized orchestras. For this reason, it is crucial to be efficient playing the bassoon, but also being able to play the contrabassoon, and developing the ability to make great reeds (we'll enjoy specialist Lorenzo Massala) will affect hugely on the sound quality. Besides, being exposed to basso continuo training and contemporary extended techniques will complement an integral education on oboe performance that will prepare our students for success once they graduate.
Bassoon Studio Quick Facts
Each student will get:
12 private lessons

with Daniel Matsukawa (Principal, The Philadelphia Orchestra)*

10 private lessons

with Rie Koyama (Principal, Bamberg Symphony Orchestra & Deutscher Kammerphilharmonie Bremen)*

10 private lessons

with Lola Descours (Principal, Frankfurt Opera Orchestra)*

12 private lessons

with Jesús Villa (Symphonieorchester des bayerischen rundfunks, munich)*

Visiting specialists

on reeds making, contemporary bassoon and Basso Continuo

Masterclasses

with top-class bassoonists coming from all over the world

Lessons with

piano

and

Harpsichord

 accompaniment**
*Private lessons will last 55′, in order to provide time for change from one student to the next one.
**Pianists will be available on an average of 2 hours each month per student. Time can be used for individual rehearsals or for lessons, following faculty indications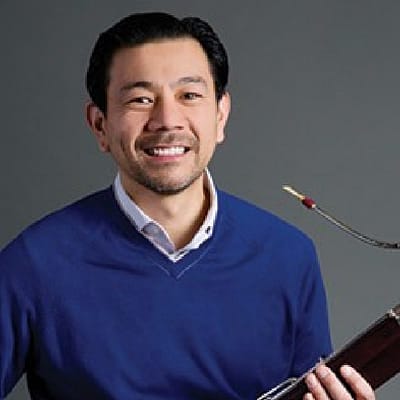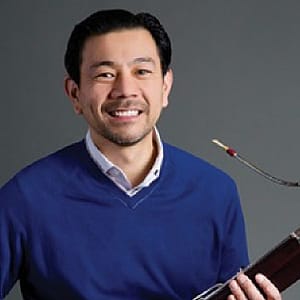 Daniel Matsukawa
Professor, Bassoon
Principal Bassoon, Philadelphia Orchestra.
Daniel Matsukawa has been principal bassoon of The Philadelphia Orchestra since 2000. He has appeared as soloist with several orchestras, including The Philadelphia Orchestra, the National Symphony, the New York String Orchestra under Alexander Schneider, the Curtis Symphony, the Virginia Symphony, the Auckland (New Zealand) Philharmonic, and the Sapporo Symphony in Japan. Prior to his post with The Philadelphia Orchestra, he served as principal bassoon with the National Symphony in Washington D.C., the St. Louis Symphony, the Virginia Symphony, and the Memphis Symphony. In 1998 he performed and recorded Shostakovich's Symphony No. 7 as acting principal bassoon with the New York Philharmonic under Kurt Masur. He has been a recipient of numerous awards and prizes, including a solo concerto debut in Carnegie Hall at the age of 18. He is an active chamber musician and has performed and toured with the Marlboro Festival. He also conducts regularly and studied conducting privately with Otto Werner Mueller, who was the head of the conducting department at the Curtis Institute of Music. He has conducted the Pacific Music Festival every year since 2009, and he recently made his US professional debut conducting the Virginia Symphony. Born in Argentina to Japanese parents, Mr. Matsukawa moved with his family to New York City at age three. He studied with Harold Goltzer and Bernard Garfield at both The Juilliard School and the Curtis Institute of Music. He also serves as a regular member of the faculties at both the Curtis Institute of Music and Temple University.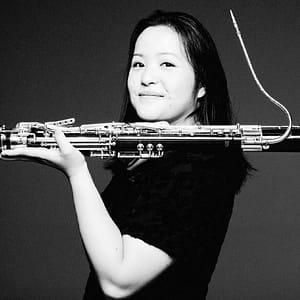 Rie Koyama
Professor, Bassoon
Rie Koyama was born in Stuttgart in 1991 and grew up in Germany. She studied with Akio Koyama in Trossingen and with Dag Jensen in Munich.
She won first prizes in 24 national and international competitions, including The Muri Competition and in 2012 the Deutscher Musikwettbewerb. The greatest success of her career was when she won the International Music Competition of the ARD in 2013 in the category bassoon. She was also awarded with the special prize for the best interpretation of the commissioned piece at this competition.
As a soloist, she has performed with numerous orchestras in Europe and Asia and is a regular guest at renowned music festivals. Her regular chamber music ensembles include the Trio Walter, the Veits-Quintett, and the »franz ensemble«.
Since 2015, Rie Koyama has been principal bassoonist with the Deutsche Kammerphilharmonie Bremen under the baton of Paavo Järvi and in November 2020 she joined the Bamberg Symphony Orchestra as a principal bassoonist.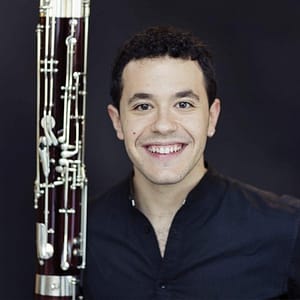 Jesús Villa-Ordoñez
Associate Professor, Bassoon
Bassoon, Symphonieorchester des Bayerischen Rundfunks.
Jesús Villa Ordóñez, born in Córdoba in 1993, received his first bassoon lessons at the age of 9. After graduating from highschool, he began his studies at the Córdoba Conservatory with Celia Villora. He was a member of the Barenboim Said Academy, where he studied with Holger Straube and Javier Aragó, and was doing an Erasmus year with Codarts in Rotterdam. He was taught by Pieter Nuytten and Bramvan Sambeek. In 2016 he continued his studies in Salzburg, with Marco Postinghel at the Mozarteum, where he did his master's degree.
He was a member of many Spanish and European youth orchestras and was accepted into the Academy of the Bavarian Radio Symphony Orchestra in 2018.
As a guest, Jesus already played in orchestras such as the Frankfurt Opera, the Deutsche Kammerphilharmonie Bremen, the Scottish Chamber Orchestra, the Orquesta Nacional de España, the Orquesta de RTVE…
He has been a member of the Bavarian Radio Symphony Orchestra since 2020.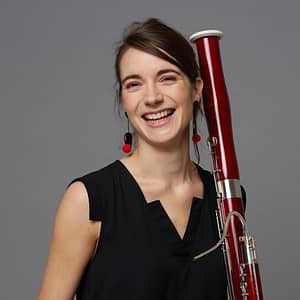 Lola Descours
Professor, Bassoon
Prize-winner of the prestigious Tchaikovsky competition in 2019, bassoonist Lola Descours has established a place among the most talented musicians of her generation.
An accomplished orchestral musician, Lola has been solo bassoonist of the Frankfurt Opera since 2017. Her talent was noticed at an early stage when she joined the Orchestre de Paris at the age of only 19. She is a regular guest in renowned orchestras such as Royal Concertgebouworkest in Amsterdam, the Mahler Chamber Orchestra, the London Philharmonic, the Bamberger Symphoniker, and the Rotterdam Philharmonisch Orkest.
As a soloist, she has recently performed with the Frankfurter Opern Orchester and with the Marinsky Theatre Orchestra.
After studies at the Conservatoire of Paris (CNSMDP), Lola won first prize at the International Double Reed Society's (IDRS) Young competition in 2009 in Birmingham. In 2011, she was laureate of the Crusell competition in Finland, the Lodz Competition in Poland, and in 2018 the IDRS in Spain.
Eager to constantly broaden her artistic field and her sources of inspiration, she performs at numerous festivals with chamber music partners such as Pierre Génisson, David Guerrier, Geneviève Laurenceau and Pierre Fouchenneret. In 2018, she founded the Cocteau Trio with clarinettist Renaud Guy-Rousseau (Orchestre National de France) and oboist Ilyes Boufadden (Orchestre de Chambre de Paris).
Her commitment to the young musical generation is another of her many facets. She has been a regular tutor at the Verbier Festival and the French Youth Orchestra. She held a position as bassoon teacher for 5 years at the CRR in Saint-Maur before moving into the same role at the Pôle supérieur of Aix-en-Provence.
A sparkling young woman whose activity is characterized by her curiosity, her virtuosity, and her energy, Lola wishes actively to introduce her instrument to a much wider audience. She dreams of giving the bassoon the visibility it deserves like his close cousin the cello, the works of which she regularly performs.
Attracted by other art forms such as theatre and dance, her global approach to musical interpretation allows her to be actively involved in the creation of transversal and innovative projects. Her interest in contemporary music has led her to commission new works and to collaborate with composers such as Laurent Lefrançois, whose works she recently recorded.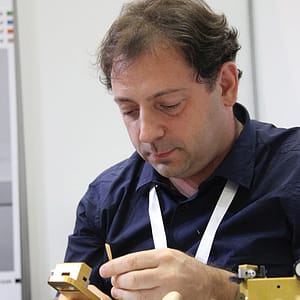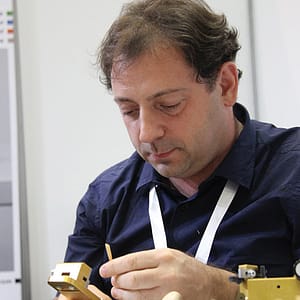 Lorenzo Masala
Guest Professor, Reeds Making Specialist
Lorenzo Masala was born 1972 in Genoa, Italy. At the age of 10 he started playing the oboe with Giampiero de Santi, Solo-Oboist at the Genoa Opera.
After the Orchestra Diplom at Conservatory Nicolo' Paganini in Genoa at age of 19, he followed his studying at the Musik-Akademie Basel, in the Konzertklasse of Omar Zobo-li, starting the baroque oboe with Michel Piguet, and later at the Musikhochschule Luzern in the Solistenklasse of Kurt Meier. He attended Oboe master classes with Ingo Goritzi, Hans Elhorst, Robin Canter, Alex Klein, Albrecht Mayer, Jean Louis Capezzali and Emmanuel Abbühl.
He played as a soloist with «Collegium Musicum Schloss Pommersfelden», Bamberg, with the Akademisches Orchester Danzig, with Luzerner Kammerorchester and with the En-semble La Partita, Zürich. Recordings for Swiss Radio DRS, for Bavarian Radio, for Radio France, RAI-Italian Radio and for Polish Radio.
Lorenzo has played and plays regularly with orchestras and ensembles: Basel Opera, Basel Sinfonietta, Collegium Musicum Basel Camerata Schweiz, Aargauer Sinfonieorchester, Sinfonieorchester Liechtenstein, Kammerorchestre Wallis, Sinfonieorchestre Mulhouse-Strassbourg, Orchestra del Teatro La Fenice di Venezia, Orchestra Regionale Toscana, Orchestra del Teatro Carlo Felice di Genova.
He has been specializing as reed maker since 1998, and started collaborating with Reeds 'n Stuff, consulting and developing the oboe and bassoon tip profiler. He regularly gives reed making in many institutions around the world: Musik-Akademie Basel, Universität Wien, Mozarteum Universität Salzburg Musikhochschule HdK and Hans Eisler Berlin, Musikhochschule Leipzig, Musikhochschule Dresden, Musikhochschule Lübeck, Musikhochschule Frankfurt, Conservatoire Superieur de Paris, Royal Conservatory Brussel, Royal Konservatorium in Amsterdam, Konservatorium Den Haag, Music Conservatory Tschaikowski Moskau, Music Conservatory San Petersburg, Liszt Akademie Budapest, Music Conservatory in Milano, in Lucca, Academia Metropolitana Lisboa, Conservatorio Real de Madrid, Royal Academy of Music, Royal College of Music, Guildhall School of Music, in London University of Auckland, New Zealand, Music University in Sao Paulo, Brazil, Santiago del Chile, Lima and Bogota,
BASSOON
Applicants should send a video recording (it can be sent in separate video clips) of the following repertoire. Piano accompaniment is mandatory where applicable.
Bachelor of Music
-First movement of one of the following concertos: Mozart, Weber, or Hummel
-One etude of the applicant's choice
-One orchestral excerpt of the applicant's choice
Master of Music
-First two movements of any one of the following concertos:
Mozart, Concerto in B-flat major, K. 191
Weber, Concerto in F major, Op. 75
Hummel, Concerto in F major
-An étude of the applicant's choice
-Three orchestral excerpts of contrasting style
Performance Opportunities