About MMC's Violin Program
More Information
About MMC's Violin Studio
MMC's unique Violin Studio joins together the artistry of violin masters Ilya Kaler, only violinist ever to win the Tchaikovsky, Sibelius and Paganini International Competitions, Professor at the Cleveland Institute of Music and prolific recording artist, Dmitri Berlinsky, First Prize at Paganini Competition Grand Prize Winner of Montreal Competition, Winner of YCA Auditions and laureate of Tchaikovsky and the Queen Elizabeth Competitions, and Professor at Michigan State University, violinist Vicente Huerta, well-known Spanish concert artist and teacher, former professor at Escuela Superior "Reina Sofía" in Madrid and at Valencia International University, and Igor Yuzefovich, acclaimed violinist, recently appointed concertmaster at the BBC Symphony Orchestra. They will be joined by Jordi Rodriguez, concertmaster at the Copenhaguen Philharmonic, who will develop a strong orchestral repertoire class, blending forces with the experience and orchestral mastery of Mr Yuzefovich as well. MMC is also very proud to count on a living legend of violin performance, Silvia Marcovici, currently a professor at the University of Performing Arts in Graz (Austria), who will be visiting us on diverse occasions during the year.
This studio, one of a kind, is designed to offer a comprehensive training in all aspects of violin practice, with the conviction that it is necessary to fully cover both the individual aspect and the collective expression of the instrument, in order to prepare our students for the challenges of the professional world. Furthermore, the diverse origins of our violin faculty will help expand our student's network, enlarging their job opportunities as a result of our concept of globalized learning.
Violin Studio Quick Facts
Each student will get:
18 private lessons

with Ilya Kaler (Concert Artist, Cleveland Institute of Music)*

16 private lessons

with Dmitri Berlinsky (Concert Artist, Michigan State University)*

16 private lessons

with Vicente Huerta (Concert Artist, Former Professor, Escuela Superior "Reina Sofía")*

8 Private violin lessons

with Igor Yuzefovich (Concertmaster, BBC Symphony Orchestra)

6 Private violin lessons

with Silvia Marcovici (Concert Artist, University of Performing Arts, Graz, Austria)

Thorough orchestral repertoire training

with Igor Yuzefovich (BBC Symphony) and Jordi Rodríguez (Compenhaguen Phil)

Lessons with

piano

accompaniment
*Private lessons will last 55′, in order to provide time for change from one student to the next one
**Pianists or harpsichordists will be available a minimum of 2 hours each month per student. Time can be used for individual rehearsals or for lessons, following faculty indications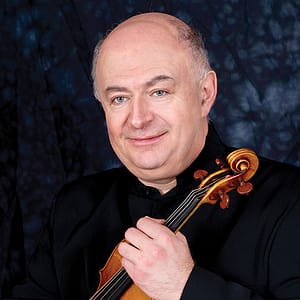 Ilya Kaler
Professor, Violin
Ilya Kaler is one of the most outstanding personalities of the violin today, with a career ranging from that of soloist and recording artist to chamber musician and professor. He is the only violinist in the world to win the Gold Medal at three of the world's most prestigious international violin competitions: the Tchaikovsky Competition in Moscow (1986), the Sibelius Competition in Helsinki (1985), and the Paganini Competition in Genoa (1981).
Praised by Gramophone magazine as "the magician, bewitching our ears," Kaler has earned rave reviews for his solo appearances with distinguished orchestras such as the Leningrad, Moscow, and Dresden Philharmonic Orchestras, the Montreal Symphony, the Danish and Berlin Radio Orchestras, the Moscow and Zurich Chamber Orchestras, and most major American orchestras. He has collaborated with a number of outstanding conductors, including Valery Gergiev, Dmitri Kitayenko, Mariss Jansons, and Jerzy Semkow. Kaler's solo recitals have also taken him to five continents, where he received enthusiastic reviews.
Kaler performs across the globe as a member of The Tempest Trio with cellist Amit Peled and pianist Alon Goldstein, a constellation of internationally acclaimed soloists. The trio recently released their debut album for Naxos Records, featuring the complete set of piano trios by Antonin Dvorák. His musical versatility extends to the symphony orchestra, as well, and he has appeared as guest Concertmaster with the Philadelphia Orchestra, the San Francisco, Pittsburgh, and Baltimore Symphonies, and on tour with the World Orchestra for Peace under Valery Gergiev. Kaler also held the Concertmaster position with the Rochester Philharmonic Orchestra in New York.
As one of the most sought-after teachers in the world, Kaler was recently invited to join the violin faculty at the distinguished Cleveland Institute of Music, where he will begin teaching full-time in the Fall of 2018. He has also held professorships at the Eastman School of Music in Rochester, NY, the Indiana University School of Music in Bloomington, IN, and at the DePaul University School of Music in Chicago, IL. Kaler regularly serves as a jury member at international violin competitions, including the Tchaikovsky International Competition in Moscow, Russia, the Jean Sibelius International Violin Competition, the Henri Marteau International Violin Competition in Germany, the International Music Competition Harbin (IMCH), the Elmar Oliveira International Violin Competition, and the Karol Lipinski International Violin Competition in Torun, Poland.
He received his education at the Moscow Central Music School under Zinaida Gilels and at the Moscow State Conservatory under Leonid Kogan and Victor Tretyakov. Further influence and inspiration came from his long-time mentor, superb violinist and pedagogue Abram Shtern.
Kaler records for Naxos Records and Ongaku Records. His highly acclaimed albums include Sonatas by Schumann and Brahms, Concertos by Paganini, Shostakovich, Tchaikovsky, Brahms, Schumann, Dvorák, Glazunov, Szymanowski, and Karlowicz, as well as the Taneyev Concert Suite, J.S. Bach's Sonatas and Partitas for Solo Violin, Ysaÿe's Six Sonatas for Solo Violin, and an album of works for solo violin.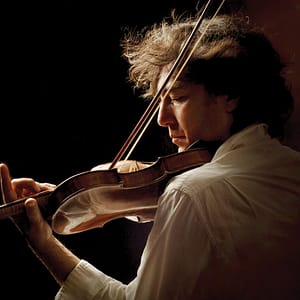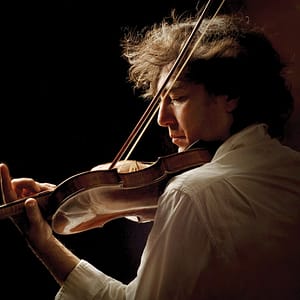 Dmitri Berlinsky
Professor, Violin
Professor of Violin, Artist Teacher, Michigan State University.
Dmitri Berlinsky, professor of violin and artist teacher at the Michigan State University College of Music, has performed in major venues such as Carnegie and Avery Fisher Halls in New York, Kennedy Center in Washington DC, Tokyo's Suntory Hall, Great Hall of the Moscow Conservatory, Mariinsky Concert Hall.
Recent highlights include appearances as a soloist in Berlin Philharmonie Hall, Vienna Konzerthaus, Frankfurt Alte Opera House, Leipzig Gewandhaus, Munich Philharmonic, among others on a European concert tour " Paganini Night" with Russian Philharmonic of St. Petersburg.
Last season Mr. Berlinsky performed and taught at the Cleveland Institute of Music, Royal Conservatory and Glen Gould School in Toronto, Tel Aviv University, Eastman School of Music, China Conservatory in Beijing, Xiamen and Fujian Universities in China, National University of Singapore, and Institute of Music in Thailand.
In high demand as a teacher, Mr.Berlinsky has given Master Classes at the University of South California in Los Angeles, Menuhin School in London, Manhattan School, Temple University in Philadelphia, DePaul and Roosevelt University in Chicago and served on the jury of Paganini International Competition, Washington International Competition, YCA, and Astral Auditions.
Mr. Berlinsky is a founder of "Dorothy DeLay MasterClass Series" and Artistic Director of "International Chamber Soloists". He is the co-founder of the "Juventus ProMusica" concert series in New York City, providing chamber music experiences for young students alongside distinguished guest artists.
Mr. Berlinsky arrived on the International scene as the youngest winner in the history of the Paganini International Violin Competition in Genoa, Italy. This victory led to his performance on Nicolo Paganini's own Guarneri del Gesú instrument, a privilege shared by only a handful of artists in history. Subsequent triumphs at the Montreal International Violin Competition (Grand Prize), the International Tchaikovsky Competition, the Queen Elizabeth Competition in Brussels, and Young Concert Artists auditions in NYC led to appearances with major orchestras in Europe, Russia, the Far East, North and South America.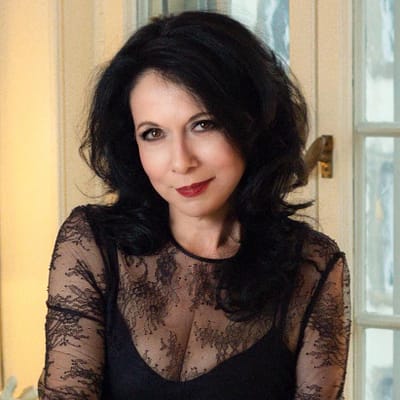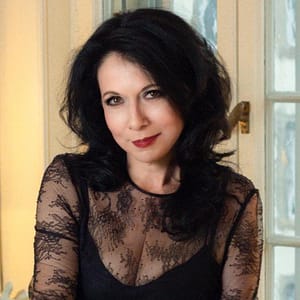 Silvia Marcovici
Professor, Violin
Silvia Marcovici, born in Romania is one of the most renowned and highly regarded violinists of our times.
A student of Professor Stefan Gheorghiu at the conservatory in Bucharest, she made her professional debut at the age of sixteen with the Residentie Orkest of The Hague under Bruno Maderna. A few years later she won first prize in the Marguerite Long/Jacques Thibaud Competition in Paris, the special prize of Prince Rainier of Monaco for the interpretation of a contemporary work; and first prize in the George Enescu International Competition in Bucharest.
Since then, Ms. Marcovici's performances have brought her to the leading orchestras throughout Europe, Israel, Japan, North and South America, appearing with the most celebrated conductors including Leopold Stokowski, Claudio Abbado, Erich Leinsdorf, Bernard Haitink, Kurt Masur, Eugene Ormandy, Kirill Petrenko, Simon Rattle, Eliahu Inbal, Zubin Mehta, David Zinman, Mstislav Rostropovich, André Previn, Riccardo Muti, Neeme and Paavo Järvi, Michael Gilen, Herbert Blomstedt and many others. She has been a soloist with most of the world's great orchestras such as London Symphony Orchestra, Royal Philarmonic Orchestra, Royal Concertgebouw Orchestra, Orchestre National de France, Orchestra della Scala di Milano, New York Philarmonic, Philadelphia Orchestra, Los Angeles Philarmonic, Chicago Symphony, Israel Philarmonic, NHK Symphony Orchestra, Cleveland Orchestra, etc.
A multifaceted musician and fascinating stage presence, she maintained a rich involvement in chamber music as well. She appeared frequently with such pianists as Evgeny Kissin, Boris Berezovsky, Pascal Rogé, Valentin Gheorghiu; and cellists David Geringas, Lynn Harrell, Antonio Meneses, Boris Pergamenscikov.
Silvia Marcovici has numerous critically acclaimed recordings including the live performance of the Glazunov Violin Concerto with London Symphony Orchestra under Leopold Stokowski, the Sibelius Violin Concerto with the Göteborg Symphony Orchestra under Neeme Järvi, the Nielsen Violin Concerto with the Orchestre Symphonique de Montpellier under Yoël Levi and the Beethoven sonatas for piano and violin with Valentin Gheorghiu. The Canadian record company DOREMI has released several CDs and DVDs in its «Legendary Treasures» series of live performances by Silvia Marcovici.
Silvia Marcovici is a passionate and active teacher, currently a professor at the University of Performing Arts in Graz, Austria.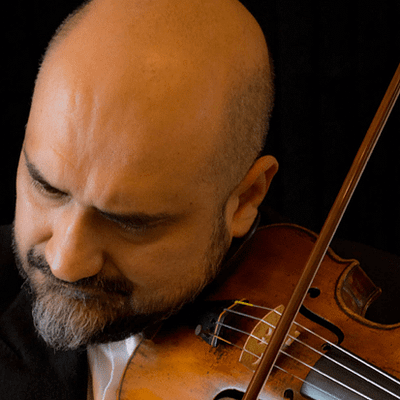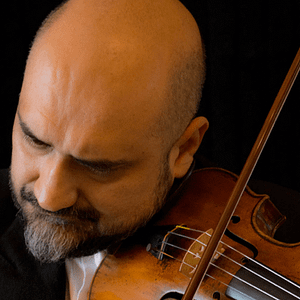 Vicente Huerta
Associate Professor, Violin
He began his studies at the Unión Musical de Llíria at the age of five, then he studied at the conservatories of Valencia and Barcelona with and finished his studies in the Royal Conservatory of Music of Brussels with professors T. Adamopoulos and Agustín León Ara, obtaining the highest awards and the Virtuosity Award "Avec la plus grand distinction." He won First prize in the Martínez Baguena, Ciudad de Soria and Gyenes violin competitions.
He has collaborated with world-famous artists such as Yehudi Menuhin, Jorge Bolet, Gerard Causé, Marçal Cervera, Yvry Gitlys, and Nobuko Imai. As a soloist he has performed with an extensive repertoire in most European countries under the baton of conductors like; Gianandrea Noseda, Meir Minsky, Michael Thomas, Robert Jansens, L Dewez, E García Asensio, Max Bragado, Henri Adams, Odón Alonso, Boguslaw Madey, Álvaro Albiach, and many others.
Vicente Huerta has been a violin teacher at the Reina Sofía School of Music in Madrid, as well as at the Universitat de Valencia, his students receiving the most important awards in the main international competitions (Sibelius, Tchaikovsky, Tibor Varga, Wienawsky, Queen Elisabeth...), as well as prominent positions in many European orchestras.
He recorded the violin part of the original soundtrack composed by Alberto Iglesias for the film "La Piel que Habito" by Pedro Almodóvar, being awarded the "Goya" prize for the best Soundtrack in 2012.
He has been developing an intense pedagogical activity, with many students getting positions in orchestras in Spain and Europe, and he is regularly invited as a teacher in the principal Spanish youth orchestras; JONDE (National Spanish Youth Orchestra), OJA (Andalusia), EGO (Basque Country), JORVAL (Valencian region), OJRM (Murcia), and others.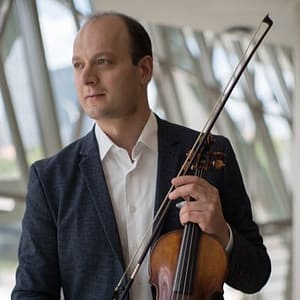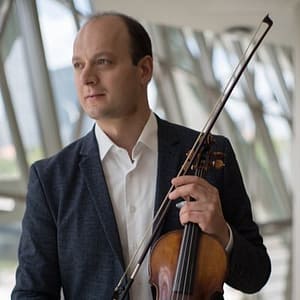 Igor Yuzefovich
Professor, Violin
Now in his third season as Concertmaster of the BBC Symphony Orchestra, Igor Yuzefovich had previously served in the same role with the Singapore Symphony Orchestra, The Hong Kong Philharmonic, and prior to that, as Assistant Concertmaster with Baltimore Symphony Orchestra.
In addition to a busy orchestral performing calendar, Igor Yuzefovich continues to be an active chamber musician, often reuniting with the Monument Piano Trio which he co-founded in 2004. The trio made its concert debut in the US to critical acclaim and has since captivated audiences across the United States and in China. Its debut recording, featuring works by Brahms, Shostakovich and Schoenfield received high praise from critics and audiences alike.   
While Mr. Yuzefovich's concerts and recitals have taken him from Carnegie Hall to the Cairo Opera House, across Europe and throughout Asia, he has been equally committed to educating the next generation of musicians as a Visiting Artist at the Royal Academy of Music in London and is highly sought after for solo, chamber music and orchestral masterclasses around the globe.
Born into a musical family in Moscow, Russia, Mr. Yuzefovich began his violin studies at the age of 5, and soon after enrolled at the Gnessin Music School, studying with Irina Svetlova.  In 1991, Mr. Yuzefovich moved to the United States where he continued his violin studies and later earned advanced degrees from The Peabody Conservatory under the tutelage of world-renowned pedagogue Victor Danchenko.
When he is not leading the BBC Symphony Orchestra, Mr. Yuzefovich can be seen and heard in his frequent appearances as guest concertmaster with many of the world's well-respected orchestras.
Mr. Yuzefovich plays a Ceruti violin kindly loaned to him through the Beare's International Violin Society.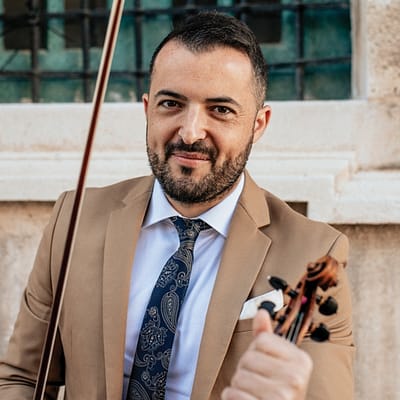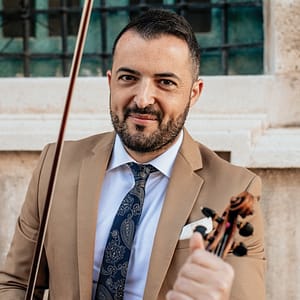 Jordi Rodríguez
Associate Professor, Violin
Since 2019 associate concertmaster of Copenhagen Phil.
Jordi studied at the Reina Sofía School with professors Vicente Huerta, Jose Luis García and Rainer Schmidt. He also studied at the Universität für darstellende Kunst in Graz and Robert Schumann Hochschule in Düsseldorf with professors Ida Bieler, Jürgen Kussmaul and Christoph Richter where he graduated with honors. In addition, Jordi has a Diploma of advanced studies in Ochestral Performance studied at the Haute Ecóle de Musique de Genève in collaboration with the Orchestre de la Suisse Romande. He received a scholarship from the Yehudi Menuhin Foundation and the Carl Dörken Foundation.
Jordi Rodriguez received first prizes in the Violin Competition at the Murcia International Festival of Youth Orchestras, in the National Competition for Young Performers in Xàtiva (Valencia), in the Music Competition in Villa de Cox (Alicante), and in the Schmolz-Bickenbach Chamber Music Competition in Düsseldorf.
During his career, Jordi has worked together with great soloists and conductors such as Pinchas Zukerman, Maria João Pires, Evgeny Kissin, Natalia Gutman, Ray Chen, Vadim Gluzman, Frank Peter Zimmermann, Radu Lupu, Zubin Metha, Lorin Maazel, Semyón Bychkov, Ton Koopman, Neeme Järvi, Lorenzo Viotti, etc.
Together with his job as associate concertmaster at Copenhagen Phil, Jordi has played and still plays as guest concertmaster with other orchestras like Orquesta Sinfónica de Murcia, Orquesta Sinfónica de Extremadura, Camerata Murcia, Orquesta Opus 23, WDR Funkhausorchester Köln and Orquesta Sinfónica de Euskadi.
Giorgos Panagiotidis
Guest Professor, Contemporary Violin
Violin, Ensemble Modern.
Giorgos Panagiotidis was born in Drama, Greece, in 1982 and started violin lessons with his father at the age of 5. At the age of 13 he won the first prize for young musicians at the Kocian violin competition in Ústí nad Orlicí of the Czech Republic. He was then accepted in the Academy of Music and Theatre in Munich, where he studied with Gottfried Schneider and graduated in 2004 with the loan of a Nicola Gagliano violin for two years. After graduation he joined Lydia Dubrovskaya's class and in 2007 he returned to Greece to take up the position of assistant concertmaster of the Athens Camerata - Orchestra of the Friends of Music. He has worked with many other ensembles, including the Ensemble Modern Frankfurt, and has collaborated with famous conductors such as Zubin Mehta, Pierre Boulez and Sir Neville Marriner. He has performed in many European concert halls, including the Concertgebouw Amsterdam, Herkulessaal München, Festspielhaus Baden-Baden and Salle Pleyel Paris. He is a founding member of the ERGON Ensemble and also a member of the Tetraktys Quartet and Ensemble Modern.
VIOLIN
Applicants should send a video recording (it can be sent in separate video clips) of the following repertoire. Piano accompaniment is mandatory where applicable.
Bachelor of Music 
-First movement from a standard concerto with cadenza where applicable
-Two contrasting movements from a Bach Sonata or Partita for Solo Violin (Ciaccona from Bach's Second Partita may be used as the equivalent) 
-One étude or caprice by Dont, Gaviniès, Kreutzer, Paganini, Rode, or the equivalent 
Master of Music
-First movement of a Mozart concerto with cadenza
-First movement from a standard concerto (other than Mozart) with cadenza where applicable
-Two contrasting movements from a Bach Sonata or Partita for Solo Violin (Ciaconna from Bach's Second Partita may be used as the equivalent) 
-Another piece of the applicant's choice 
-A Paganini Caprice, Wienawski Caprice, movement of Ysaye Sonata or the equivalent 
Performance Opportunities