About MMC's Double Bass Studio
More Information
About MMC's Double Bass Studio
The Double Bass Studio at MedMusic is gathering together the mastery of Thierry Barbé, principal bassist at the Orchestre National de l'Opera de Paris and professor at Conservatoire National Superieur de Paris, Jeff Bradetich, Director of the largest double bass studio in the world at the University of North Texas and one of the most respected players and teachers in the world, virtuoso performer Catalin Rotaru, well-known for his countless bass transcriptions from the violin and cello repertoire, and also a renowned professor and clinician based at the Arizona State University, and German bassist Stefan Schäfer, principal bass at Philharmonisches Staatsorchester Hamburg and professor of double bass at Hochschule für Musik und Theater Hamburg. A great number of their students are now occupying positions in orchestras around the world.
This impressive team of professors doesn't make distinction on French or German bowing, as their studios are full of players that use both systems. For them, the main objective is to train bassist who are able to perform at any given situation with the maximum level of competence, covering both the solo and orchestral repertory in a comprehensive way that will prepare students to excel at orchestra auditions and concert performances when they graduate. 
Double Bass Studio Quick Facts
Each student will get:
18 private lessons

with Thierry Barbé (Principal, Opera de Paris National Orchestra)*

10 private lessons

with Jeff Bradetich (University of North Texas)*

8 private lessons

with Catalin Rotaru (Arizona State University)*

8 Private Lessons

with Stefan Schäfer (Principal, Philharmonisches Staatsorchester Hamburg)

Visiting Teachers

on Basso Continuo, Jazz and Flamenco Specialists

Masterclasses

with top-class Bass Players coming from all over the world

Lessons with

piano

accompaniment**
*Private lessons will last 55′, in order to provide time for change from one student to the next one.
**Pianists will be available on an average of 2 hours each month per student. Time can be used for individual rehearsals or for lessons, following faculty indications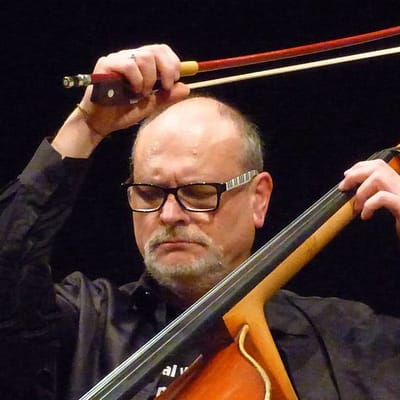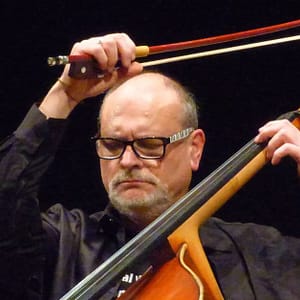 Thierry Barbé
Professor, Double Bass
Thierry Barbé is principal bass in the Paris National Opera Orchestra and double bass professor at the Conservatoire Superieur de Musique de Paris. Born in Metz, Eastern France, Barbé studied piano and double bass while simultaneously pursuing a degree in science, before devoting himself exclusively to music at the CNSMDP, where he earned degrees in Harmony, counterpoint, First Prize in music analysis, music history, and First prize in double bass with JM Rollez.
Barbé likes to perform recitals with piano, and he plays all types of expressive music, with the "French touch" sound and sense of phrasing. He has performed and has been featured in master classes in about 24 countries. He has taught double bass since 1982, notably at the Saint Maur conservatoire, near Paris, where he keeps advanced students from all over the world.
He frequently performs his own compositions (his first CD, "Nomade", was released in 1998, DVD "French Impressions," in 2016). Barbé has experimented with numerous technical approaches to the double bass (all techniques, left-hand positions, and all kinds of bows, regulations…). He likes to reconcile all of them. Since 2001, Barbé is the French Bass Society president  (ABCDF). He was a member of the I.S.B. board and organized, with Riccardo Del Fra, a successful International Bass Convention in Paris in 2008. He was a board member of Bass Europe Society in 2017. He is the artistic director of the summer camp "Biarritz International Bass Academy."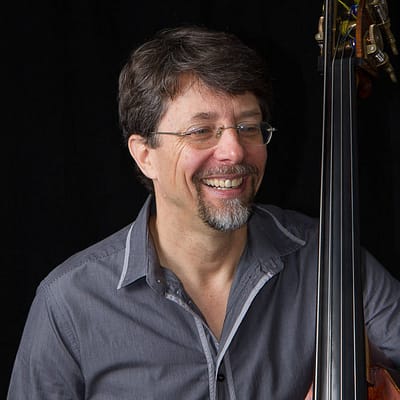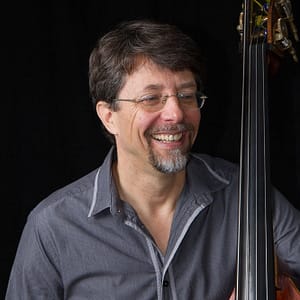 Jeff Bradetich
Professor, Double Bass
Jeff Bradetich, Double Bass
Proclaimed by the New York Times as "the master of his instrument," Jeff Bradetich is regarded as one of the leading performers and teachers of the double bass in the world today. He gave his professional concerto debut at the age of 16 and was appointed to the orchestra of the Lyric Opera of Chicago by age 19. Since his New York debut in Carnegie Recital Hall in 1982, he has performed solo concerts on five continents and in many of the major cities of the world. He has, recorded seven solo albums of music for double bass and piano and has been featured on radio and television throughout North and South America, Europe and Asia.
Mr. Bradetich began his study of the bass at age 10 in the school orchestra program in Eugene, Oregon studying with Royce Lewis and cellist Dr. Robert Hladky. He earned both Bachelor and Master's degrees studying at Northwestern University with Chicago Symphony bassists Warren Benfield and Joseph Guastafeste. Other major musical influences include performing for ten seasons at the Oregon Bach Festival with Helmuth Rilling, one of the world's leading Bach authorities, and summer study with Gary Karr and many of the leading double bass pedagogues in the US.
In addition to being an active lecturer and clinician, Mr. Bradetich has transcribed more than 100 solo works and served as a judge on many international solo competitions. He has produced both intermediate and advanced level instructional videos and numerous DVD recordings for Youtube including the first and fourth Bach cello suites and the first movement of the Elgar Cello Concerto. He has given more than 1500 master classes throughout the world including annual week-long workshops in the US (35 years), Germany and Hong Kong. He also served as Executive Director of the International Society of Bassists from 1982-1990 where he established the ISB Conventions and Solo Competitions. He was editor of its magazine for 6 years. In June, 2021 the ISB recognized his 40 years of teaching with their Special Recognition Award in Teaching.
Mr. Bradetich has taught on the faculties of the Interlochen Arts Academy, University of Michigan and Northwestern University prior to his 1994 appointment as director of the largest double bass program in the world at the University of North Texas (UNT). His students hold positions in major orchestras on six continents and occupy many important teaching and leadership positions throughout the profession. In 2011 he was honored by UNT as the first recipient of its Creative Impact Award - designed to honor the faculty member whose work in the literary or creative arts has had the greatest societal impact.
In 2008 Mr. Bradetich established the Bradetich Foundation for the advancement of the double bass. The Foundation has hosted two Bradetich Foundation International Double Bass Solo Competitions at UNT offering the largest prizes in double bass history. www.bradetichfoundation.org
His book – Double Bass: The Ultimate Challenge, on pedagogy and performance on the bass, was released in 2009. Now in its third printing and considered one of the most important books of its kind in the past 50 years, it has been translated into Spanish and Chinese on eBook and is now available in video format with hundreds of short videos teaching every aspect of bass technique from www.miabass.org.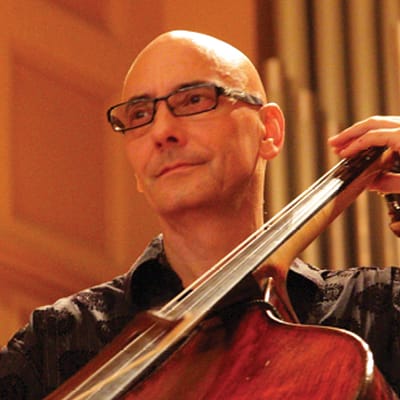 Catalin Rotaru
Professor, Double Bass
Catalin Rotaru joined the School of Music at Arizona State University, in 2005. Mr. Rotaru is in demand as a performer and clinician throughout the world. He is a graduate of the National University of Music from Bucharest, Romania, and holds a Master's degree in music performance from the University of Illinois at Urbana-Champaign. Previously he was Associate Professor of Double Bass and Jazz Studies at the University of Wisconsin-Stevens Point, taught at Millikin University and at the University of Illinois at Urbana-Champaign.
He served as associate principal bass in the Romanian National Radio Orchestra, principal bass in the Sibiu Philharmonic Orchestra, Virtuosi Chamber Orchestra of Bucharest, associate principal and principal bass in Sinfonia Da Camera, and principal bass of the Orchestra Sinfonica Europea.
He received the second prize at the 1997 International Society of Bassists Solo Division Competition and the Jury's Special Award for the best performance of the required piece at that competition. He was the winner of the Krannert Center for the Performing Arts Debut Recital Award in 1997, the Central Illinois Chapter of the National Society of Arts and Letters Award in 1996, and in 2013 he was honored with the "Recognition award for Solo Performance" by the International Society of Bassists.
Mr. Rotaru's debut solo CD, entitled "Bass*ic Cello Notes" was released by Summit Records in March 2007 and in 2010 released his second CD entitled "Juliana D'Agostini + Catalin Rotaru" which was recorded in Sao Paulo, Brazil. In 2012 Mr. Rotaru recorded his third CD, in collaboration with the National Symphony Orchestra of Paraguay, which includes the world premiere of a double bass performance of the famous violin concerto no. 5 by W.A. Mozart, and in 2014 he released a special CD/DVD package with works by Frank Proto which includes the world premiere recording of Proto's Sonata no. 2 dedicated to him. In 2017 Mr. Rotaru had the great honor of recording a world premiere historical CD entitled "The Lord of the Basses – Bottesini's Testore" performing on Bottesini's double bass made by Testore in 1716, and in the same year he released another CD album entitled "Sonic Bridges vol. II" recorded with the National Symphony Orchestra of Paraguay. This album includes a few world premiere works dedicated to him as well as the first rendition of Mozart's "Sinfonia Concertante" where the solo viola part is played on double bass. More recently, in 2018, he releases his 7th CD album recorded in Italy featuring two prominent sonatas from the violin and cello repertoire.
Professor Rotaru has been a frequent solo performer as recitalist or guest soloist with numerous symphony orchestras and gave master classes at many prestigious institutions and festivals in United States, Asia, Europe, and South America. Mr. Rotaru performs on a modern instrument made in Italy by Luciano Golia and a bow made by Marco Pasquino, and is a Pirastro Strings endorsing artist.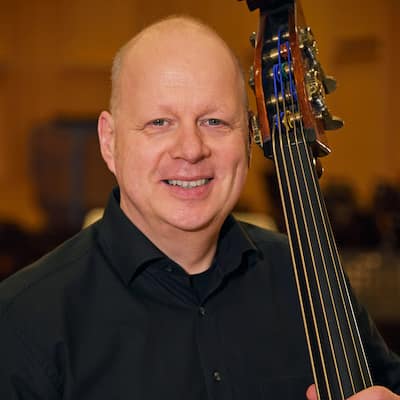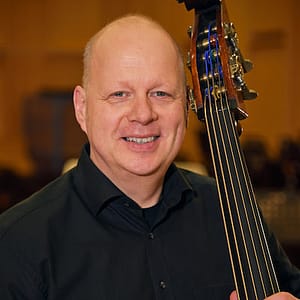 Stefan Schäfer
Professor, Double Bass
Stefan Schäfer is principal bass at Philharmonisches Staatsorchester Hamburg. He is professor for double bass at Hamburger Konservatorium and Hochschule für Musik und Theater Hamburg.
He studied at Hochschule für Musik und Theater Hamburg and graduated with a diploma and soloist exam with distinction.
Schäfer has recorded several CDs as a soloist as well as a chamber musician.
He founded the Aktionstag Kontrabass in Hamburg and HanseBass, a national forum for double bass teachers of northern Germany.
Schäfer is often invited to international masterclasses for double bass and chamber music, e.g. Bass Europe Academy.
In addition, he has been appointed as member or chairman of the jury of international double bass competitions like International Sperger Competition/Germany or International Janáček Competition/Czech Republic.
Schäfer's numerous compositions for double bass are wide-ranging in genre and instrumentation. They are performed all over the world, e.g. in famous concert halls such as Carnegie Hall in New York, Konzerthaus Wien, or Philharmonie Berlin.
His works are also played in several competitions, e.g. he composed the compulsory piece for the III. International Sperger-Competition. In Great Britain and the USA, his works were awarded with composition prizes (British and International Bass Forum, International Society of Bassists).
Schäfer's oeuvre also includes orchestral works, songs and chamber music. In commission of the Philharmonisches Staatsorchester Hamburg, he composed several works for orchestra. His compositions are edited at his own publishing company bassist-composer publications and Hofmeister Musikverlag.
Stefan Schäfer plays a double bass by John Frederic Lott.
www.bassist-composer.de
www.bassist-composer-publications.de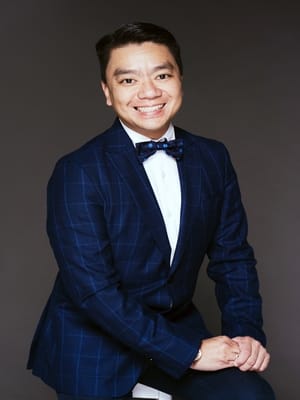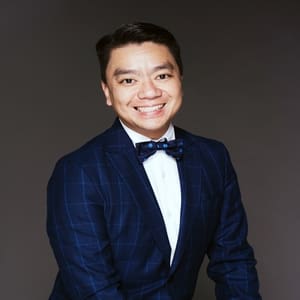 Edmond Cheng
Guest Professor, Double Bass
Cheng King Chung Edmond (鄭景聰)
Born in Hong Kong, China, Edmond Cheng started his double bass studies in 1987. In 1999, he was awarded a scholarship by Hong Kong Soong Ching Ling Children's Palace to continue his double bass studies with Mr. Eddie Zong. He obtained his bachelor's degree in Music from the Hong Kong Academy for Performing Arts (HKAPA) and achieved an award of "Winner of HKAPA Concerto Trial" in 2002. Recently, he has also obtained his master's degree in Music from Hong Kong Baptist University (HKBU).
Mr. Cheng performed with Asian Youth Orchestra in Korea, Japan, Vienna, and Australia (Olympic Arts Festival) in the year 2000. From 2002 to 2004, he participated in the solo performance in HKAPA Concerto Winner's Concert, Hong Kong New Youth Philharmonia Orchestra Annual Concert and Ditterstorf (Double Bass & Viola Duet) with Pan Asia Symphony Orchestra.
Mr. Cheng has been engaged in the teaching of Double Bass (in HKAPA and different music institutes) for more than 10 years. Being the founder, Edmond created his music center (Edmond Cheng's Music Center Ltd.) in 2005. Since 2006, he has organized master classes for his students in Hong Kong on an annual basis. During these years, Prof. Paul Ellison, Prof. Lu Yuan Xiong, Prof. Thierry Barbe, Mr. David Allen Moore and Prof. Gottfried Engels were invited to give these masterclasses.
Mr. Cheng's students won the 2nd and 3rd position (Age below 14) in the International Society of Bassist (ISB) competition in Oklahoma of USA. In 2008, four of his students won the 1st (Section A1, Age 7-10, and Section B, Age 11-14, Advanced Level) and 2nd position (Section A2, Age 11-14) in the International Double Bass Convention in Paris. In 2010, eight of his students won the 1st, 2nd and 3rd positions (Section A1 and A2, Age 7-10). Also, his students won the 2nd and 3rd position (Section AG4, Age 14-16 and Ag3, A3 Age 11-14) in the International Double Bass Convention in Berlin.
Mr. Cheng has been devoted to orchestra conducting for more than 10 years. He was invited to be a conductor in 2005 by Yip's Children Orchestra in Hong Kong. In 2010, Mr. Cheng has been invited to be a conductor at the Metropolitan Youth Orchestra (MYO).
Mr. Cheng is a Life Member of the International Society of Bassists (ISB) since 2007. In 2010, he was invited to deliver a lecture on the topic of Pedagogy for Young Bass Players in the International Double Bass Convention which will be held in Berlin.
He was also invited by Central Conservatory of Music (中央音樂學院) to take part in producing an article regarding the development of Double Bass teaching in China. He is one of the representatives from Hong Kong in this Conservatory.
DOUBLE BASS
Applicants should send a video recording (it can be sent in separate video clips) of the following repertoire. Piano accompaniment is mandatory where applicable.
Bachelor of Music
Beethoven: Scherzo from the 5th symphony (page 12-13 "Orchester Probespiel, Schott edition, or any other edition)
One 1st mvt from a classical concerto with cadenza, free choice among Vanhall, Dittersdorf, Sperger, Hoffmeister, Mozart (Bassoon), Pichl. by memory
1st movement of Koussevitsky Concerto
Master's of Music
The following orchestral excerpts:
Beethoven: Scherzo from the 5th symphony (page 12-13 "Orchester Probespiel, Schott edition, or any other edition)
Mozart: Die ZauberFlote overture (page 28-29 "Orchester probespiel, Schott edition, or any other edition)
One piece ( by memory) chosen in this list:
HINDEMITH Sonata fro DB and piano (éd. Schott), 1st mvt ;
Bottesini Concerto n°1 or n°2, 1st mvt
ROTA Divertimento concertante,  (éd. Carisch, Milano), 1st mvt ;
Gliere Tarantella
Bottesini Reverie and Tarentella
2 contrasted movements from one free choice cello Bach suite (by memory).
one free choice piece
Duration in total max. 30′
Performance Opportunities