About MMC's Cello Studio
More Information
The spectacular Cello Studio at MMC is based on two main pillars of the cello pedagogy today: American-Israeli cellist Amit Peled, Professor at the Peabody Institute of Baltimore, and German cellist Claudio Bohórquez, Professor at Musikhochschule Hanns Eisler in Berlin. They are two of the most influential figures of their instrument, with dozens of their students occupying orchestra seats all over the world, including several prize-winners at diverse international competitions. They will be joined by Spanish cellist José Enrique Bouché, one of the most esteemed cello teachers in the country, as well as an acclaimed performer himself. 
The fact that both Mr. Peled and Mr. Bohórquez frequented the class of cello legend Boris Pergamenschikow speaks clearly about the degree of teamwork these two artists can develop, ensuring a successful team instruction which will be wisely complemented by their Spanish partner, Mr. Bouché, all together working towards the maximum excellence in cello pedagogy for MMC students.
As in all other MedMusic studios, having such great cello virtuosi in the same team and location means approaching the entire world to the students' hands, contributing to our key concept of globalized learning in a visible, fortunate way.
Cello Studio Quick Facts
Each student will get:
16 private lessons

with Amit Peled (Peabody Institute, baltimore)*

16 private lessons

with Claudio Bohórquez (

Hochschule für Musik "Hanns Eisler"

, Berlin)*

16 private lessons

with José Enrique Bouché (Conservatorio Superior de Castellón, Spain)*

Masterclasses

with top-class Cellists coming from all over the world

Visiting Teachers

on Basso Continuo and Contemporary Cello

Lessons with

piano

 accompaniment
*Private lessons will last 55′, in order to provide time for change from one student to the next one
**Pianists will be available a minimum of 2 hours each month per student. Time can be used for individual rehearsals or for lessons, following faculty indications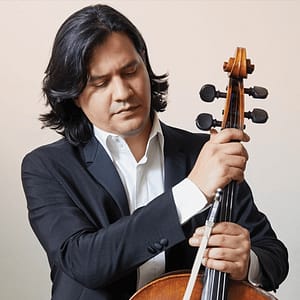 Claudio Bohórquez
Professor, Cello
The German-born cellist of Peruvian-Uruguayan descent is one of the most sought-after musicians in his field. As a student of Boris Pergamenschikow, Claudio Bohórquez achieved success at an early age at international competitions such as the Tschaikowsky Youth Competition in Moscow and the Rostropovich Cello Competition in Paris.
This culminated in 2000 with three awards at the first International Pablo Casals Competition held under the auspices of the Kronberg Academy: Marta Casals Istomin presented Claudio Bohórquez with first prize, a special award for the best chamber music, and also the use of Casals' Gofriller cello for a period of two years. He also won first prize at the International Music Competition in Geneva, an achievement that marked the start of his career as a soloist. Meanwhile he has become a teacher himself: from 2011 to 2016 he was professor at the Musikhochschule Stuttgart, in September 2016 he was appointed to the Hochschule für Musik "Hanns Eisler" Berlin, where he has been a guest professor since 2003.
Among others, Claudio Bohórquez has performed with almost all German radio orchestras, the Staatskapelle Dresden, the Leipzig Gewandhaus Orchestra, the Wiener Symphoniker, the Collegium Musicum Basel, the Orchestre de Paris, the Orchestre Philharmonique de Radio France, the Tonhalle Orchestra Zurich and the Academy of St. Martin in the Fields. In Japan, he performs with the NHK Symphony Orchestra and the Tokyo Philharmonic Orchestra. In the US, Claudio Bohórquez recently gave concerts with the Boston Symphony, Chicago Symphony, Cleveland Orchestra, Detroit Symphony, Los Angeles Philharmonic, National Symphony and the Philadelphia Orchestra.
Renowned conductors Claudio Bohórquez has worked with include Daniel Barenboim, Christoph Eschenbach, Manfred Honeck, Sir Neville Marriner, Eiji Oue, Krzysztof Penderecki, Leonard Slatkin, Tugan Sokhiev, Lothar Zagrosek and David Zinman.
Claudio Bohórquez is a guest at numerous festivals. Among them are the Casals Festival in Puerto Rico, the City of London Festival, the Penderecki Festival in Warsaw and the Jerusalem International Chamber Music Festival. Appearances in the United States have included performances at the Tanglewood, Ravinia and Aspen Festival as well as the Hollywood Bowl. He participated in the chamber music festival Lockenhaus in Austria and at Gidon Kremer's festival "Les Musiques" in Basel. As a passionate chamber musician, he has performed together with Jörg Widmann in Bilbao/Madrid, and with Viviane Hagner and Jonathan Gilad at the Beethoven Marathon at Konzerthaus Berlin.
The past seasons have led the artist to many festivals, including: a. to the Rheingau Music Festival with the Columbian Youth Philharmonic under Andrés Orozco-Estrada, to the Dresden Music Festival with a Chamber Music Project together with the violinist Philippe Quint and the pianist Boris Giltburg, to the Schleswig-Holstein Music Festival and the Rheingau Music Festival. The upcoming season includes, among others, the Elbphilharmonie debut on November 8, 2018 and an Elgar cello concert with the Staatsphilharmonie Nürnberg on February 15, 2019.
In addition to numerous CD recordings, radio recordings and television appearances Claudio Bohórquez worked as an interpreter for the soundtrack of Paul English by to the film "Ten Minutes Older - The Cello", which was shown in theaters worldwide. Together with the painter Klaus-Peter Kirchner, Claudio Bohórquez developed the installation project "Raum für Pablo Casals" in homage to this great cellist. He was part of the ECHO-winning album "Four Seasons" (2017) of Daniel Hope, released by Deutsche Grammophon. In July 2018 Berlin Classics will release a new CD with the sonatas of Johannes Brahms and some bonus tracks together with Claudio Bohórquez's duo partner Péter Nagy.
Since the season 2017/18 Claudio Bohórquez is Artistic Director of the Festival Winnenden.
Claudio Bohórquez plays a G. B. Rogeri violoncello presented to him by the Landeskreditbank Baden-Württemberg.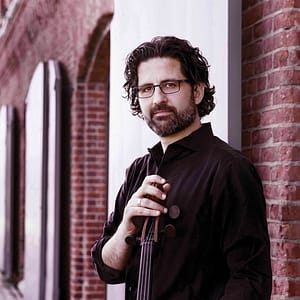 Amit Peled
Professor, Cello
Praised by The Strad magazine and The New York Times, internationally renowned cellist Amit Peled is acclaimed as one of the most exciting and virtuosic instrumentalists on the concert stage today. Having performed in many of the world's most prestigious venues, including Carnegie Hall and Alice Tully Hall at the Lincoln Center in New York, the John F. Kennedy Center for the Performing Arts in Washington D.C., Salle Gaveau in Paris, Wigmore Hall in London, and the Konzerthaus Berlin, Peled has released over a dozen recordings on the Naxos, Centaur, Delos, and CTM Classics labels. Musical America named Peled one of the Top 30 Influencers of 2015.

Recent career highlights include Bach Suite cycles in the United States, Europe, and Israel; performances of the Saint-Saëns Cello Concerto at the Kennedy Center; a debut collaboration with the Peabody Chamber Orchestra led by Maestra Marin Alsop; a return to the Ravinia Festival in celebration of Peled's recording of the Brahms Cello Sonatas on the Goffriller cello (1733) once owned by the legendary cellist Pablo Casals; a return visit as a soloist to the Casals Festival in Puerto Rico; performances of the Shostakovich Cello Concerto and Penderecki's Second Cello Concerto conducted by the legendary Krzysztof Penderecki himself; Schubert's Arpeggione Sonata recorded on the Casals cello; and a worldwide musical celebration of Beethoven's Sonatas for Cello and Piano to commemorate the composer's 250th anniversary.
An enthusiastic chamber music artist, Peled is a member of the acclaimed Tempest Trio with violinist Ilya Kaler and pianist Alon Goldstein. Peled also performs with Goldstein and clarinetist Alexander Fiterstein as a member of the Goldstein-Peled-Fiterstein Trio.

One of the most sought-after cello professors in the world, Peled is a professor at the Peabody Institute at Johns Hopkins University where he has taught since 2003 and was one of the youngest professors ever hired by a major conservatory. He has instructed students who have gone on to garner top prizes at international competitions such as the Carlos Prieto International Competition in Mexico, the Schoenefeld International Competition in China, and Young Concert Artists Guild in New York. Embracing the new era of the pandemic, Peled recently established the Amit Peled Online Cello Academy in order to reach cellists all over the world with private lessons and in-depth courses on his First Hour technique method.

Passing on the tradition in which he performed with his mentors Bernard Greenhouse and Boris Pergamenschikow, Peled regularly performs with the Amit Peled Cello Gang. Composed of students from Peled's studio at the Peabody Institute, members of the Cello Gang range in age from undergraduate freshmen to second-year master's students. Peled and the Cello Gang tour regularly around the country with recent performances at the Cape Cod Chamber Music Festival, the Society of Four Arts in Palm Beach, the Fairfax Symphony Orchestra, as a resident ensemble in San Miguel de Allende, Mexico, and all across Maryland, the gang's home state. Peled is also the founder, conductor, and artistic director of the Mount Vernon Virtuosi, a chamber orchestra dedicated to nurturing the careers of recently graduated music students, which annually performs a five-program season in Baltimore, Silver Spring, and Rockville, Maryland.

Raised on a kibbutz in Israel, Amit Peled began playing the cello at age 10. From 2012 through 2018, Peled performed on the Pablo Casals 1733 Goffriller cello, which was loaned to him personally by Casals' widow, Marta Casals Istomin. Today, he performs on a cello made by the Italian master Giovanni Grancino, ca. 1695, on generous loan from the Roux Family Foundation.

Amit Peled is represented worldwide by CTM Classics.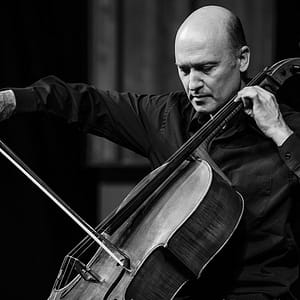 José-Enrique Bouché
Associate Professor, Cello
Born in Castellón (Spain) in 1967, where he started his cello lessons with Prof. D. Ramia and Prof. J.A. Ros (Conservatorio Profesional "F. Tárrega" de Castellón). Later he attended "Real Conservatorio Superior de Música de Madrid" with Prof. R. Ramos (where he was awarded 1st Prize), Centre Internacional d´Ensenyaments Musicals de Barcelona with Prof. M. Cervera, Conservatorio Superior de Salamanca (Chamber Music Diploma) and Universidad Nacional de Educación a Distancia of Madrid, Faculty of Education (Doctoral Program: Research in Music Pedagogy Diploma), supported by Banco Exterior de España Foundation, Conselleria de Cultura, Educaciò i Ciéncia de la Generalitat Valenciana (Valencian Government) and Erasmus Program.
Performings in Spain, France, Italy, United Kingdom, Portugal, Romania, Switzerland, Greece, Argentina, Chile, Uruguay, El Salvador, Brasil, Norway, Japan and U.S.A. and often participates at festivals like Festival Internacional de Santander, Festival Internacional de Pollença, Spain in Tokio (Japan), Festival Internacional "Chopin" de Valldemossa, Festival de Música Contemporánea de Alicante, Ciclos de Música de Cámara de Cajamadrid, Ciclos de Música de Cámara de Ibercaja, Fundación Botín, Festival Internacional de Música de Cámara de Segovia, Fundación March, Children4Music (London), Puentes Project-New York (E.E.U.U.), Sighisoara Academy Festival (Romania), Festival Grieg in Bergen (Norway), Supercello, Beijing (China), etc., performing in halls such as: Auditorio Nacional, Teatro Real and Teatro Monumental (Madrid), Palau de la Música (Valencia), Palau de la Música (Barcelona), Teatro Rossini (Pesaro), Fraumünster (Zürich), Grosser Saal (Bern), Nissay Theatre (Tokyo), Teatro Avenida (Buenos Aires), Teatro Solís (Montevideo), Teatro Oriente (Santiago de Chile), Teatro Presidente (San Salvador), Teatro San Carlos (Lisbon), Concert Hall of the Americas Society (New York), Teatro Manzoni (Milano), Teatro Arriaga and Palacio Euskalduna (Bilbao), Auditorio de Santiago de Compostela, Palazzo Pisani (Venezia), Sala Bossi (Bologna), Auditorio de Murcia, Auditorio de León, Auditorio de Palma de Mallorca, etc.
Bouché has recorded several solo and chamber music Cds for the labels Tecnosaga, Edelweis, S.G.A.E., Saimel, R.T.V.E. (Finalist Work at the 6th Edition of Music Awards of the Academia de las Artes y las Ciencias de la Música, 2002), Warner Music (Pop music: 4 nominees 16th Latin Grammy Awards, 2015) and Cooperativa de Cine, performs regularly with the pianists Juan Carlos Cornelles and Brenno Ambrosini and has collaborated with prestigious musicians and ensembles: Michael Thomas, Ilya Grubert, Vasko Vassilev, Alexandru Gavrilovici, Nobuko Imai, Imre Rohmann, Jean-Philippe Vasseur, Joan Enric Lluna, Massimo Paris, José Franch Ballester, Covent Garden Virtuosos, G. Sollima, Ensemble Laureate, "Leonor" String Quartet and Shanghai Quartet, among others.
He has performed as a soloist with the Orchestra of Engelberg, Orquesta de Cámara "Reina Sofía" de Madrid, Orquesta Sinfónica de Castellón, Orquesta Sinfónica del Mediterráneo, Orquesta de les Arts, Camerata de Madrid, Castelló XXI, Nomos Group, Orquesta Sinfónica de Córdoba, etc. and has been conducted by V. Cacciatori, C. Halffter, M. Thomas, J. Vicent, H. Adams, E. García Asensio, S. Brotons, P. Miyar, etc. His solo appearances with orchestra include such major concerts as Dvorak, Haydn, Saint-Saëns, Boccherini, Beethoven´s Triple concerto, etc.
Member of the "Ars Hispanica Quartet", "Dubhe Quartet", "Nomos Group", "Arkhé Piano Trio" (Ambrosini-Huerta-Bouché) and currently of the "Mediterranean String Trio" (Correa-Hontañón-Bouché). Principal cello at Orquesta Sinfónica del Mediterráneo, Valencia, Camerata de Madrid and ABCámara. Co-principal cello at Chamber Orchestra "Reina Sofía" de Madrid from 1986 until 1999, performing with soloists and conductors such as: N. Chumachenco, R. Frübeck de Burgos, Ph. Entremont, Sir Neville Marriner, N. Yepes, N. Zabaleta, M.J. Montiel, T. Berganza, P. Romero, M. Bayo, I. Haebler, H. Schellenberger, J. Achúcarro, Y. Basmeth, etc.
His great interest in Spanish contemporary music has brought him to perform the premier of composers: P. Artola, R. Beltrán-Moner, F. Colás, J. Sánchez, E. Lorenzo, A. Gómez, R. Paús, Z. de la Cruz, F. Ferrer, C. Cruz de Castro, S. Brotons, M.A. Coria, A. González Acilu, R. Barce, T. Marco, C. Prieto, J. Villa-Rojo, G. Gombau, P. Miyar, M.A. Roig-Francolí, M.A. Berbis, etc.
Regularly he is invited to hold masterclasses throughout Spain and Europe: Italy, The Netherlands, Belgium, Romania, Turkey, Serbia, Greece and to coach youth orchestras: Jove Orquestra de la Generalitat Valenciana, Jove Orquestra Simfònica de Castelló, JOBASCYL de Castilla y León, Joven Orquesta "Ciudad de Salamanca", Orquesta Juvenil "Don Bosco" de El Salvador and The World Orchestra.
Pedagogy is a very important part of his professional activity. Bouché has taught at Conservatorio Superior de Zaragoza, Conservatorio Profesional de Salamanca, Conservatorio Profesional de Alcalá de Henares (Madrid), Conservatorio Superior de las Islas Baleares, Conservatorio Profesional "Adolfo Salazar" de Madrid and Valencian International University-VIU. Currently Bouché is Senior Professor at Conservatorio Superior "Salvador Seguí" de Castellón-Spain. Has been Syllabus Designer, Director and String Pedagogy Teacher of the "Master in Music Performance and Research-Valencian International University-VIU", awarded in the 5th edition of the Teaching With Sakai Innovation Award-TWSIA (U.S.A. 2012) by promoting excellent pedagogy and innovation in teaching and learning programmes through Sakai, Elluminate and Blackboard Collaborate technological platforms. In 2013 joint as Cello and Pedagogy teacher the project "Addressing Youth Violence through Cultural and Music Learning" in El Salvador (Central America) supported by The World Bank, Edytra Foundation, Don Bosco University, Ministerio de Educación de El Salvador and Embassy of Japan.
Currently is Co-artistic Director of the international cello meeting "Cellosmagics" (https://www.cellosmagics.org) and Deputy Coordinator of the "Mediterranean Network for Music" (https://mednet4music.weebly.com).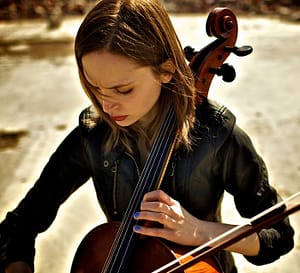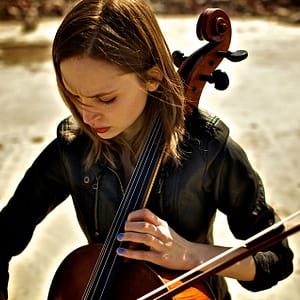 Mariel Roberts
Guest Professor, Contemporary Cello
American cellist Mariel Roberts is widely recognized not just for her virtuosic performances, but as a "fearless explorer" in her field (Chicago Reader). Her ravenous appetite for collaboration and experimentation as an interpreter, improvisor, and composer have helped create a body of work which bridges avant-garde, contemporary, classical, improvised, and traditional music. Roberts is widely recognized for her "technical and interpretive mastery" (I care if you listen) and for performances which seethe with "excruciating intensity" (The Whole Note).
Roberts has appeared as a soloist and chamber musician across four continents, most notably as a member and co-director of the Wet Ink Ensemble (named "The Best Classical Music Ensemble of 2018" by The New York Times), as well as with the International Contemporary Ensemble (ICE), Mivos Quartet, Bang on a Can All Stars, and Ensemble Signal. She performs regularly on major stages for new music such as the Lincoln Center Festival (NYC), Wien Modern (Austria), Lucerne Festival (Switzerland), Cervantino Festival (Mexico), Klang Festival (Denmark), Shanghai New Music Week (China), Darmstadt Internationalen Ferienkurse für Neue Musik (Germany), and Aldeburgh Music Festival (UK). Roberts has been featured wide variety of outstanding recordings, including titles on Innova Records, Albany Records, New World Records, New Amsterdam, Carrier Records, New Focus, and Urtext Records. Roberts' compositions have been performed at venues such as Merkin Hall and Miller Theater in New York City.
Roberts has released two solo albums of new works commissioned for her. The first, "Nonextraneous Sounds" (2012), was noted for it's "technical flair and exquisite sensitivity" (Composers Forum). 2017's "Cartography" (2017), solidified Roberts' position as "one of the most adventurous figures on New York's new music scene—one with a thorough grounding in classical tradition but a ravenous appetite for and tireless discipline in new work." (Bandcamp).
​Her close collaborators have spanned a wide range of genres and include some of the most important figures on the contemporary and experimental scene, such as George Lewis, Alex Mincek, Tim Hecker, Nate Wooley, M. Lamar, Patrick Higgins (Zs), Ingrid Laubrock, Jeffrey Mumford, Sam Pluta, Eric Wubbels, and Ambrose Akinmusire.
CELLO
Applicants should send a video recording (it can be sent in separate video clips) of the following repertoire. Piano accompaniment is mandatory where applicable.
Bachelor of Music 
-A movement of a concerto from standard literature or 5-10 minutes of an equivalent piece such as Schelomo or Rococo Variations.
-Prelude and another movement from an unaccompanied suite by Bach. (Please omit repeats in the dance movement)
-One etude from one of the following: Duport 21 Etudes, Popper High School of Cello Playing, Piatti 12 Caprices
Master of Music
-Two contrasting movements of a concerto from standard literature or an equivalent piece such as Schelomo or Rococo Variations.
-Prelude and another movement from an unaccompanied suite by Bach. (Please omit repeats in the dance movement)
-A shorter piece of your choice, or complete movement from a sonata or larger work, which shows a stylistic or personal musical interest.
Performance Opportunities