About MMC's Percussion Studio
MedMusic is very fortunate to gather together an impressive team of world-class percussionists, led by LA Phil timpanist Joseph Pereira, intended to cover all areas necessary for our students to succeed in their professional careers. 
Students will be enjoying team instruction from solo concert artist Colin Currie, marimba soloist Theodor Milkov, LSO percussionist Sam Walton, and Orquesta de Barcelona percussionist Roxan Jurkevich, and students will receive 6 weeks of individual lessons yearly from top-class drummer Peter Erskine, in order to prepare them for the most demanding orchestral auditions around the world. 
The MMC's Percussion Studio will offer all instruments necessary for students to practice and reach their maximum personal development, including studio marimbas they will be able to rent to take home for a small fee. Besides orchestra, band and ensemble participation, they will be taking part of MMC's Percussion Ensemble, led by Joseph Pereira, which will present various concerts in Valencia during the year. 
percussion Studio Quick Facts
Each student will get:
16 private lessons

with Joseph Pereira (Timpanist, Los Angeles Philharmonic)*

10 private lessons

with Colin Currie (International Concert Artist

)*

10 private lessons

with Theodor Milkov (International Concert Marimba Player)*

6 private lessons

with Peter Erskine (World-renowned Drummer)*

10 private lessons

with Sam Walton (Principal Percussionist, London Symphony Orchestra)*

16 private lessons

with Roxan Jurkevich (Former Principal Percussionist, Orquesta Ciudad de Barcelona, Multi-genre Artist)
*Private lessons will last 55′, in order to provide time for change from one student to the next one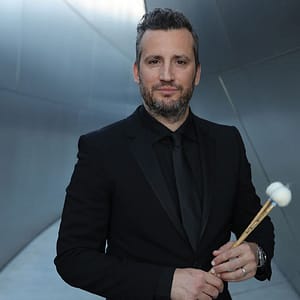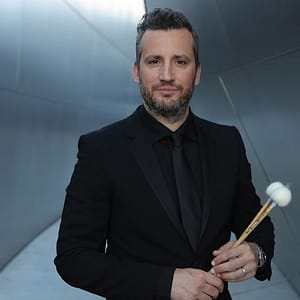 Joseph Pereira
Professor, Timpani
Principal Timpanist, Los Angeles Philharmonic.
Joseph Pereira (1974) enjoys a multi-faceted career as a timpanist/percussionist, composer, conductor, and teacher. His work in all areas has been widely hailed for his creativity and virtuosity, and has been profiled in feature articles in both The New York Times (2006) and The Los Angeles Times in 2012 and 2015.
Pereira's music has been described as "restless yet lucidly textured" (The New York Times), "striking atmospherics of colour" (The Guardian), and "one sonic surprise after another" (The Los Angeles Times). His works have been commissioned and performed worldwide, most notably by the Los Angeles Philharmonic with Gustavo Dudamel, the Singapore Symphony with Pascal Rofe, the New York Philharmonic Chamber Series, the Miro Quartet, the Pavel Haas Quartet, the San Francisco Contemporary Music Players, percussionist Colin Currie, Duo Harpverk, French Ensemble TM+, and the Los Angeles Percussion Quartet. In 2013 the Los Angeles Percussion Quartet recorded his piece Repousse' (2009), which was nominated for three 2013 Grammy Awards. The following year LAPQ recorded Pereira's Mallet Quartet (2013), and it was rated "Best of 2014 Classical Music" from itunes. Pereira's works can be heard on, Sono Luminus, Yarlung Records, Electrum Duo, and New Focus Recordings. His percussion works are published by Bachovich Music in the US, and Black Dot Press in the UK. and he is managed by  Price Attractions.
Pereira has been the Principal Timpanist of the Los Angeles Philharmonic since 2008. As a versatile performer, Pereira is in demand as an orchestral timpanist, studio recording percussionist, and a contemporary music soloist. He regularly appears as a solo percussionist in the orchestra's "Green Umbrella" new music series and has also conducted his music and other world premieres on the orchestra's chamber series. In Los Angeles, he also can be found in the recording studios and can be heard on many major motion pictures. Previously Pereira was a member of the New York Philharmonic form 1997 to 2008, as a timpanist and percussionist. His line of signature timpani mallets by JGPercussion are sold and used worldwide.  Pereira currently runs the highly successful percussion studio at USC Thornton School of Music, and is also on the faculty of the Aspen Music Festival and the Music Academy of the West. Pereira was previously on the faculty of the Juilliard School, from 2004-2012.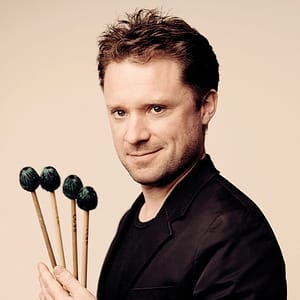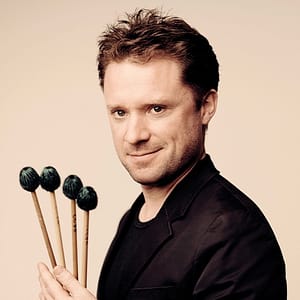 Colin Currie
Professor, Percussion
Artist in Association, Southbank Centre, London Artistic Director, Colin Currie Group Artistic Curator, Grafenegg Academy.
Colin Currie is as solo and chamber artist at the peak of his powers. Championing new music at the highest level, he is hailed as being "at the summit of percussion performance today" (Gramophone). Currie is the soloist of choice for many of today's foremost composers and conductors and he performs with the world's leading orchestras, including the New York Philharmonic, Royal Concertgebouw, Royal Stockholm Philharmonic, London Philharmonic and Minnesota Orchestras.
A dynamic and adventurous soloist, Currie's commitment to commissioning and creating new music was recognised in 2015 by the Royal Philharmonic Society who awarded him the Instrumentalist Award. From his earliest years Currie forged a pioneering path in creating new music for percussion, winning the Royal Philharmonic Society Young Artist Award in 2000 and receiving a Borletti-Buitoni Trust Award in 2005. Currie has premiered works by composers such as Steve Reich, Elliott Carter, Louis Andriessen, HK Gruber, Mark-Anthony Turnage, Sir James MacMillan, Brett Dean, Sir Harrison Birtwistle, Einojuhani Rautavaara, Helen Grime, Jennifer Higdon, Kalevi Aho, Andy Akiho, Rolf Wallin, Kurt Schwertsik, Andrew Norman, Julia Wolfe and Nico Muhly. Looking ahead, in the coming seasons Currie will premiere new works by Bruno Mantovani, Danny Elfman, and Steve Reich.
In October 2017 Currie launched Colin Currie Records, in conjunction with LSO Live, as a platform for recording his diverse projects, celebrating the extraordinary developments for percussion music in recent times. The label's first release was the Colin Currie Group's debut recording, Steve Reich's Drumming, which was hailed as "thunderously exciting" (The Times). In October 2018 Currie released the second disc in this catalogue, The Scene of The Crime, with Håkan Hardenberger, the third release following in April 2019, Colin Currie & Steve Reich Live at Fondation Louis Vuitton, once again featuring the Colin Currie Group.
A major highlight of Currie's 2020/21 season is the world premiere of Bruno Mantovani's Percussion Concerto, Allegro Barbaro, with the Tonkünstler Orchestra in June 2021, following the postponement of the Orchestre Philharmonique de Radio France's premiere last season.
Currie also returns to the São Paulo Symphony Orchestra, Scottish Chamber Orchestra, Helsinki Philharmonic Orchestra, Rochester Philharmonic Orchestra, performs with the Warsaw Philharmonic, National Orchestra of Belgium and Polish National Radio Symphony Orchestra Katowice and the Colin Currie Quartet make their Lithuanian and Hong Kong debuts.
Currie's dynamic ensemble the Colin Currie Group was formed in 2006 to celebrate the music of Steve Reich and made its five-star debut at the BBC Proms. Since then, with Reich's personal endorsement Currie and his ensemble have taken on the role of ambassadors of Drumming, which they have performed at many venues and festivals internationally. The Colin Currie Group return to the Royal Festival Hall in April 2021 for an all-Reich programme including Music for 18 Musicians.
Currie is Artist in Association at London's Southbank Centre, where he was the focus of a major percussion festival Metal Wood Skin in 2014 and continues to perform there every season.
Colin Currie plays Zildjian cymbals and is a Marimba One Artist.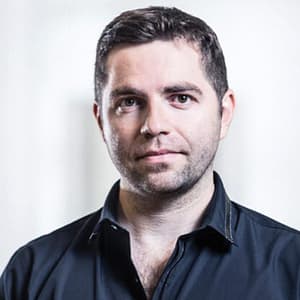 Sam Walton
Professor, Orchestral Percussion
Sam Walton appears regularly as a percussionist and timpanist with many of the UK's top orchestras, including the London Symphony, London Philharmonic, BBC Symphony, London Sinfonietta and the Chamber Orchestra of Europe. He also works in West End theatres on a variety of shows.
As a soloist, Sam has appeared with the Royal Philharmonic Orchestra, Orquesta de Castilla y Leon, and the Gurzenich Orchestra in Cologne. He has appeared both as a solo recitalist and with his duo partner Colin Currie at numerous venues in the UK and worldwide.
As a chamber musician, Sam has performed on two recital discs with Colin Currie, with whom he has performed the Bartok Sonata for Two Pianos and Percussion at the Wigmore Hall and BBC Proms. He performs regularly with violist Viktoria Mullova and appears on her recital disc Through the Looking Glass. He is a member of the contemporary group Between The Notes, with whom he has travelled to Asia, Europe and Australia. He has also appeared as a soloist at the BBC Proms in a programme of music by Steve Reich.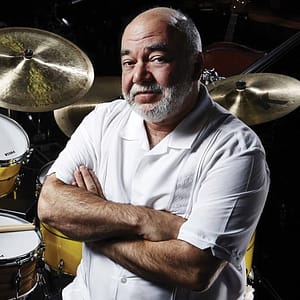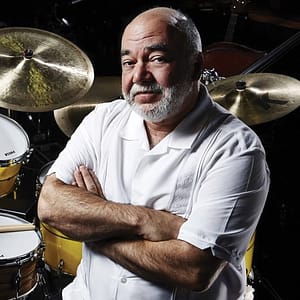 Peter Erskine
Guest Professor, Drums
Peter Erskine has played the drums since the age of four and is known for his versatility and love of working in different musical contexts. He appears on 700 albums and film scores, and has won two Grammy Awards, plus an Honorary Doctorate from the Berklee School of Music (1992).
Fifty albums have been released under his own name or as co-leader. He has played with the Stan Kenton and Maynard Ferguson Big Bands, Weather Report, Steps Ahead, Joni Mitchell, Steely Dan, Diana Krall, Kenny Wheeler, Mary Chapin Carpenter, The Brecker Brothers, The Yellowjackets, Pat Metheny and Gary Burton, John Scofield, et al, and has appeared as a soloist with the London, Los Angeles, Chicago, Frankfurt Radio, Scottish Chamber, Ensemble Intercontemporain, Royal Opera House, BBC Symphony, Oslo and Berlin Philharmonic Orchestras. Peter premièred the double percussion concerto Fractured Lines, composed by Mark-Anthony Turnage, at the BBC Proms with Andrew Davis conducting, and has collaborated frequently with Sir Simon Rattle. He also premiered the Turnage opera "Anna Nicole" at the Royal Opera House in London. Turnage has composed a solo concerto for Peter titled "Erskine," which received its world premiere in Bonn, Germany in 2013, with a US premiere at the Hollywood Bowl with the LA Philharmonic. Peter has been voted 'Best Jazz Drummer of the Year' ten times by the readers of Modern Drummer magazine and was elected into the magazine's Hall of Fame in 2017.
Peter graduated from the Interlochen Arts Academy in Michigan and studied at Indiana University under George Gaber. In 1972 Peter commenced his pro career playing with the Stan Kenton Orchestra. Four years later, he joined Maynard Ferguson before working with Jaco Pastorius in Weather Report and moving to Los Angeles. Peter recorded five albums with the band. He won his first Grammy Award with their album '8.30'. During this time in LA, he also worked with Freddie Hubbard, Joe Henderson, Chick Corea, Bobby Hutcherson, Joe Farrell and George Cables. Peter then moved to New York City where he worked for five years with such musicians as Michael Brecker, Mike Mainieri, Eddie Gomez and Eliane Elias in Steps Ahead, John Scofield, Bill Frisell and Marc Johnson in the legendary group Bass Desires, the John Abercrombie Trio plus Bob Mintzer's Big Band.
Peter's lived in LA since 1987 but has been traveling around the world all of that time, working with such artists as Diana Krall, Joni Mitchell, Vince Mendoza, Steely Dan, plus European musicians Jan Garbarek, Kenny Wheeler, Palle Danielsson, John Taylor, Kate Bush, Nguyen Lê, Rita Marcotulli, the Norrbotten Big Band in Sweden plus Sadao Watanabe in Japan. He won his second Grammy Award as the drummer of the WDR big band in Köln along with Michael Brecker, Randy Brecker, Vince Mendoza and others for the "Some Skunk Funk" album. Meanwhile, Peter keeps busy in on the road and in LA with such artists as Seth MacFarlane, Patrick Williams, plus John Beasley, Bob Sheppard and Benjamin Shepherd (all 3 musicians members of his Dr. Um Band), as well as playing in the studios. Films where Peter's drumming can be heard include "Memoirs of a Geisha," all three of the Austin Powers movies, "The Secret Life of Pets," plus the title music of the Steven Spielberg/John Williams collaboration, "The Adventures of Tintin." He also played the jazz drumming cues on the Academy Award-winning soundtrack for "La La Land," and can be heard playing on the scores for "Sing," "Logan" and "House of Cards."
Peter produces jazz recordings for his record label, Fuzzy Music, with 4 Grammy nominations to its credit. Peter is also an active author with several books to his credit; titles include "No Beethoven (Autobiography & Chronicle of Weather Report)," "Time Awareness for All Musicians," "Essential Drum Fills," and his latest book (co-authored with Dave Black for Alfred Publishing), "The Drummers' Lifeline." He is also authoring a series of iOS Play-Along apps suitable for all instruments.
Peter is Professor of Practice and Director of Drumset Studies at the Thornton School of Music, University of Southern California. Peter plays Tama Drums, Zildjian Cymbals, Vic Firth Sticks, Remo Drum Heads, Meinl Percussion, and uses Shure Microphones and Zoom digital recording devices.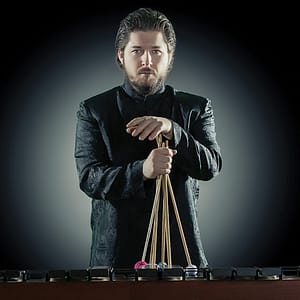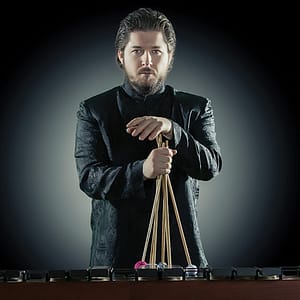 Theodor Milkov
Guest Professor, Percussion (Marimba)
The Russian-Greek percussionist Theodor Milkov is one of the most innovative marimba players. Well known for his "pianistic" approach, revolutionary ideas and technical abilities, bringing the marimba to a new level of performance. Milkov's repertoire includes music written for harpsichord, piano, from baroque to romantic epoch as well as contemporary music.
Through collaboration with the composer Ruud Wiener, Milkov has created new Marimba repertoire, as well as an educational series of Marimba études under the title "Fluent Movements for Marimba." This collaboration was the inspiration of the two Marimba Video Tutorials, available on his official website. Commissioning new music has been an important aspect of  Milkov's artistic life. That is how "Passacaglia" is born; a massive, weighty, tonally contrapuntal, and technically brilliant tour de force, written by Raymond Helble for his 2016 PASIC debut. Milkov's ability to perform classical repertoire on Marimba, have opened him doors to prestigious festivals such as Sofia Music Weeks - Bulgaria , Oranjewoud Festival - The Netherlands , Bach Academy Brugge - Belgium.
Theodor has been giving masterclasses in musical institutions all over the world, such as HfM Muenster (Germany), Colburn School of Music Los Angeles (USA), Northwestern University (USA), Conservatorium van Amsterdam (the Netherlands), Conservatoire Saint-Maur-des-Fossés (France), Salerno Conservatory (Italy) and Taiwan, to name a few.
Milkov began his percussion studies at the age of 7, in Municipal Conservatory of Patras (Greece), under his stepfather Maxim Mankovski. Later on, over the period 2002-2009, he continued his studies in Musikhochschule Detmold (Germany), Royal Conservatoire Den Haag and Conservatorium Van Amsterdam ( The Netherlands) under Profs. Peter Prommel, Hans Zanderoep, Fedor Teunisse, Luuk Nagdegaal, Nick Woud and Gustavo Gimmeno.
Milkov holds a Bachelor of Music from Detmold Musikhochschule (Germany) and Conservatorium Amsterdam ( The Netherlands). Masters of Music from Royal Conservatoire Den Haag (The Netherlands)and Konzertexamen from Detmold Musikhochschule (Germany).
In 2017, Theodor Milkov held his first International Marimba Summer Camp, a training course based his method "Fluent Movements for Marimba." MIMSC became quickly one of the most interesting and successful annual events, attracting participants from all over the world – USA, Japan, Taiwan, Zimbabwe, Poland, France, Italy, Spain, Russia, Costa Rica, Denmark, Finland, China, Latvia and Hungary.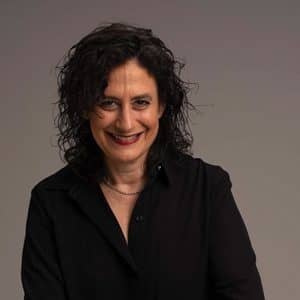 Roxan Jurkevich
Associate Professor, Percussion
Roxan Jurkevich is a dynamic, multi-faceted percussionist whose many musical influences allow her to perform in a myriad of musical styles. She worked as Principal Percussionist/ Assistant Principal Timpanist with the Barcelona Symphony Orchestra for nearly 30 years and with whom she appeared as soloist, performing the world premiere of Alejandro Civilotti's Rhapsódia para Percusión y Orquesta, and solo timpani on Franz Waxman's Sinfonietta for String Orchestra and Timpani (Koch records, 1998). She has now chosen to pursue other musical projects and collaborations outside of a strictly Classical genre.
Ms. Jurkevich has performed with many orchestras including the Metropolitan Opera, London's Philharmonia Orchestra, the Royal Flemish Philharmonic, and has toured with the Israel Philharmonic led by Zubin Mehta. She frequently played under maestros Mehta and Lorin Maazel at the Orquestra de la Comunidad Valenciana (OCV) in Valencia, Spain, as well as with other prominent orchestra conductors such as Pierre Boulez, Esa- Pekka Saalonen, André Prévin, Yuri Temirkanov, Christopher Hogwood, and Jesús López-Cóbos, to name just a few.
In the New York/Tri-State area she has performed with the American Symphony and American Composers Orchestras, the New Jersey, New Haven, Stamford, Albany, and Harrisburg Symphonies, and has played for various Broadway shows (West Side Story, The Little Mermaid, Guys & Dolls, Beauty and the Beast). She has appeared on American TV, performing with Enya on Live with Regis and Kelly, on 60 Minutes with U2's Bono and The Edge during a rehearsal for Spiderman: The Musical – Turn off the Dark, as well as on the popular soap opera Days of Our Lives. She has also appeared frequently on Spanish TV, most notably during the 1992 Barcelona Summer Olympics opening and closing ceremonies, and can be seen online, on medici.tv broadcasts, on YouTube, on Spanish TV concert broadcasts and on all the main social media sites.
Roxan has performed at prestigious concert halls such as Carnegie Hall, Avery Fisher Hall, the Metropolitan Opera House and Alice Tully Hall in NYC's Lincoln Center, the Musikverein and Konzerthaus in Vienna, the Royal Albert and Royal Festival Halls in London, the Philharmonie in Berlin and the Paris Philharmonie, Teatro La Fenice in Venice, at Suntory Hall in Tokyo, at the Palau de la Música and L'Auditori in Barcelona, among many others. She has recorded for major record labels such as RCA Victor/BMG, EMI, Decca, Telarc, Koch, Harmonia Mundi, and Naxos, two of those albums having won Latin Grammy awards.
As an active chamber musician, Roxan has performed with I.C.E. (International Contemporary Ensemble), Newband, Speculum Musicae, Drumfire Quartet, and Percussions i Solistes de l'OBC, and collaborates with living composers to help create new works for percussion. In October 2020 she performed the world premiere of the very first-ever duo for marimba and electric guitar, Pandemic Dance No. 18, by Gene Pritsker and is a member of Fifth Essence, a pop music "cover" band made up of string quartet plus percussion.
Ms. Jurkevich runs a private teaching studio in Barcelona, is an active international clinician, has been on faculty at the JONC (Jove Orquestra Nacional de Catalunya), at Camporrobles and Benisannó summer percussion festivals, and presented classes at Paris' PASIC (Percussive Arts Society International Convention). She has recently been appointed to faculty at the new Mediterranean Music College in Valencia, Spain, and online at The Percussion Conservatory. She was supervising editor for the translation from English to Catalan of the book How to Write for Percussion by Samuel Z. Solomon and has served as interpreter for English-speaking artists at many Spanish percussion festivals and press conferences.
A native of New York City, Ms. Jurkevich holds Bachelors's and Masters's degrees in Percussion Performance from The Juilliard School where she studied with Roland Kohlhoff and Elden C. Bailey of the NY Philharmonic, as well as with Gordon Gottlieb. Prior to that she studied at Queens College with Richard Horowitz of the Metropolitan Opera, spent summers at the Aspen Music Festival and Berklee World Music Festival, and is also a DJ/Producer/ Electronic artist, having studied electronic music production at Berklee (Boston), Dubspot (NYC), and Plástic (Barcelona). She is currently working on material for a future album release.
Roxan proudly endorses Zildjian Cymbals, Pearl Drums, RhythmTech Percussion, Freer Percussion Products, and Jason Ginter (JG) Timpani Mallets.
PERCUSSION
Applicants should send a video recording (it can be sent in separate video clips) of the following repertoire. Piano accompaniment is mandatory where applicable.
Bachelor of Music
Snare Drum
-Rudimental Solo Etude from Pratt, Wilcoxon, or the equivalent
-Concert Solo Etude from Cirone Portraits in Rhythm, Mitchell Peters -Advanced Studies or Delecluse 12 Etudes, or the equivalent
-20-second roll from dynamic levels pp to ff to pp
Mallets
-Two-mallet solo or etude of your choice.
-Four-mallet Marimba or Vibraphone solo of your choice that would be suitable for a recital. (One movement only)
Timpani
-Etude from Goodman method, Firth, Delecluse, Hochrainer books or the equivalent.
Master of Music
Snare Drum
-Rudimental Solo Etude from Pratt, Wilcoxon, or the equivalent.
-Concert Solo Etude from Cirone Portraits in Rhythm, Mitchell Peters -Advanced Studies or Delecluse 12 Etudes, or the equivalent.
-20-second roll from dynamic levels pp to ff to pp
-Two standard orchestral excerpts.
Mallets
-Two-mallet solo or etude of your choice.
-Four-mallet Marimba or Vibraphone solo of your choice that would be suitable for a recital. (One movement only)
-Two standard orchestral excerpts on Xylophone and 2 on Glockenspiel.
Timpani
-Etude from Goodman method, Woud, Delecluse, Hochrainer books or the equivalent.
-Two standard orchestral excerpts.
Percussion Solo Piece (**Not Required**)
If interested in focusing more on solo repertoire and chamber music, any solo/setup piece that best shows your abilities can also be submitted.
Performance Opportunities