About MMC's Piano Studio
More Information
The Piano Studio at MedMusic offers extensive training by four of the greatest piano professors in the world, Dmitri Alexeev, from London's Royal College of Music, Boris Slutsky, currently teaching at Yale University and the Peabody Institute, Piotr Paleczny, professor at the Chopin Academy in Warsaw, and Antonio Pompa-Baldi, professor at the Cleveland Institute of Music. Spanish pianist Juan Lago, currently a professor at the Qatar Music Academy, will be joining the team as an associate professor. In addition to this, we feel honored to have acclaimed pianist and pedagogue Julian Martin, from The Juilliard School, as a visiting professor, as well as the pianist from Ensemble Intercontemporain over the last 30 years, Dimitri Vassilakis.
With such an incredible faculty team we are able to offer, like all the other departments, the benefits of team instruction and globalized learning, the two key distinctive elements that make MMC a unique school. In order to organize properly the studio, two teams of professors will be offered to piano students, one with Dmitri Alexeev and Boris Slutsky, the other with Antonio Pompa-Baldi and Piotr Paleczny. Both teams will have Juan Lago as associate professor and will be enjoying our visiting professors equally.
Learning from these teachers, with students winning prizes at the most important competitions in the world, is going to be a tremendous adventure, if not a true dream, for the most talented young pianists. They will be thoroughly trained in other skills like sight-reading, collaborative piano, vocal coaching, improvisation, in order to make them ready for any challenge that they have to face at their maximum level of competence.
Keyboard Studies Quick Facts
Each student will get:
OPTION A:
16 private lessons

with Dmitri Alexeev (Royal College of Music)*

16 private lessons

with Boris Slutsky (Yale University, Peabody Institute)*
OPTION B:
16 private lessons

with Piotr Paleczny (Chopin Academy, Warsaw)*

16 private lessons

with Antonio Pompa-Baldi (Cleveland Institute of Music)*
FOR ALL OPTIONS:
16 private lessons

with Juan Lago (Qatar Music Academy)*

Visiting specialists

on Accompaniment, Improvisation, and Contemporary Piano

Masterclasses

with top-class Pianists coming from all over the world
*Private lessons will last 55′, in order to provide time for change from one student to the next one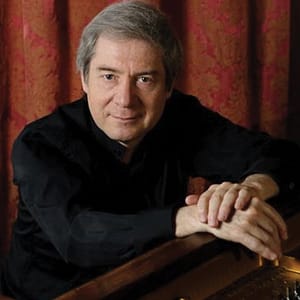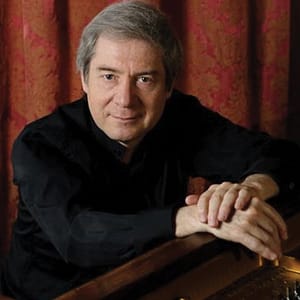 Dmitri Alexeev
Professor, Piano
Russian pianist Dmitri Alexeev is one of the world's most highly regarded artists. His critically praised recitals on the world's leading concert stages and his concert appearances with the most prestigious orchestras have secured his position as one of "the most remarkable pianists of the day" (Daily Telegraph).
He has performed with orchestras such as the Berlin Philharmonic, Chicago Symphony Orchestra, Philadelphia Orchestra, Royal Concertgebouw of Amsterdam, the five London orchestras, Orchestre de Paris, Israel Philharmonic, and the Munich Bavarian Radio Orchestra amongst others. He has worked with conductors such as Ashkenazy, Boulez, Svetlanov, Dorati, Gergiev, Giulini, Jansons, Muti, Pappano, Rozhdestvensky, Salonen, Temirkanov, Tilson Thomas, and Klaus Tennstedt to name just a few.
During recent seasons he was the Artistic Director of the Leeds International Recital Series, and for the 2013-14 season, he was appointed Artistic Director (and Artist in Residence) of a concert series in Arnhem and Nijmegen, in the Netherlands. Alexeev has been a juror for many of the world's most prestigious International Piano Competitions, including the Leeds, Chopin (Warsaw), Van Cliburn, Santander, Beethoven (Vienna), and Tchaikovsky (Moscow). He gives masterclasses regularly around the world.
Dmitri Alexeev has made many fine recordings for EMI, BMG, Virgin Classics, Hyperion, and Russian labels. His discs include piano concertos by Schumann, Grieg, Rachmaninov, Prokofiev, Shostakovich, Scriabin, Medtner and solo works by Bach, Brahms, Schumann, Chopin, Liszt, Scriabin, Rachmaninov, Prokofiev. Following his Virgin Classics recording of the complete Rachmaninov Preludes, which won the Edison Award in the Netherlands, BBC Music Magazine said: "He is a pianist at once aristocratic, grand and confessionally poetic. This is an inspiring disc." His latest recordings include Scriabin's complete Piano Sonatas (Brilliant Classic, 2012), Chopin's Mazurkas (2014), and Scriabin's complete Études (2015) and Preludes (2017).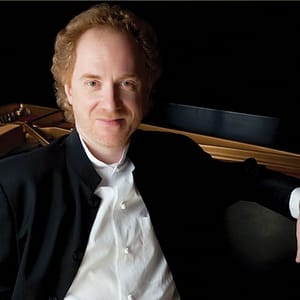 Boris Slutsky
Artist in Residence, Piano
Consistently acclaimed for his exquisite tonal beauty and superb artistry, Boris Slutsky emerged on the international music scene when he captured the First Prize—along with every major prize, including the Audience Prize and Wilhelm Backhaus Award—at the 1981 William Kapell International (University of Maryland) Piano Competition. His other accomplishments include first prizes at the Kosciuszko Chopin Competition and San Antonio International Keyboard Competition, and major prizes at the International Bach Competition in Memory of Glenn Gould, Busoni, Rina Sala Gallo, and Ettore Pozzoli International Piano Competitions.
Since his orchestral debut at Carnegie Hall with the New York Youth Symphony in 1980, Slutsky has appeared on nearly every continent as soloist and recitalist, collaborating with such eminent conductors as Dimitri Kitaenko and Valery Gergiev. He has performed with the London Philharmonic, Stuttgart State Orchestra and Deutsche Kammerphilharmonie Neuss am Rhein in Germany, Bern Symphony Orchestra in Switzerland, Bergen Philharmonic in Norway, RAI Orchestra in Milan, KBS Symphony Orchestra in Korea, and major orchestras in Spain, Russia, Columbia, and Brazil. In South Africa, he has been soloist with the orchestras of Cape Town, Durban, and Johannesburg. His North American engagements have included concerts with the Baltimore, Florida, Utah, and Toronto Symphonies.
Slutsky has been heard on recital series throughout the United States, Canada, Europe, Latin America, and the Far East, making appearances at the Kennedy Center for the Performing Arts, the Kaufmann Concert Hall, Bunka Kaikan in Tokyo, National Concert Hall in Taipei, Performing Arts Center in Seoul, and Teatro Colon in Bogota, among many others. An avid chamber musician, Slutsky's more than two decades of chamber music collaborations include the critically acclaimed recording of Schumann's Sonatas for Violin and Piano with Ilya Kaler on the Naxos label, as well as performances with many renowned artists.
Slutsky has presented master classes throughout North America, Europe, and Asia, and served as a jury member for many international piano competitions.
Born in Moscow into a family of musicians, Slutsky received his early training at Moscow's Gnessin School for Gifted Children as a student of Anna Kantor, and completed his formal studies at the Juilliard School and Manhattan School of Music, studying with Nadia Reisenberg, Nina Svetlanova, John Browning, and Joseph Seiger. In addition, he has worked for many years with his mentor Alexander Eydleman.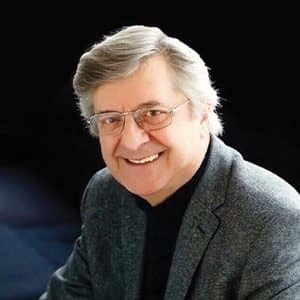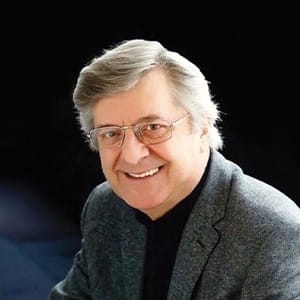 Piotr Paleczny
Professor, Piano
One of the most outstanding Polish pianists and professors, laureate of five international piano competitions, Piotr Paleczny completed his piano studies at the Frederick Chopin Music University in Warsaw, in the class of prof. Jan Ekier. The opportunity of having artistic contact with Arthur Rubinstein and Witold Lutoslawski also had a huge impact on the final development of his artistic personality.
His success achieved at the 8th Frederick Chopin International Piano Competition opened the doors of many prestigious world concert halls to Piotr Paleczny. In this competition he was awarded, together with Garrick Ohlsson and Mitsuko Uchida, the Third Prize, the Special Prize for the best performance of a Polonaise and the Witold Małcużyński Prize.
He performed as a soloist with such prominent orchestras as the Chicago Symphony, Concertgebouw, Royal Philharmonic, BBC Symphony Orchestra, Gewandhaus, Tonhalle Orchester Zürich, RAI, Santa Cecilia, Orquesta Sinfónica Nacional de Mexico, Orquesta Sinfónica Nacional de Argentina, and Orquesta Nacional de España, to name just a few.
He has performed in prestigious concert halls including the Carnegie Hall, the Alice Tully Hall and the UN General Assembly Hall in New York, the Orchestra Hall in Chicago, Suntory Hall in Tokyo, Berliner Philharmonie, Gewandhaus in Leipzig, Teatro Colon in Buenos Aires, Musikverein in Vienna, Concertgebouw in Amsterdam, the Royal Festival Hall in London, and Festspielhaus in Salzburg.
He has held master classes in New York, Tokyo, Sydney, Buenos Aires, Fort Worth, Bordeaux, Paris, Seoul, Beijing, Brescia, Madrid, Amsterdam, Hamamatsu, Montevideo, Mexico City, and many others.
Mr Paleczny has gained great recognition as a juror at prestigious international piano competitions such as those organized in Warsaw (eight last editions of the Chopin Competition), Leeds, Montreal, Moscow (Tchaikovsky -  in 2002 and 2019), Paris, A.Rubinstein in Tel Aviv, London, Cleveland, Geneve, Hamamatsu, Toronto, Tokyo, Takamatsu, Seoul, Salt Lake City, Minneapolis, Santander, Sendai, Taipei, Weimar, Manchester, Shenzhen, Los Angeles, Hilton Head, etc.
In July 2007, he led the Jury works at the prestigious piano competition in Cleveland, thus he was the first and only Pole invited to fulfill the function of Jury Chairman at a major USA international piano competition.
On 5 November 2001, Piotr Paleczny was invited to be a soloist of the extraordinary Gala Concert to commemorate the 100th Anniversary of the Warsaw National Philharmonic Orchestra.
Since 1993 he has been Artistic Director of the world's oldest existing piano festival, the Duszniki International Chopin Piano Festival, and since 2004 he has also served as the Artistic Director of the International Paderewski Piano Competition in Bydgoszcz.
In 2015 the National F.Chopin Institute has released a highly awaited CD recorded by Piotr Paleczny, an all-Chopin recital that became a huge success among critics and the audience.
Piotr Paleczny conducts the piano class at the Frederick Chopin University of Music in Warsaw. His students have won dozens of awards at the most important international and national piano competitions. He is also a Professor at the Talent Music Academy in Brescia, Italy, as well as a member of the executive committee of the International Pianists Association.
Mr Paleczny is honored with many superior and prestigious Polish and foreign states decorations, such as the Commander's Cross of the Order of Polonia Restituta and the Mexican Order of the Aguila Azteca.
In September 2005, Piotr Paleczny was awarded the highest Polish artistic distinction: Gold Medal for Merit to Culture – Gloria Artis.
In March 2017, Piotr Paleczny was awarded the "Diploma and Title of Honorary Professor "of the F.Chopin University of Music. In April 2017, the Board of the Polish Phonographic Academy, in recognition of his artistic achievements, awarded him with the prestigious 'Golden Fryderyk' Award.
In 2018, he received an extraordinary and unique prize - The C.K. Norwid Award "Work of Life." In 2019, the Government of Japan awarded him one of the highest Japanese honors: the Order of the Rising Sun, Golden Rays with Ribbon.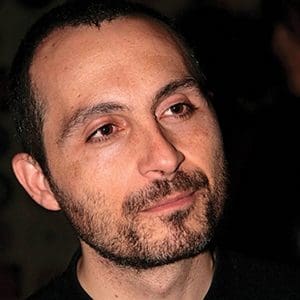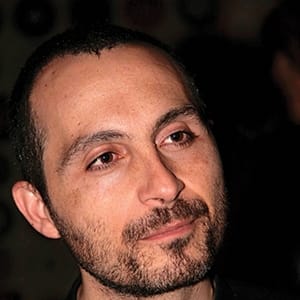 Antonio Pompa-Baldi
Honorary Visiting Professor, Piano
Born and raised in Foggia, Italy, Antonio Pompa-Baldi won the Cleveland International Piano Competition in 1999 and embarked on a career that continues to extend across five continents. A top prize winner at the 1998 Marguerite Long-Jacques Thibaud Competition of Paris, France, Antonio Pompa-Baldi also won a Silver Medal at the 2001 Van Cliburn International Piano Competition.
Mr. Pompa-Baldi appears at the world's major concert venues including New York's Carnegie Hall, Cleveland's Severance Hall, Milan's Sala Verdi, Boston's Symphony Hall, Shanghai's Grand Theatre, and Paris Salle Pleyel, to name a few.
He has collaborated with leading conductors including Hans Graf, James Conlon, Miguel Harth-Bedoya, Theodore Kuchar, Benjamin Zander, Louis Lane, and Keith Lockhart. He has performed with ensembles and colleagues such as Takacs String Quartet, Alison Balsom, Sharon Robinson, and principals of the Cleveland Orchestra, Dallas Symphony, and New York Philharmonic, among others.
With a concerto repertoire including more than 60 works, Mr. Pompa-Baldi recently performed cycles of all the Rachmaninoff Piano Concertos, the five Beethoven Piano Concertos, and both Brahms Concertos with various orchestras. He has played recitals in most major venues over the world.
In 2019, he was a returning guest at the third edition of the Lang Lang International Piano Festival in Shenzhen, China, continued his honorary guest professorship at the Beijing China Conservatory, and was named honorary professor at the Shenyang Conservatory of Music.
Among the stops on his tours, he performed in Vienna (Austria), Malaga (Spain), Nancy (France), New York, and throughout China (Beijing, Shenzhen, Hangzhou, Dalian, Guangzhou).
Mr. Pompa-Baldi has recorded over 30 CDs to date, for various labels including Centaur Records, Harmonia Mundi, Steinway, TwoPianists, Azica, and Brilliant Classics. Among them, the complete piano and chamber music works of Grieg, the Josef Rheinberger Piano Sonatas, the complete Hummel Piano Sonatas, and CDs dedicated to Brahms, Schumann, Liszt, Respighi, and Rachmaninoff. For the Steinway label, Pompa-Baldi recorded a disc of songs by Francis Poulenc and Edith Piaf, arranged for solo piano, to commemorate the 50th year of the passing of both French musical icons, as well as a CD titled "Napoli", which features new piano versions of famous Neapolitan songs. His latest releases feature Concertos for Violin, Piano and Orchestra by Mendelssohn, Haydn, and Hummel.
Antonio Pompa-Baldi is a Steinway Artist since 2003.
He is often invited to judge international piano competitions such as the Cleveland, Hilton Head, E-Competition (Minneapolis), BNDES Rio de Janeiro, and Edward Grieg (Bergen), among many others. He serves as president of the jury and artistic advisor for the San Jose International Piano Competition since 2006.
Pompa-Baldi is on the Piano Faculty of the Cleveland Institute of Music. His students have been prizewinners in important competitions such as Marguerite Long, Hilton Head, Isang Yun, and Gina Bachauer. He is regularly invited to teach masterclasses in countless Universities, Music Schools, and Festivals in the US and all over the world.
From 2009 to 2012, Pompa-Baldi worked in Santo Domingo with Fundación por la Música, mentoring young Dominican pianists through the "Manuel Rueda" program.
In 2015, Pompa-Baldi founded the Todi International Music Masters festival, of which he is also Artistic Director and Faculty Member. This summer festival takes place every August in the beautiful Italian town of Todi. It features 15 concerts in 15 days, with internationally renowned faculty members, and students from all over the world.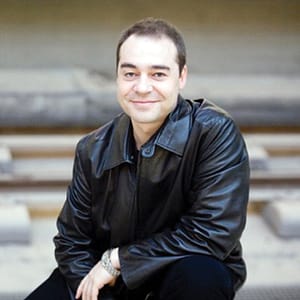 Juan Lago
Associate Professor
Since the beginning of his career, Spanish-born pianist Juan Lago has attained numerous prizes in the foremost piano competitions in Spain. Most recently, he has been awarded at the XXIII Concorso Internazionale "Valsesia-Musica" in Varallo, Italy; the XX "Cidade de Ferrol" Piano Competition; the IX Premio Internazionale Pianistico "A. Scriabin" in Grosseto, Italy; and the VI "Compositores de España" International Competition of Las Rozas de Madrid. As a consequence of these successes, Juan Lago performed his first European tour and his first recording of an album for "Radio Clásica," Spanish National Radio, featuring works by Beethoven, Scriabin, and Bartók.
Juan Lago has performed in Spain, Portugal, Italy, France, the Netherlands, Belgium, Germany, Switzerland, England, Russia, Latvia, Turkey, United States, China, South Korea and all major cities in Spain as a recitalist, chamber musician and as concerto soloist playing under conductors such as Ovidiu Balan, Emin Guven Yasliçam, José Ramón Encinar, Ernest Martínez Izquierdo, Joachim Jousse, José Luis Martínez and Francisco de Gálvez among others, as well with orchestras such as the Orchestra Sinfonica Siciliana (Italy), "Mihail Jora" Philharmonic Orchestra of Bacau (Rumania), Çukurova State Symphony Orchestra (Turkey), Istambul Chamber Orchestra (Turkey), and the Spanish Orquesta de la Comunidad de Madrid, Orquesta de Córdoba, Orquesta de Valencia and Orquesta Sinfónica de Málaga.
Lago has appeared as a master artist at the Washington International Piano Festival (Washington, D.C., U.S.A.); the Festival del Mediterráneo at the Palau de les Arts (Valencia, Spain), directed by Zubin Mehta; Talent Music Summer Courses (Brescia, Italy); Hochschule für Musik und Tanz in Cologne (Germany); Musical Krasnogorsk (Moscow, Russia); Schubertiaden Schnackenburg (Germany); Festival de Vila-seca (Spain); Alion Baltic International Music Festival or Semaine Internationale Piano et musique de chambre (Blonay, Switzerland).
As an avid chamber musician, Juan Lago has collaborated with violinists Vasco Vassilev, Alissa Margulis and Santiago Juan, violist Santiago Cantó, cellist Alexander Buzlov and Iván Balaguer and pianist Belén Navarro. He has presented lectures at Universidade de Aveiro (Portugal), Hochschule für Musik und Tanz Köln (Germany), Hochschule für Musik Aachen (Germany), Gulangyu Conservatory of Xiamen (China), Latvian Academy of Music, Riga (Latvia) or Conservatorio José Iturbi of Valencia (Spain).
Juan Lago is the Founder and Artistic Director of Campillos International Piano Competition since 2007, Piano Department Director of Valencia International Performance Academy and Festival (VIPA) and Artistic Director of Malaga International Piano Festival (FIPMA). In addition, he is the Artistic Director of the "Amadeus" piano concert series. He is often invited to serve as a jury member in competitions like Cantù (Italy), S. Rachmaninoff (Moscow, Russia), F. Chopin (Hartford, CT. USA), Parnassós (Monterrey, Mexico) and many others. Since 1999, Juan Lago has served as professor of piano at the "José Iturbi" Conservatory of Valencia, where he became piano department Chair in 2010. He has also been teaching piano performance at the Talent Music Master Courses in Brescia, Italy, since 2017. Currently Juan Lago is teaching piano at the Qatar Music Academy by the Qatar Foundation. His students have been awarded numerous times in international and Spanish competitions.
Lago holds a Master's degree in Performance and Musical Research from the Valencian International University; an Artist Diploma from the Amsterdam Conservatorium, where he studied under the tutelage of Professor Jan Wijn; a Bachelor's degree from the Royal Conservatory of Music in Madrid, where he studied with Professor Ana Guijarro, and a degree from the Conservatorio Superior de Málaga (Professional Degree), where he studied with Professor Juan J. Peralta. He has also been influenced by pianists Gyorgy Sebok, Eugen Indjic, Stanislav Pochekin, Imre Rohmann, Claudio Martínez Mehner and Leonel Morales.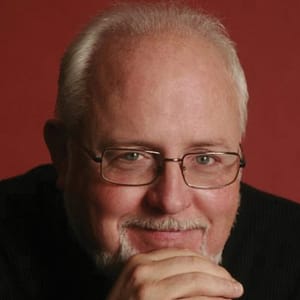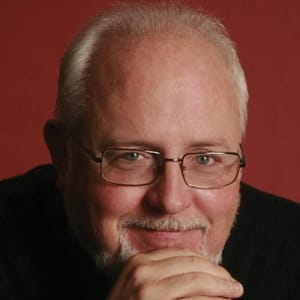 Julian Martin
Honorary Guest Professor, Piano
American pianist Julian Martin has been part of The Juilliard School's piano faculty since 1999 and a Pre-College faculty member since 2003. He is winner of the 1975 Montevideo International Piano Competition and has won major prizes from the Ravel-Casadesus (now Cleveland International), Gina Bachauer, and Kapell competitions as well as the Collaborative Prize at the 1982 Tchaikovsky Competition in Moscow.
He has played tours through North and South America, Europe, and Asia, and has recorded with violinist Berl Senofsky and flutist Robert Willoughby. Martin introduced new works by composers Richard Rodney Bennett, Stephen Albert, Mario Davidovsky, and Edward Barnes.
He has served as a jury member for the Montreal, Iowa, and Jaén international piano competitions, and for Stars of the 21st Century in St. Petersburg. Martin is a member of the original selection committee for the Gilmore Foundation (Kalamazoo).
He has been founder and artistic director of the International Piano Festival of Gijón (Asturias, Spain), and the Valencia International Performance Academy & Festival, VIPA (Spain). He is on the regular guest faculty at the Glenn Gould Professional School (Toronto), the Banff Centre, and the Bowdoin Summer Music Festival. He has taught master classes in Argentina, Colombia, England, Germany, Israel, Japan, Korea, Switzerland, Taiwan, and Venezuela. He is a former faculty member at Oberlin Conservatory (1982-87) and the Peabody Institute (1987-2002).
Martin's principal studies were at the Peabody Conservatory with Leon Fleisher. He also studied with Guido Agosti in Italy and with Robert Casadesus and Nadia Boulanger in France.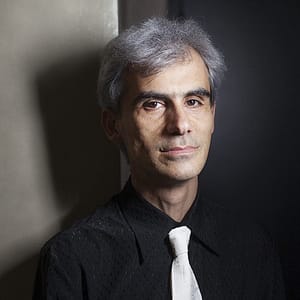 Dimitri Vassilakis
Contemporary Piano
Dimitri Vassilakis began his musical studies in Athens, where he was born in 1967, continuing at the Paris Conservatoire National Supérieur de Musique, in particular under Gérard Frémy, where he won First Prize for piano (unanimously), for chamber music and for accompaniment. He also studied with Monique Deschaussées and György Sebok. Since 1992 he has been a soloist with the Ensemble Intercontemporain. Other composers he has worked with include Iannis Xenakis, Luciano Berio, Karlheinz Stockhausen, and György Kurtàg. His recording Le Scorpion with the Percussions de Strasbourg won the Charles Cros Academy Grand Prixdu Disque in the category "Best Contemporary MusicRecording 2004". His festival appearances include Salzburg, Edinburgh, Lucerne, the Florence Maggio Musicale, the Warsaw Autumn, the
Ottawa Chamber Music Festival, and the London Proms. He has performed in concert halls such as the Berlin Philharmonic (under Sir Simon Rattle), New York Carnegie Hall, London Royal Festival Hall, Amsterdam Concertgebouw, and Buenos Aires Teatro Colón. His repertoire runs from Bach to emerging contemporary composers including the complete piano works by Pierre Boulez and Iannis Xenakis. His albums include, among others, the Goldberg Variations and excerpts from The Well-Tempered Clavier by Bach (with the label Quantum), etudes by György Ligeti and Fabiàn Panisello (Neos) and Boulez's first complete works for piano (Cybele). His recording of Incises (for which he performed the world premiere) appears in the boxed set of the complete works of Boulez published by DGG.
Piano
Bachelor's of Music
1) A prelude and fugue or another original work by Bach (not a transcription)
2) One sonata or variations by Haydn, Mozart, Beethoven (with the exception of Op. 49, 1 and 2), or Schubert (please provide at least two contrasting movements)
3) A larger Romantic nineteenth-century work
4) A 20th or 21st-century composition (if it's a multi-movement work, provide at least two contrasting movements).
Master's of Music
Graduate applicants should present a varied program of 50 minutes, played from memory, which should include an advanced étude.
Auditioners should send a list of the repertoire studied in depth in recent years. They can upload this list in pdf format through the applications platform, along with the video materials.
Performance Opportunities