About MMC's Tuba Studio
More Information
At the bottom of the score, below middle C, we are proud to present our amazing MMC's Tuba studio, which brings together some of the best tuba players in the world! American tubists like Mike Roylance, principal of the Boston Symphony Orchestra, Chris Olka, principal of the Cincinnati Symphony Orchestra, or Gene Pokorny, principal of the Chicago Symphony and a living tuba legend himself, will form a team studio with European tuba players Anne Jelle Visser, acclaimed teacher of the University of the Arts in Zurich, David Cribb, principal of the Gewandhaus Orchester and professor in UDK Berlin and HFM Leipzig, and José Martínez, principal of the Spanish National Orchestra. 
It is really difficult to imagine a place in the world where you can enjoy so many incredible teachers at the same time, all of them deeply engaged to their students with the responsibility of real mentors. Not only our tuba students will be studying in a school worth many schools, but they will also be offered a bridge between two brass performance traditions, which will be of great help when they'll go out to audition in orchestras and bands all over the world.
Tuba Studio Quick Facts
Each student will get:
10 Private Lessons

wit

h David Cribb (

Principal, Gewandhaus Orchestra, UDK Berlin, Hochschule für Musik, LEIPZIG )*

4 private lessons

with Gene Pokorny (Principal, Chicago Symphony Orchestra, Northwestern Univ.)*

8 private lessons

with Chris Olka (Principal, Cincinnatti  Symphony Orchestra)*

6 private lessons

with Mike Roylance (Principal, Boston Symphony Orchestra, New England Cons.)*

10 Private Lessons

wit

h ANNE JELLE VISSER (University of the Arts, Zurich

)*

15 Private Lessons

with José Martínez (Principal, Orquesta Nacional de España)*

Visiting specialists

on Contemporary Brass Performance and Basso Continuo

Masterclasses

with top-class Tuba players coming from all over the world

Lessons with

piano

 accompaniment
*Private lessons will last 55′, in order to provide time for change from one student to the next one
**Pianists or harpsichordists will be available a minimum of 2 hours each month per student. Time can be used for individual rehearsals or for lessons, following faculty indications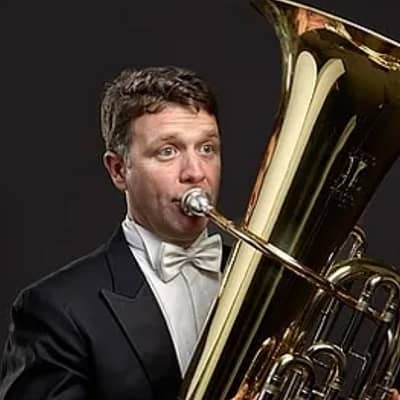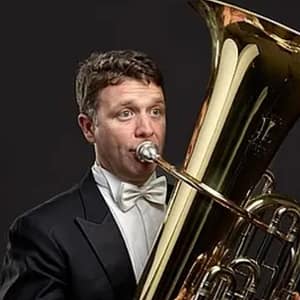 David Cribb
Professor, Tuba
Principal Tuba, Leipzig Gewandhaus Orchestra.
David Cribb was born in Murgon, Queensland.  His first musical experiences were in the church choir and singing with his family at various functions in the area.  After receiving piano lessons David started learning the Euphonium at the age of ten as part of the Queensland Department of Education instrumental music programme.  At thirteen he changed to the tuba and after completing high school, was accepted into the Queensland Conservatorium of Music where he studied with Craig Cunningham and Adrew Jarvis.  In 1995 David transferred to the Sydney Conservatorium to study with Steve Rosse and while completing his diploma of music worked extensively in Sydney and Melbourne as a freelance musician.  David was a member of the Australian Youth Orchestra and took part in their 1996 Europe/North America tour.
In 1998 David moved to Frankfurt/Main to continue his studies with David Glidden (Solo-Tuba Frankfurt Radio Symphony Orchestra / Bayreuth Festival Orchestra).  In his two years in Frankfurt, he worked with the Frankfurt Radio Orchestra, Theater Karlsruhe, Theater Wiesbaden, Darmstadt Theater, HR Brass, "bach, blech and blues" and many other ensembles.
In 2000 David was awarded the position of Solo-Tuba with the orchestra of the Komische Oper Berlin where he remained for five years, in this time he played with all of the Berlin orchestras including the Berlin Philharmonic under Sir Simon Rattle and the Staatsoper unter den Linden under Daniel Barenboim and Pierre Boulez.
2005 saw David move to the renowned Leipzig Gewandhaus Orchestra where he is involved in regular international touring and recording.  He has performed the Vaughan-Williams tuba concerto with the Gewandhaus Orchestra, is a founding member of the Gewandhaus Brass Quintet and teaches at the University of the Arts (UdK) Berlin and the Hochschule for Music and Theater in Leipzig.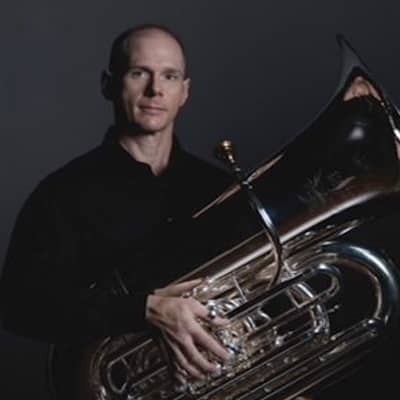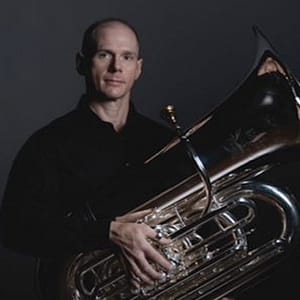 Chris Olka
Professor, Tuba
Principal Tuba, Cincinnati Symphony Orchestra.
Principal Tuba of the Cincinnati Symphony since 2016 and former Principal Tuba of the Seattle Symphony and Opera from 1999-2016, Christopher Olka has had a wide and varied career in music. His orchestral experience includes Principal Tuba of Gerard Schwarz's All-Star Orchestra, Seiji Ozawa's Saito Kinen Festival Orchestra, Guest Principal Tuba with the Boston Symphony, Chicago Symphony, and New York Philharmonic.
Before becoming a full-time orchestral musician in 1999, Chris was an active freelance musician in New York where he performed in brass quintets, Dixieland bands, and most of the major orchestras in the area while completing his Master's degree at The Juilliard School.
From 1989 to 1996 he was a staff musician for the Walt Disney World Company in Orlando, Florida, where he was a member of many of the bands there including the TUBAFOURS tuba quartet, the world's first full-time professional tuba quartet.
An active soloist and advocate of solo tuba literature, Chris has performed around the world in recitals and masterclass in addition to numerous orchestra, brass band, and wind ensemble solo appearances.
In 2006 Chris premiered and recorded the Samuel Jones Concerto for Tuba and Orchestra with the Seattle Symphony for the NAXOS record label. The concerto, which was written and commissioned for him, received critical acclaim internationally for the premiere and subsequent recording.
Chris started a YouTube channel in 2011 dedicated to education, product reviews, and all things tuba-related. His channel has thousands of subscribers and hundreds of thousands of views from around the globe. His website, www.chrisolka.com also hosts these videos along with a growing catalog of transcriptions of music arranged for solo tuba.
His education includes a B.M. from the University of Central Florida and a M.M. from the Juilliard School. Chris's teachers include Warren Deck (New York Phil. Retired), Joe Alessi (New York Phil.), and Abe Torchinsky (Philadelphia Orch. Retired).
Chris is proud to be an Eastman Winds Performing Artist.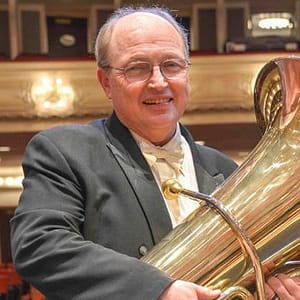 Gene Pokorny
Professor, Tuba
Principal Tuba, Chicago Symphony Orchestra.
Eugene (Gene) Pokorny is Principal Tuba of the Chicago Symphony Orchestra. He has previously served as the tubist in the Israel Philharmonic, the Utah Symphony, the St. Louis Symphony and the Los Angeles Philharmonic. In addition to playing for Hollywood film scores such as Jurassic Park and The Fugitive, he has performed worldwide in opera orchestras, chamber music ensembles and orchestra festivals.
Pokorny regularly participates in brass seminars, playing recitals and holding masterclasses. He annually returns to Southern California to teach, play, and lecture at the Pokorny Seminar held at the University of Redlands; 2017 marks the tenth anniversary of this event. Pokorny has recorded several solo and educational CDs of his own and assisted Rolling Stones' trombonist Michael Davis in recording numerous educational workbook CDs.
Pokorny studied tuba with Jeffrey Reynolds, Larry Johansen, Tommy Johnson and Roger Bobo. He graduated from the University of Southern California and has received an outstanding alumnus award from USC and an honorary doctorate from the University of Redlands.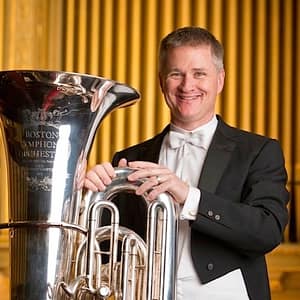 Mike Roylance
Professor, Tuba
Principal Tuba, Boston Symphony Orchestra.
Mike W. Roylance became the tubist of the Boston Symphony Orchestra at the start of the 2003 Tanglewood season. Mr. Roylance attended the University of Miami and received a Bachelor of Arts degree from Rollins College in Winter Park, Florida. At Rollins College, he served on the faculty, conducting the brass ensemble and directing the Pep Band. He was also the professor of tuba and euphonium at the University of Central Florida. In Chicago, he played with the Chicago Symphony Orchestra, Minnesota Orchestra, and Seattle Symphony Orchestra. He was also the principal tubist with the Civic Orchestra of Chicago for the 2001–2002 season. Mr. Roylance performed on tuba and electric bass in a wide genre of ensembles such as orchestra, chamber groups, Dixieland bands, big bands, and Broadway shows. He was a member of Walt Disney World's Orchestra and Rosie O'Grady's Good Time Jazz Band. His career also includes performances in Europe and Japan, where he performed as a soloist and taught master classes. His European performances have included the Classical Festival Orchestra in Vienna, Austria, and the Sam Rivers RivBea Orchestra in Portugal. Mr. Roylance has studied with such notable players as Conni Weldod; former University of Miami professor James Jenkins (Jacksonville Symphony); Bob Tucci (Bavarian State Opera); Chester Schmitz (Boston Symphony, retired); Gene Pokorny (Chicago Symphony); and Floyd Cooley (San Francisco Symphony, retired).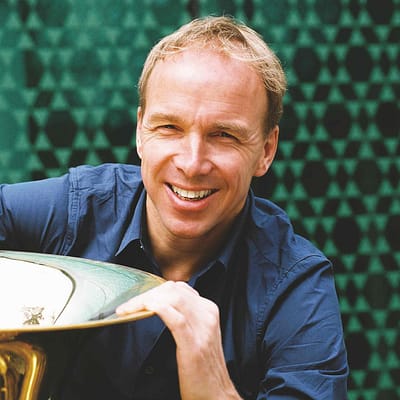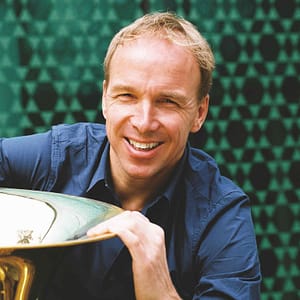 Anne Jelle Visser
Professor, Tuba
Professor, Zurich University of the Arts.
Dutch tubist Anne Jelle Visser is Professor of Tuba at the Zurich University of the Arts. From 1989 till 1996 Anne Jelle was Principal Tubist with the North Holland Philharmonic Orchestra and from 1999 until 2014 he was Solo Tuba with the Zurich Opera Orchestra. Over his orchestral career, he has worked with conductors such as Zubin Mehta, Valery Gergiev, Bernard Haitink, Georg Solti, Franz Welser Möst, Daniele Gatti, Christoph von Dohnanyi, Nicolaus Harnoncourt, Ricardo Chailly and Mariss Jansons.
As a freelancer, Anne Jelle has played with several orchestras around the world including the Royal Concertgebouw Orchestra, Israel Philharmonic Orchestra, Bavarian State Opera Orchestra, Maggio Musicale Fiorentino, Tonhalle Orchestra Zurich, Mahler Chamber Orchestra and the Singapore Symphony Orchestra. He performs frequently with the Zurich Jazz Orchestra.
As a soloist, he is in high demand and has played on all continents as a soloist with orchestra and in recital. Anne Jelle has given masterclasses in Japan, China, Australia, Taiwan, Singapore, Thailand, Hong Kong, Italy, Finland, Germany, Austria, Chile, France, Spain, Norway and Portugal. He has also performed at several Tuba and Brass Conferences.
Together with his good friend and Portuguese Tuba virtuoso Sergio Carolino they formed the duo 2tUBAS&friends. They have recorded several CDs and won the Roger Bobo Award for excellence in recording in 2008.
Anne Jelle studied at the Sweelinck Conservatory in Amsterdam. His teachers include Roger Bobo, Mel Culbertson, Rex Martin, Gene Pokorny, Donald Blakeslee, Warren Deck, Arnold Jacobs, Tommy Johnson, Bob Tucci and Laszlo Szabo.
His students from the Zurich University of the Arts have gone on to win orchestral positions in Germany, France, Italy, Switzerland, Netherlands, Sweden, Estonia, Australia and China. Several students have become prizewinners at major international competitions.
Anne Jelle Visser is an International Yamaha Performing Artist.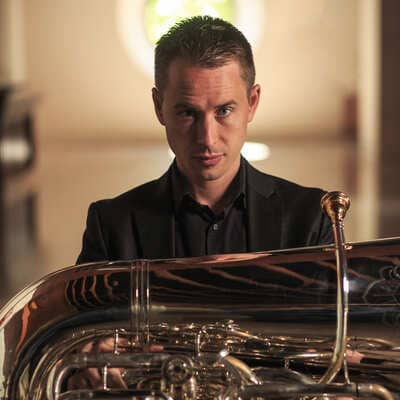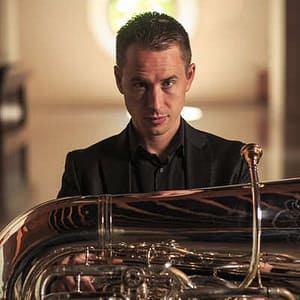 José Martínez
Associate Professor, Tuba
Principal Tuba, Spanish National Symphony Orchestra.
A native of Chelva (Spain), Jose Martinez is the principal tuba of the National Orchestra of Spain since 2017.
An enthusiastic orchestral player, Martinez was a member of the Civic Orchestra of Chicago and performed as a guest with the Boston Symphony and Boston Pops, Chicago Symphony, Gothenburg Symphony, Jalisco Philharmonic, Mahler Chamber Orchestra, Malaysian Philharmonic, Minnesota Orchestra, Naples Philharmonic, New York Philharmonic, New World Symphony, Porto Symphony, Saint Louis Symphony and the Seattle Symphony.
A strong proponent of training orchestras, he was invited to play at the Spoleto Festival USA, Music Academy of the West Festival, Castleton Festival, Tanglewood Music Center, and with the Swedish National Orchestra Academy, Baltic Sea Youth Philharmonic, European Union Youth Orchestra or the National Youth Orchestra of Spain.
Fascinated by chamber music, Jose is a member of brassONEquintet and cofounder of Duo2Artst!, a music, dance and theater project, alongside the ballerina Sherezade Soriano. He performed with artists from the New York Philharmonic and the American Brass Quintet as a Zarin Mehta Fellow or the Chicago Symphony Orchestra in the MusicNOW contemporary music series.
He will forever be indebted to Mike Roylance, Gene Pokorny, Morten Agerup and Sergio Finca, his greatest influences. Having studied in Spain, Sweden and the USA, doctor Martinez is flattered to join Mediterranean Music College.
TUBA
Tuba audition repertoire TBA
Performance Opportunities