About MMC's Trumpet Studio
More Information
About MMC's Trumpet Studio
MMC's fascinating Trumpet Studio is led by German professor Matthias Höfs, teacher of some of the lead trumpets of the best orchestras in Germany and abroad. The trumpet team will be completed by principal trumpet emeritus at Amsterdam's Concertgebouw Orchestra Frits Danrow, André Schoch, member of the Berlin Philharmonic Orchestra, and José Real, member of the  Beethoven Orchestra in Bonn.
Trumpet Studio Quick Facts
Each student will get:
18 private lessons

with Matthias Höfs (Musikhochschule Hamburg)*

12 private lessons

with Frits Damrow (

Hochschule der Künste, Zurich

)*

10 private lessons

with André Schoch (Berlin Philharmonic Orchestra)*

10 private lessons

with José Real (Beethoven Orchestra, Bonn)*

Masterclasses

with top-class trumpet players coming from all over the world

Lessons with

piano

 accompaniment
*Private lessons will last 55′, in order to provide time for change from one student to the next one
**Pianists or harpsichordists will be available a minimum of 2 hours each month per student. Time can be used for individual rehearsals or for lessons, following faculty indications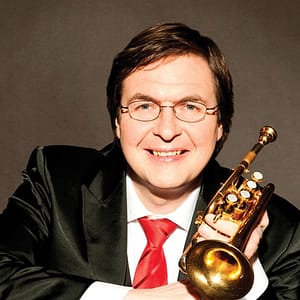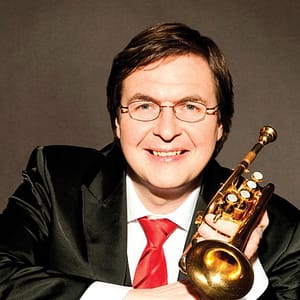 Matthias Höfs
Professor, Trumpet
By the age of six, Matthias Höfs declared the trumpet his instrument, "because it shines so nicely". He received his musical education from Professor Peter Kallensee at Hamburg University of Music and Theatre, as well as from Professor Konradin Groth at the Karajan Academy of the Berlin Philharmonic Orchestra. Just being eighteen years old, Höfs was already engaged as solo-trumpeter at the Philharmonic State Orchestra in Hamburg, where he enjoyed the fascinating world of opera for sixteen years. At the same time, Höfs became a member of the GERMAN BRASS Ensemble, with whom he continues to achieve worldwide successes.
Since their first joint concert in 1985, he has been writing customized and innovative arrangements for his colleagues and himself, which span more than one genre and continue to inspire the world of brass. Matthias Höfs always proved to be a pioneering spirit by consistently widening the horizon of his instrument. These continuous developments are encouraged by a close cooperation with other composers, who feel themselves inspired by his incomparable virtuosity and joy of experimentation. Additionally inspired by his position as "trumpet ambassador" in his home state Schleswig-Holstein in Northern Germany as well as the cooperation with the instrument makers Max and Heinrich Thein.
Starting in 2000, Matthias Höfs has been teaching as a Professor at Hamburg University of Music and Theatre, where he continues to inspire his students with enthusiasm, passion for his instrument, and great knowledge. In addition to his extensive concert performances as solo-trumpeter and chamber musician, Höfs recorded numerous solo-albums, as well as over twenty recordings with GERMAN BRASS.
In October 2016 GERMAN BRASS was awarded with the ECHO Klassik – one of the most outstanding awards for national and international musicians.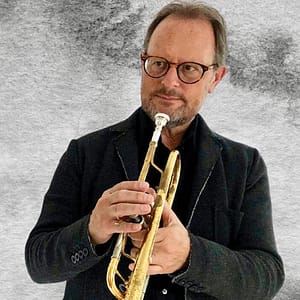 Frits Damrow
Professor, Trumpet
Principal Trumpet Emeritus, Royal Concertgebouw Orchestra.
Frits Damrow started his musical carreer as principal trumpet of the Radio Symphony Orchestra of the Netherlands when he was 21 and still had to finish his studies at the Maastrichts Conservatory. After 9 years he was appointed as principal trumpet of the Royal Concertgebouw Orchestra Amsterdam holding this position from 1991 untill 2010. He was also active as a trumpet teacher at the Conservatorium van Amsterdam from 1993 untill 2010.
As a chamber musician Frits Damrow played in different groups like the Amsterdam Bach Soloists, the Netherlands Wind Ensemble, the Ebony Band, the Brass Quintet and Brass Ensemble of the Royal Concertgebouw Orchestra.
Since 2009 he has been Professor of trumpet at the University of the Arts in Zürich, Switzerland (Zürcher Hochschule der Künste).
He is a regular teacher and soloist at many summer courses and festivals, like the Hamamatsu Summer Wind Academy and the Affinis Festival in Japan, Musica Verano in Mexico, Ionian Summer Academy in Greece, Cursu International de Musica in Spain, Blekinge Int. Brass Academy and the Aurora Festival in Sweden, the Tbilisi Wind Festival in Georgia and Sauerland Herbst in Germany. He also gave Masterclasses at institutions like North Western University in Chicago, the San Fransisco Conservatory, the Curtis Institute in Philadelphia, the Royal Conservatory in Brussels, the Hochschulen in Freiburg, Munich, Stuttgart, Cologne, the Tchaikowsky Conservatory and Gnesin Academy in Moskou, the State Conservatory in Athens, Greece, Shobi University in Tokyo, the National University in Seoul and several Universities in China.
As a soloist Frits Damrow played with orchestras like the Royal Concertgebouw Orchestra, Symfonietta Amsterdam, Rotterdam Chamber Orchestra, Italian Chamber Orchestra, the National Orchestra of Lithuania, the Philharminic Orchestra of Transilvania in Rumania, Slovak Symfonietta and the Symphony Orchestra of Seoul.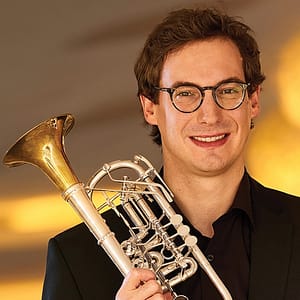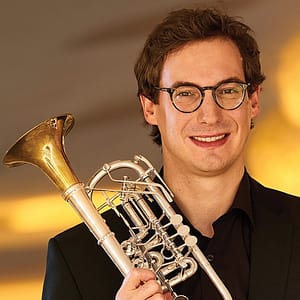 Andre Schoch
Professor, Trumpet
Trumpet, Berliner Philharmoniker.
Andre Schoch has been a member of the Berliner Philharmoniker since 2017. From 2014 to 2017 he was principal trumpet at the Philharmonic State Orchestra Hamburg. Before that, engagements as principal trumpet took him to the Deutsche Oper Berlin and the Gewandhausorchester Leipzig. As soloist, Schoch has performed with the Philharmonic State Orchestra Hamburg conducted by Kent Nagano, the Polish Kammerphilharmonie as part of the Festspiele Mecklenburg-Vorpommern, the Prague Chamber Orchestra and the Berliner Barock Solisten.
Alongside his orchestral engagements Andre Schoch is also in high demand as a chamber musician. He is a founding member of the ensemble "10forBrass" and the Duo Schoch/Höricke. Regularly Schoch is also invited to play with the famous ensemble "German Brass".
Since 2020 Schoch is tutoring trumpet students at the Karajan Academy of the Berliner Philharmoniker and frequently leads rehearsals for the academy's brass ensembles. From 2015 to 2017 he taught at the Hochschule für Musik und Theater Hamburg. Schoch has given serval acclaimed Masterclasses at the Karajan Academy, the Shanghai Orchestra Academy and Manhattan School of Music.
Born in 1987, Schoch was given his first trumpet lesson at the age of eight by Ansgar Dümchen. From 2004 to 2007 he was a student at the Hochschule für Musik Karlsruhe, studying with Professor Reinhold Friedrich and Professor Klaus Bräker. Later he studied with Professor Matthias Höfs at the Hochschule für Musik und Theater Hamburg and from 2010 to 2012 with Gábor Tarkövi at the Karajan Academy of the Berliner Philharmoniker.
Schoch's versatile repertoire, as soloist and chamber musician, has been released on various audio- and video recordings by labels such as Berlin Classics, Dabringhaus & Grimm and Genuin.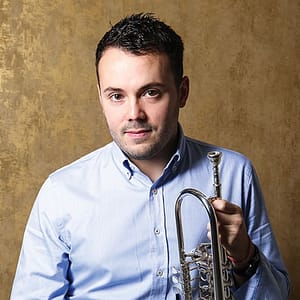 José Real
Associate Professor, Trumpet
Co-principal Solo Trumpet of Beethoven Orchester Bonn.
Jose Real Cintero was born in Llíria in 1992. At the age of 8 he began his musical studies at the Centro Unió Musical de Llíria, studies that he would continue at the Professional Conservatory of Llíria, Conservatorio Superior de Castelló and at the Joseph Haydn Conservatory in Eisenstadt (Austria), with Professor D. Reinhold Ambros. He extended his training by pursuing a Master's degree in Interpretation at the Hochschule für Musik und Theater Hamburg, under the direction of Prof. Matthias Höfs.
He has attended courses and classes from professors Andrés Simeó, Vicente Campos, Enrique Rioja, Luis González, James Watson, Charles Geyer, Bárbara Buttler and Johannes Bartmann, among others.
He has revived the following PRIZES : Winner of the National Competition for Young Performers «Ciudad de Llíria». First prize in the «Villa de Castellnovo» Young Performers Contest. Professional Music Prize at the Llíria Conservatory, first classified in the Autonomous Phase of VII National Interpretation Contest «Intercentros Melómano» Valencian Community, first price in the International Trumpet Competition in Monçao (Portugal), among others.
He has received Scholarships from…the Balaguer Gonel Hermanos Foundation, Dávalos Fletcher Foundation and CulturArts Scholarship from the Generalitat Valenciana (Institut Valencià de Cultura).
Among his recordings: "Promenade" together with the pianist Miriam Montañana and "Kind of Gold" with Matthias Höfs-Ensembles.
He has collaborated with different orchestras such as JONDE, RTVE, Orquesta «Gran Teatre Liceu» Barcelona, Orquesta de Valencia, Orchestra Schleswig Holstein Musik Festival, European Union Youth, Gustav Mahler Jugendorchester, Verbier Festival Orchester, Essen Philharmoniker, Noord Nederlands Orkest , Bremen Philharmoniker, Hamburg Symphoniker, Malaysian Philharmonic Orchestra and MúsicaAeterna, among others.
Most recently he has played with the Düsseldorfer Symphoniker and has collaborated as a solo trumpe with the Oslo Philarmonic and co-principal in Essener Philharmoniker.
TRUMPET
Applicants should send a video recording (it can be sent in separate video clips) of the following repertoire. Piano accompaniment is mandatory where applicable.
Bachelor of Music
-Two solo movements of contrasting styles from a major concerto and (i.e. Haydn or Hummel)
-One Charlier Etude OR any etude of comparable difficulty from another etude book
-Two excerpts from the standard orchestral audition repertoire
Master of Music
-A major concerto and (i.e. Haydn or Hummel)
-A piece of a contrasting style from the previous selection
-A piece to choose between Tomasi's Concerto, or Jolivet's Concertino
-Four excerpts from the standard orchestral audition repertoire
Performance Opportunities