About MMC's Trombone Studio
More Information
About MMC's Trombone Studio
Sensational Trombone Studio at MedMusic is one of our most illustrious examples of team instruction, with faculty including Los Angeles Philharmonic's principal, David Rejano, San Francisco Symphony's principal, Tim Higgins, and Staatsoper Frankfurt Orchestra's soloist Miguel García-Casas. The faculty is completed by two of the most influential trombonists in the world: Joseph Alessi and Ian Bousfield, who barely need presentation. They will be visiting professors but, at the same time, will be taking part on the instruction as part of the team.
With such a group of trombone virtuosi, there's no doubt about the amount of knowledge and experience our students will be receiving. Learning from top experts from American and European orchestras is going to prepare MMC students to compete at every orchestra audition or teaching position they'll have to face.
Trombone Studio Quick Facts
Each student will get:
10 private lessons

with David Rejano (Principal, Los Angeles Philharmonic Orchestra, Colburn School)*

10 private lessons

with Tim Higgins (Principal, San Francisco Symphony Orchestra, S.F.Conservatory)*

4 private lessons

with Joseph Alessi (Principal, New York Philharmonic Orchestra, The Juilliard School)*

4 Private Lessons

with Ian Bousfield (

Hochschule der Künste, Bern, Royal Academy of Music, London)

12 private lessons

with Miguel García-Casas (Principal, Staatsoper Frankfurt Orchestra)*

Masterclasses

with top-class Tombonists coming from all over the world

Lessons with

piano

 accompaniment
*Private lessons will last 55′, in order to provide time for change from one student to the next one
**Pianists or harpsichordists will be available a minimum of 2 hours each month per student. Time can be used for individual rehearsals or for lessons, following faculty indications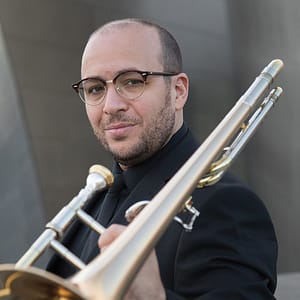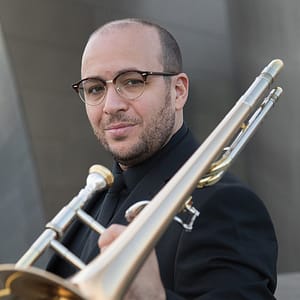 David Rejano
Professor, Trombone
Principal Trombone, Los Angeles Philharmonic.
David Rejano is the Principal Trombone of the Los Angeles Philharmonic Orchestra since 2016. Before that, he served as Principal Trombone with the Orquestra Sinfonica de Navarra from 2002 to 2007, Principal Trombone with the Orquestra del Gran Teatro del Liceo de Barcelona (Barcelona Opera House) from 2007 to 2010, and Principal Trombone with the Münchner Philharmoniker from 2010 to 2016.
He has also performed as a guest with the Berliner Philharmoniker, Orchestre National de France, Seoul Philharmonic, Symphonieorchester des Bayerischen Rundfunks or the Orchestre de l'Opéra de Paris.
David Rejano appears frequently as a soloist at the Festival Européen du Trombone, Concours National de Trombone de France, Sapporo Festival, Summer Brass Festival or the International Trombone Festival, as well as with top orchestras like the Vancouver Symphony or the LAPhil. He frequently works together with Zubin Mehta, Gustavo Dudamel and Valery Gergiev.
​As a sought-after teacher, David gives regularly Masterclasses all over the world, including the Guildhall School of London (England), Conservatoire National Superieur de Paris (France), New England Conservatory, CSU Northridge, UCLA, USC, Montclair State University (USA), Münchner Musikhochschule (Germany), Landeskonservatorium Innsbruck (Austria), Barenboim-Said Academy (Spain) and the Beijing Central Conservatory of Music (China); as well as coaches youth orchestras as the National Youth Orchestra of Spain, Youth Orchestra of Central America (Guatemala), Youth Orchestra of Los Angeles (YOLA) and the Odeon Jugendorchester (Germany).
David Rejano (1982) was born in Badajoz /Spain/, and initially studied music at the Conservatory in Madrid. Then he moved to the Conservatoire National Supérieur de Musique et de Danse de Paris, with professor Gilles Millière, where he graduated with the "Diplôme de Formation Supérieur - Mention très bien à l'unanimité" and the "Prix Spécial du Jury". He was a member of the European Union Youth Orchestra -EUYO- and the West-Eastern Divan Orchestra -WEDO- (with Daniel Barenboim and Pierre Boulez).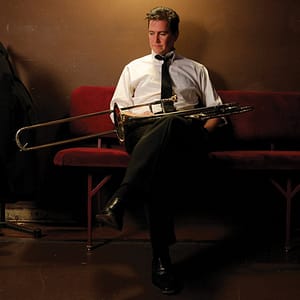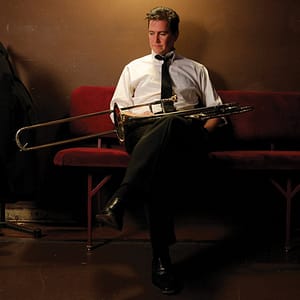 Timothy Higgins
Professor, Trombone
Principal Trombone, San Francisco Symphony.
Timothy Higgins was appointed to the position of Principal Trombone of the San Francisco Symphony by Michael Tilson Thomas in 2008. He was previously the acting Second Trombonist with the National Symphony Orchestra in Washington, DC.  Mr. Higgins, a Houston native, has a Bachelor's degree in Music Performance from Northwestern University and has performed with the Chicago Symphony, New York Philharmonic, Milwaukee Symphony, Virginia Symphony, Civic Orchestra of Chicago, Music of the Baroque, Aspen Music Festival, Grand Teton Music Festival, Sun Valley Summer Symphony, Washington National Opera, and Baltimore Symphony.  His principal teachers have been Michael Mulcahy (Chicago Symphony), Michael Warny (Houston Grand Opera), and Royce Landon (Des Moines, Iowa).  He has participated in music festivals with the Roundtop Music Festival, the National Repertory Orchestra, and the Tanglewood Music Center.
Along with a busy orchestra career, Timothy Higgins is a sought after arranger of music.  He was the sole arranger of the National Brass Ensemble's Gabrieli recording. Additionally, he has arranged music for CT3 Trombone Quartet, National Brass Quintet, Bay Brass, and the San Francisco Conservatory of Music Brass Ensemble.  Timothy Higgins has also composed works for brass instruments in solo and chamber settings. His arrangements and compositions have been programmed by the Washington Symphonic Brass, Bay Brass, San Francisco Symphony, Chicago Symphony, the Los Angeles Philharmonic, Kansas City Symphony and numerous university brass ensembles. His arrangements and original compositions are available through his publishing company, 415Music.
As a teacher, Timothy been a faculty member of the Pokorny Seminar since 2012, and is currently on faculty at the San Francisco Conservatory of Music and Northwestern University. He has also led masterclasses in Japan, China, Canada and the United States, including classes at the Royal Conservatory in Toronto, the New World Symphony, Vanderbilt University, the Manhattan School of Music, and the Juilliard School of Music.
In 2005, Timothy won the Robert Marsteller Solo trombone competition, as well as the ITA Trombone Quartet competition with CT3.  While attending the Tanglewood Music Center, Mr. Higgins was awarded the Grace B. Upton Award for Outstanding Fellow. In 2013, Timothy released his solo CD, Stage Left, which can be found on here. Recent albums include two self-produced recordings from 2020 in the Underground series.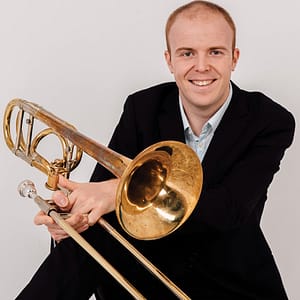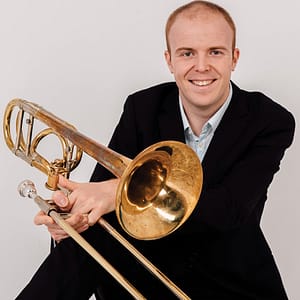 Miguel García-Casas
Associate Professor, Trombone
Miguel García Casas (1994, Les Coves de Vinromà -Castellón-) began his musical studies with Israel Salvador at the music school of the Unió Musical Covarxina in his home town and with Félix García at the "Mestre Feliu" Conservatory in Benicarló (Castellón). He finishes the Professional Degree at the Conservatory "Mestre Tárrega" in Castellón with Juan Domínguez, obtaining the highest qualification and the Professional Degree Award. Later he studied at the Royal Conservatory of Music in Madrid with Professor Elies Hernandis, finishing his studies with the highest marks and winning the RCSMM Extraordinary End of Studies Prize. He furthered his musical training by taking a Master's Degree in Musical Performance at the Hochschule der Künste Bern with Professor Ian Bousfield. In addition, he has participated in numerous improvement courses with prestigious teachers at a national and international level, being also a student of Carlos Gil and Indalecio Bonet in the Stomvi Trombone Classroom.
From the beginning he is a member of the Unió Musical Covarxina and the Associació Musical Ciutat de Benicarló. He has been a full member of the Banda Federal de la Federación de Sociedades Musicales de la Comunidad Valenciana, the Jove Orquestra Simfònica de Castelló (JOSC), the Joven Orquesta de la Comunidad de Madrid (JORCAM), the Joven Orquesta Nacional de España (JONDE), the Nationaal Jeugdorkest (NJO) and the Schleswig-Holstein Music Festival Orchestra Academy (SHMF); reserve of the Gustav Mahler Jugendorchester (GMJO) and the European Union Youth Orchestra (EUYO). He has also been awarded in competitions for young performers, such as the Second Prize in the Competition for Young Soloists of the "Mestre Tárrega" Conservatory in Castellón and the First Prize in the National Competition for Young Performers Ciutat de Xàtiva. As a soloist, he has performed with the Asociación Musical Ciutat de Benicarló and the Orquesta Sinfónica del Real Conservatorio Superior de Música de Madrid, interpreting the concerts of Launy Gröndahl and Nino Rota, respectively.
In the professional field, he has collaborated with the Santa Cecilia Classical Orchestra, the Spanish Radio and Television Symphony Orchestra, the Barbieri Symphony Orchestra and the European Philharmonic of Switzerland (EPOS), among others. In addition, he has been an academician of the "Orquestra Simfònica de les Illes Balear" and the "Orquesta y Coro Nacionales de España". In April 2017 he is selected as a trainee of the Biel Solothurn Theater Orchestra (Switzerland) and in September 2017 he wins the place of Trombone Soloist of the Frankfurter Opern- und Museumsorchester (Frankfurt Opera House Symphony Orchestra).
With regard to chamber music, he has also collaborated with the ARTE chain (Germany) for the recording of Uwe Dierksen's music in the film "Der Geiger von Florenz", with Maestro Christoph Eschenbach together with the Kronberg Academy recording P. Hindemith's Kammermusik and assiduously with the Frankfurt Chamber Brass ensemble. He is also a founding member of the bass brass group And The Brass and the trombone choir Nineties Trombone Ensemble.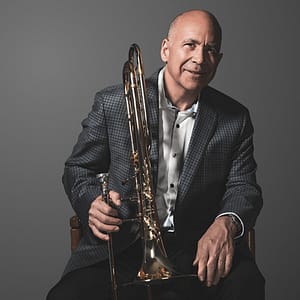 Joseph Alessi
Guest Visiting Professor, Trombone
Principal Trombone, New York Philharmonic.
Joseph Alessi was appointed Principal Trombone of the New York Philharmonic in the spring of 1985. He began musical studies in his native California with his father, Joseph Alessi, Sr. As a high school student in San Rafael, California, he was a soloist with the San Francisco Symphony before continuing his musical training at Philadelphia's Curtis Institute of Music. Prior to joining the Philharmonic, Mr. Alessi was second trombone of The Philadelphia Orchestra for four seasons, and principal trombone of L'Orchestre symphonique de Montreal for one season. In addition, he has performed as guest principal trombonist with the London Symphony Orchestra in Carnegie Hall led by Pierre Boulez.
Mr. Alessi is an active soloist, recitalist, and chamber music performer. In April 1990 he made his solo debut with the New York Philharmonic, performing Creston's Fantasy for Trombone, and in 1992 premiered Christopher Rouse's Pulitzer Prize-winning Trombone Concerto with the Philharmonic, which commissioned the work for its 150th anniversary celebration. His most recent appearance with the Philharmonic as soloist was in world premiere performances of William Bolcom's Trombone Concerto in the winter of 2017. Mr. Alessi also has appeared as soloist with the New York Philharmonic in performances of concerti by Kazimierz Serocki, Bramwell Tovey, and William Grant Still.  In June of 2021 he will give the world premiere of the Chick Corea Trombone Concerto.
Joseph Alessi has recorded and performed extensively with four prominent trombone quartets; The New York Trombone Quartet resulting in the only recording of Bartok's 4th String Quartet, Four of a Kind Trombone Quartet, the World Trombone Quartet, and Slide Monsters Trombone Quartet.
Other solo engagements have included the New Japan Philharmonic, Nagoya Philharmonic, Orchestra of Teatro Bellini, Mannheim National Theater Orchestra, Hauge Philharmonic, Helsinki Philharmonic, and the Colorado, Alabama, Santa Barbara, Syracuse, and Puerto Rico symphony orchestras.. Mr. Alessi has also participated in numerous festivals, including the Festivale Musica di Camera in Protogruaro, Italy; Cabrillo Music Festival; Swiss Brass Week; and Lieksa Brass Week in Finland. He was featured in the 1997 International Trombone Festival in Feldkirch, Austria, and the International Meeting of Brass Instruments in Lille, France. In 2002 Mr. Alessi was awarded an International Trombone Association Award for his contributions to the world of trombone music and trombone playing, and in 2014, was elected President of that association.
Mr. Alessi is currently on the faculty of The Juilliard School; his students now occupy posts with many major symphony orchestras in the U.S. and internationally. As a clinician for the Eastman-Shires Instrument Co., he has also given master classes throughout the world and has toured Europe extensively as a master teacher and recitalist. He has performed as soloist with several leading concert bands, including the U.S. Military Academy Band at West Point, U.S. Army Band (Pershing's Own), and the U.S. Marine Band (President's Own). In addition, he has performed with the Maria Schneider Orchestra, the Village Vanguard Orchestra, and has recorded with jazz greats, J.J. Johnson and Steve Turre.
Mr. Alessi's discography includes many releases on the Summit record label, including the Trombonastics, and a disc with New York Philharmonic Principal Trumpet Philip Smith entitled Fandango; he also recorded New York Legends on the Cala label. His live recording of the Rouse Concerto with the New York Philharmonic can be heard on Volume II of the recent release, An American Celebration, on New York Philharmonic Special Editions, the Orchestra's own recording label.
Mr. Alessi was invited by the International Trombone Association to record a solo disc of newly composed works, which was distributed to the Association's membership of 5,000 trombonists. in early 1999 and is now available as Beyond the End of the Century through Summit Records. Recently, his recording of George Crumb's Starchild on the Bridge record label, featuring Mr. Alessi as soloist, won a Grammy Award for 1999–2000. Other recordings featuring Mr. Alessi are with the Canadian Brass (Sony Classical and Philips Records). Further information about Mr. Alessi can be found on his website, www.slidearea.com. Mr. Alessi plays exclusively on a Shires-Alessi model trombone.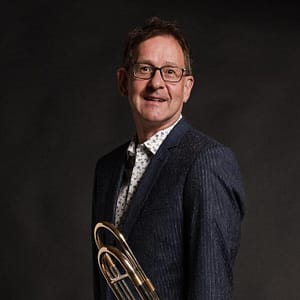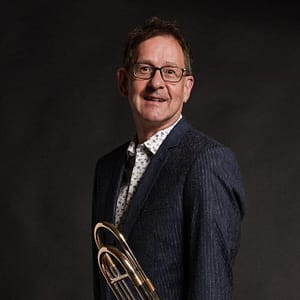 Ian Bousfield
Guest Visiting Professor, Trombone
One of the most influential brass players of our time, now a soloist, conductor and pedagogue, Ian Bousfield has been at the top of his profession for over 35 years, having formerly been principal trombone of the Vienna Philharmonic and London Symphony in an orchestral career that spanned thirty years. As a soloist he has appeared with, amongst others, Riccardo Muti, Michael Tilson Thomas, Sir Neville Marriner, and Kent Nagano with the Vienna Philharmonic, London Symphony, London Philharmonic, and the BBC Philharmonic. He has recorded for EMI, Chandos and Camerata. Future plans include appearing with Kent Nagano and the Montreal Symphony, recording with the Airies Quartet, conducting the season-opening brass concert of the New World Symphony in Miami for the third time, and directing the Aalborg Symphony in a series of concerts for brass and voice.
In recent times his conducting career has taken off, seeing Ian regarded as one of the world's foremost brass conductors. He has conducted the Oslo Philharmonic, Liceu Opera, Danish Radio Symphony, Copenhagen Opera, Sonderborg Symphony, Bern Symphony, Norlands Opera, and the New World Symphony.
Ian is Professor of trombone at the Hochschule der Künste in Bern and the Royal Academy of Music in London. His former students sit in some of the world's premier orchestras and have won the most prestigious competitions including the ARD and Royal Overseas League. His book and videos, "Unlocking the Trombone Code" have met with great critical acclaim. He is a brass coach for the Gustav Mahler Youth Orchestra and a regular coach of the New World Symphony, two things that lie very close to his heart. He was awarded the ITA award in 2012, a lifetime honor from the International Trombone Association.
In June 2019 Ian was Chair of the first-ever Tchaikovsky Competition for Brass at the invitation of Valery Gergiev.
Despite living outside of the UK for 20 years, Ian remains obsessed with cricket. His main hobby is the wines of Burgundy, and in 2017 he was honored by the region, being made a 'Chevalier de Tastevin'.
TROMBONE
Applicants should send a video recording (it can be sent in separate video clips) of the following repertoire. Piano accompaniment is mandatory where applicable.
Bachelor of Music
One etude by Marcel Bitsch "Quinze etudes de Ritme".
First movement of Ferdinand David Concertino.
Orchestral Excerpts: Mozart Requiem – Ravel Bolero – Wagner Ride of the Valkyries
Master's of Music
One etude by Marcel Bitsch Quinze etudes de Ritme
Ballade by Frank Martin
Orchestral excerpts: Ravel Bolero – Mozart Requiem – Mahler 3 – Rossini William Tell – Strauss Till Eulenspiegel – Schumann 3 (Alto or Tenor) – Berlioz Hungarian March
Performance Opportunities