About MMC's French Horn Studio
More Information
About MMC's French Horn Studio
MMC's French Horn Studio represents the best of both European and American horn schools. Two of legendary American teacher Julie Landsman's best pupils, Jennifer Montone, principal at The Philadelphia Orchestra and professor at Curtis Institute and The Juilliard School, and Nathaniel Silberschlag, principal at the Cleveland Orchestra at age 21, will form an unequaled team with legendary European artist Marie Luise Neunecker, professor at UDK Berlin. These three giants represent three generations of French horn mastery, which guarantees the best training possible in this instrument. We will also enjoy the extensive orchestral experience of Valencian horn player María Rubio, principal at the Orquestra de Valencia.
Along with MMC's line towards globalization of instrumental performance, we believe this studio is going to ensure a musical education centered on real music-making, mixing together the very best aspects of each school in order to create a new standard on French horn practice, which will help our students open the doors to any orchestra or school in the world.
French Horn Studio Quick Facts
Each student will get:
16 private lessons

with Marie Luise Neunecker (Universität der Kunst, Berlin)*

12 private lessons

with Jennifer Montone (Principal, The Philadelphia Orchestra, Curtis Institute, The Juilliard School)*

10 private lessons

with Nathaniel Silberschlag (Principal, The Cleveland Orchestra, Cleveland Institute of Music)*

10 private lessons

with María Rubio (Principal, Orquestra de Valencia)*

Visiting Specialists

on Natural Horn and Contemporary Horn Performance

Masterclasses

with top-class Performers coming from all over the world

Lessons with

piano

accompaniment
*Private lessons will last 55′, in order to provide time for change from one student to the next one
**Pianists will be available a minimum of 2 hours each month per student. Time can be used for individual rehearsals or for lessons, following faculty indications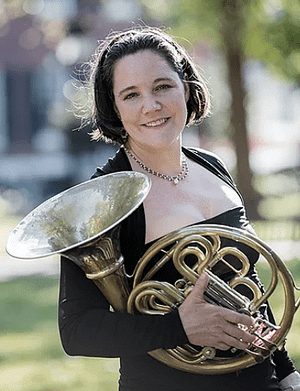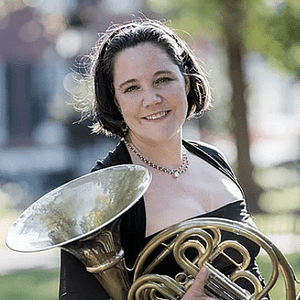 Jennifer Montone
Professor, French Horn
Grammy Award Winner Jennifer Montone has been hailed by the New York Times for her "flawless horn solos... and warm and noble sound".  As Principal Horn of the Philadelphia Orchestra, and a world-acclaimed soloist, chamber musician and teacher, she has been on the faculty at the Curtis Institute of Music and the Juilliard School since joining the orchestra in 2006.
Previously the Principal Horn of the Saint Louis Symphony and Associate Principal Horn of the Dallas Symphony, Ms. Montone was an adjunct professor at Southern Methodist University, performer/faculty at the Aspen Music Festival and School, and coaches on occasion at the New World Symphony. She was third horn of the New Jersey Symphony from 1997-2000, and has performed as a guest artist with the Berlin Philharmonic, the Cleveland Orchestra, the Metropolitan Opera Orchestra, the Saint Paul Chamber Orchestra, the Orpheus Chamber Orchestra, and the New York Philharmonic.
Ms. Montone regularly performs as a soloist, with orchestras such as the Philadelphia Orchestra, the Saint Louis Symphony, the Dallas Symphony, the National Symphony, the Polish National Radio Symphony, the Warsaw National Philharmonic, among others.  Her recording of the Penderecki Horn Concerto, "Winterreise" with the Warsaw National Philharmonic won a 2013 Grammy Award in the category of "Best Classical Compendium".  Other recordings include "Jennifer Montone Performs"- her first solo cd, "Still Falls the Rain"- works of Benjamin Britten, "Gabrieli" by the National Brass Ensemble, "Philadelphia Orchestra, Tchaikovsky and Ewald"- featuring the orchestra's principals brass quintet, and Song of Shinobeu"- works of Haruka Watanabe.
Ms. Montone made her Carnegie Weil Hall solo recital debut on October 22, 2008.  She has enjoyed appearing as a featured artist at many International Horn Society workshops, and as a soloist and collaborator with artists such as Emmanuel Ax, Eric Owens, Christoph Eschenbach, Shmeul Ashkenazi, and Joseph Silverstein, and David Soyer, among many others.
As a chamber musician Ms. Montone performs with the Chamber Music Society of Lincoln Center, Philadelphia Chamber Music Society, Santa Fe Chamber Music Festival, National Brass Ensemble, Strings Music Festival in Steamboat Springs, Bravo Vail Chamber Music Festival,Lake Champlain Chamber Music Festival, La Jolla Chamber Music Festival, Bay Chamber Concerts, Spoleto Italy Chamber Music Festival, and the Marlboro Music Festival.
Ms. Montone is a graduate of the Juilliard School, where she studied with Julie Landsman, legendary pedagogue and former principal horn of the Metropolitan Opera.   In May 2006 Ms. Montone was awarded the prestigious Avery Fisher Career Grant. She is also the winner of the 1996 Paxman Young Horn Player of the Year Award in London, England.  A native of northern Virginia, Ms. Montone studied with Edwin Thayer, principal horn of the National Symphony, in the National Symphony Orchestra Youth Fellowship Program.  She is married to double bass player, Timothy Ressler, and immensely enjoys spending time with her two young sons, Max and Felix.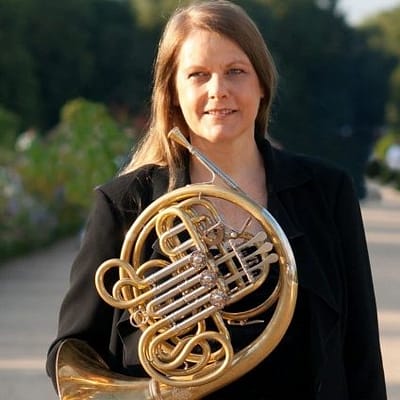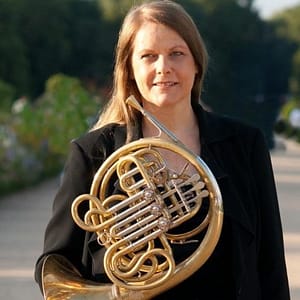 Marie Luise Neunecker
Professor, French Horn
Marie-Luise Neunecker has excelled as an orchestral musician, soloist, and teacher. She has won competitions, served on competition juries, and recorded concertos and chamber works. Among her premieres is György Ligeti's Hamburgisches Konzert, which was composed especially for and dedicated to her.
Marie-Luise was born in 1955, first studying musicology and German, then completing her horn studies with Erich Penzel at the Hochschule für Musik Köln. Her playing career began with the Frankfurt Opera. In 1979 she was appointed principal horn with the Bamberg Symphony, followed by principal horn with the Frankfurt Radio Symphony (1981-1989).
Marie-Luise won the German Music Competition in Bonn (1982), and the Concert Artists Guild competition in New York (1986). She was also a prize-winner at ARD Competition in 1983 and was awarded the Frankfurt Music Prize in 2013. She has appeared as a soloist with orchestras around the world.
In addition to Ligeti's Hamburgisches Konzert, she has recorded works by Mozart, Strauss, Britten, Hindemith, Gliere, Glazunov, Schoeck, Shebalin, Koechlin, and Smyth. Volker David Kirchner dedicated Orfeo for baritone, horn, and piano to her, as well as his Horn Concerto, and his well-known Tre Poemi, for horn and piano. She has participated in festivals including Salzburg, Schleswig-Holstein, Marlboro, Aldeburg, Risör, and Vienna.
Marie-Luise was appointed professor at the Frankfurt Academy of Music and Performing Arts in 1988 and has been professor at the Hochschule für Musik Hans Eisler in Berlin since 2004. She wrote about preventing dystonia in the May 2017 issue of The Horn Call and was a featured artist at the 2017 IHS International Symposium in Natal, Brazil. She was elected an IHS Honorary Member in 2017.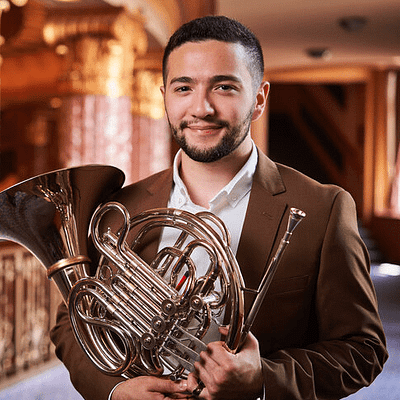 Nathaniel Silberschlag
Professor, French Horn
Nathaniel Silberschlag was appointed principal horn of The Cleveland Orchestra in May 2019, at age 21, and took up the position in August prior to the start of the 2019-20 season. He previously served as assistant principal horn of the Washington National Opera/Kennedy Center Opera House Orchestra, where he was the youngest member ever to win a position with the ensemble, at the age of 19. He completed his bachelor of music degree from New York's Juilliard School in May 2019, where he was a student of Julie Landsman and recipient of the Kovner Fellowship.
Born in Leonardtown, Maryland, in the Chesapeake region, Mr. Silberschlag comes from of a family of sixteen professional musicians across several generations. These include former principal players of the New York Philharmonic, Italian National Orchestra RAI, and Jerusalem Symphony. He is the third generation of his family to attend the Juilliard School. He made his debut in Italy at age 9, with news of the performance appearing on the front page of Italy's newspaper La Stampa.
As a soloist, Nathaniel has performed with the Juilliard Orchestra, Bulgarian Philharmonic, Romania State Symphony, New York's Little Orchestra Society, and the Chesapeake Orchestra. He has also played concerts with a variety of ensembles, including the New York Philharmonic and Orpheus Chamber Orchestra.
At the John F. Kennedy Center for the Performing Arts, Mr. Silberschlag became a graduate of the National Symphony Orchestra Youth Fellowship program under the tutelage of Sylvia Alimena as part of her "Brass of Peace" scholarship program. He also spent two summers in the Kennedy Center's Summer Music Institute. He was a fellow at the Music Academy of the West in the summers of 2017 and 2018, and in 2018 was named one of ten Zarin Mehta Fellows to perform with the New York Philharmonic as part of their 2018 Global Academy.
In 2015, he was the first recipient of the Edwin C. Thayer / Laurel Bennert Ohlson award for artistry and excellence in horn performance. Since 2007, he has been a full participant fellow at Italy's Alba Music Festival, and also attended the Eastern Music Festival in 2016. He is also a member of the New York Festival Brass Quintet.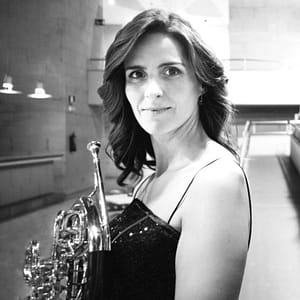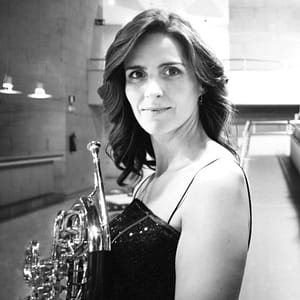 María Rubio
Associate Professor, French Horn
Maria Rubio Navarro began her French horn studies at the Alboraya Musical Society with Gabriel Diago, continuing her training at the Conservatorio Superior de Valencia, with José Rosell, at the Staatliche Musikhochschule Freiburg with Bruno Schneider, and with Javier Bonet, both in modern and natural horn.
She has been awarded prizes in numerous competitions, the most important of which are the Città di Porcia International Competition and the scholarship from the Alexander von Humboldt Foundation.
She is frequently invited to perform as a soloist at festivals both nationally and internationally such as the British Horn Society and has collaborated continuously as principal horn with the Berliner Philharmoniker, as well as many other European orchestras.
As a teacher, she has been invited by young orchestras around Spain, such as JONDE, OJA, JOGV, and conservatories like Guildhall School of Music and Drama or Berklee College of Music. She was a member of the Orquesta Sinfónica de Madrid (Teatro Real), and since 2002 she holds the position of principal horn at the Orquesta de Valencia. She is a member of Quintet Cuesta, Dreisam Ensemble and Metal.lògic Ensemble.
FRENCH HORN
Applicants should send a video recording (it can be sent in separate video clips) of the following repertoire. Piano accompaniment is mandatory where applicable.
Bachelor of Music
-Exposition of the first movement of a concerto by Mozart or Richard Strauss
-Etude of the candidate's choice by Kopprasch or Gallay
-Orchestral Excerpts
Excerpt required of all undergraduate applicants:
Brahms – Symphony No. 3, Mvt. III (mm. 98-110) – first horn
Choose two additional excerpts from the following list:
Beethoven – Symphony No. 3, Mvt. III (trio) – second horn
Mahler – Symphony No. 1, Mvt. III (Reh.# 13 to 15) – second horn
Strauss – Till Eulenspiegel's Merry Pranks (opening calls) – first horn
Tchaikovsky – Symphony No. 5, Mvt. II (opening solo) – first horn
Wagner – "Short Call" from Götterdämmerung – first horn
Master of Music
-First movement of a standard concerto of the candidate's choice
-Contrasting solo of the candidate's choice (exposition or a selected two- to three-minute excerpt only; candidate need not record entire movement or piece)
-Orchestral Excerpts
Excerpt required of all graduate applicants:
Richard Strauss – Ein Heldenleben (opening 16 measures) – first horn
Choose four additional excerpts from the following list:
Beethoven – Symphony No. 9, Mvt. III (mm. 82-100) – fourth horn
Brahms – Symphony No. 1, Mvt. II (mm. 90-105) – first horn
Mahler – Symphony No. 9, Mvt. I (21 mm. after Reh.# 16 through 40 mm. after Reh.# 16) – first horn
Strauss – Don Quixote (Var. VII) – second horn
Tchaikovsky – Symphony No. 5, Mvt. II (opening solo) – first horn
Wagner – Das Rheingold, Vorspiel (mm. 25-56) – eighth horn
Performance Opportunities